Columbus Museum of Art
November 12, 2021–February 6, 2022

Santa Barbara Museum of Art
February 27–May 22, 2022

Members always receive free admission to special exhibitions. Not a member? Join today!

SPECIAL HOURS FEBRUARY 5 and 6
To celebrate the final weekend of Through Vincent's Eyes, Columbus Museum of Art is offering extended hours to see this popular exhibition. For two days — Saturday, Feb. 5; and Sunday, Feb. 6 — exhibition-only tickets at a special price of $10 will be available for additional entry times at 4:00, 4:30, 5:00, 5:30, and 6:00 PM.
Through Vincent's Eyes will remain open until 8:00 PM. Schokko Café and the Museum Store will also remain open to the public until 8:00 PM all weekend. The main museum galleries will close at 5:00 PM each day.
The exhibition Through Vincent's Eyes: Van Gogh and His Sources presents paintings, drawings and prints by the artists most beloved by Vincent van Gogh, firmly connecting his art to its late 19th-century context. The exhibition will demonstrate Van Gogh's early and abiding interest in a wide variety of art. To visually narrate the impact of Van Gogh's sources, more than fifteen signature paintings and drawings by the artist himself will be juxtaposed with more than 100 works of art that fed his voracious imagination. The selection will include paintings by contemporary Impressionists and Post-Impressionists, such as Paul Gauguin, Claude Monet, Camille Pissarro, Paul Signac, and Alfred Sisley; earlier French artists such as Eugène Delacroix and Honoré Daumier; and Anton Mauve, Van Gogh's cousin who was part of the Hague School of Dutch realists. Nineteenth-century Japanese woodblock prints by Hokusai and Hiroshige, who influenced Van Gogh's art profoundly, are included as well.

The Columbus exhibition will include 61 works from the private collection of Steven Naifeh, the Pulitzer-Prize-winning co-writer and of the best-selling biography Van Gogh: The Life. Gregory Smith (1951–2014), Naifeh's husband and co-author of the book, was raised in Columbus. Among works loaned from the Naifeh collection are paintings by Jules Bastien-Lepage, Jean-Léon Gérôme, Jozef Israëls, and Paul Sérusier. Other lenders to the exhibition include the Van Gogh Museum, Amsterdam; Thyssen-Bornemisza National Museum, Madrid (Spain); Kröller-Müller Museum, Otterlo (Netherlands); Metropolitan Museum of Art, New York; National Gallery of Art Washington, D.C.; Los Angeles County Museum of Art; Cleveland Museum of Art; and numerous private collections.

The exhibition will also emphasize Vincent's robust appetite for literature and the fictional worlds of the modern novel. The installation will include early editions of beloved novels by Charles Dickens, Guy de Maupassant, Honoré de Balzac, Gustave Flaubert, and Emile Zola, to remind viewers of the fictional worlds that impacted Van Gogh's vision.

Through Vincent's Eyes was organized by the Santa Barbara Museum of Art in partnership with the Columbus Museum of Art. A shared exhibition, it will be presented at each museum with two distinct curatorial perspectives and two accompanying books. The exhibition is curated in its California venue by Santa Barbara Museum of Art's Assistant Director and Chief Curator, Eik Kahng. In Columbus, Guest Curator Steven Naifeh will oversee the presentation and interpretation of the exhibition along with the CMA Chief Curator Emeritus David Stark.

Upcoming Events and Activities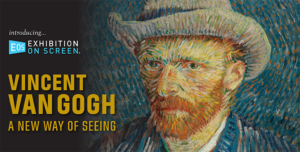 Exhibition on Screen: Van Gogh: A New Way of Seeing
Directed by David Bickerstaff
Runtime 90 minutes
RESCHEDULED to February 17, 7:00–8:30 PM
Columbus Museum of Art
If you have tickets to the screening of Van Gogh: A New Way of Seeing please check your email for information about your tickets as the Museum closed for winter weather February 3
You've never seen Van Gogh like this before—dive into the fascinating, and sometimes troublesome, life of one of the world's most notorious painters in this award-winning documentary.
Perhaps more than any other artist, Van Gogh's life has long captured the imagination of storytellers. Delving deep into his fascinating and sometimes deeply troubled world comes this definitive, award-winning documentary directed by David Bickerstaff. Showcasing Van Gogh's iconic works like never before and featuring exclusive interviews with the curatorial team at the Van Gogh Museum.
Tickets are $12 for members and $15 for nonmembers.
Exhibition on Screen is presented in partnership with McConnell Arts Center, Gateway Film Center, and Columbus Museum of Art.

Support Through Vincent's Eyes: Van Gogh and His Sources
In appreciation of your support, you will be recognized on the exhibition donor wall and other materials, receive a copy of the exhibition catalogue, and be invited for special programs throughout the run of the exhibition including a special donor reception when the exhibition opens, and opportunities to join a private, curator-led tour. To join our list of generous Sponsors, click below, and please include "Van Gogh Sponsor" and the name by which you choose to be recognized in the comments box.
Thank you Exhibition Supporters!

National Presenting Sponsor




Exhibition Chairs
Seanna & Matt Walter

Presenting Sponsors
Rhoma Berlin • Cardinal Health • Sarah & Dan Kay • Steven Naifeh • William & Sarah Ross Soter • Seanna & Matt Walter

Premier Sponsors
Anonymous • Beth Crane & Richard McKee • Barbara K. Fergus • Ann & Tom Hoaglin • Markéta & Ewout Leeuwenburg • The Schumacher Foundation • George & Tina Skestos • Kara Trott & Bob Philips • John L. Wirchanski

Major Sponsors
Deborah M. Anderson • Pamela & Russell Austin • Barbara Barresi Ph.D. • Jim & Amy Burden • Trish Cunningham & Craig Hassler • Mike & Phaedra Edwards • Beth Grimes-Flood & Tom Flood • Bob & Liz Fox • Elizabeth S. Johnson Family Trust • Malloure Family Foundation • David & Carolyn Patterson • Anne Powell Riley • Dr. Lee Shackelford • John & Elizabeth Sokol • Steve & Holly Wittmann

Champion Sponsors
Herb & DeeDee Glimcher • Mike & Roseanne Guy • Barbara A. Hackman • Karen & William Macke • The Netherland-America Foundation • Annegreth T. Nill • Don & Teckie Shackelford • Ron & Ruth Siegle • The Yassenoff Family • Miriam & Bernard Yenkin • Lynn R. Wallich & Mary Jo Hudson • Sara & Randy Wilcox

Experience Sponsors
Lucy Ackley & Robert Collier • Stan & Jane Ackley • Ben Addison • Lois H. Allen • Dick & Marilyn Briggs • Sandra L. Byers • Michael & Janelle Coleman • Loann Crane • Bette & Jerome Dare • James Ferguson • Ellen & Mark Hardymon • Barbara & Ron Hupman • Wendy & Chris Johnson • Ira & Debby Kane • Jeannie Sperling & Samuel Kiner • Linda Larrimer & Hugh Westwater • Wayne Lawson & Bill Mitchell • Win & Roberta Logan • Nannette & George Maciejunes • Nancy & Bruce Meyer • Sara Clayton Meyers • Mark L. Miller • Bob Roehm Foundation • Ellen & David Ryan • Edward & Melinda Sadar • Kara Siak • Sheila Torch • Eugene Voiland • Bill & Celeste Williams • Lisa & Stuart Young
Image Credit: Vincent van Gogh, The Wheatfield (detail), 1888. Oil on canvas, Honolulu Museum of Art, Gift of Mrs. Richard A. Cooke and Family in memory of Richard A. Cooke.