Wearing a mask at the Museum is optional.
Click here
for more information on visiting.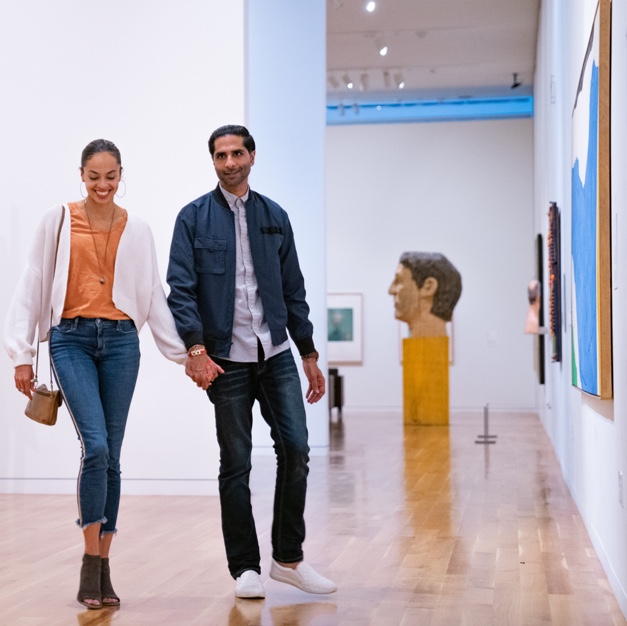 ENJOY ART WHEREVER YOU ARE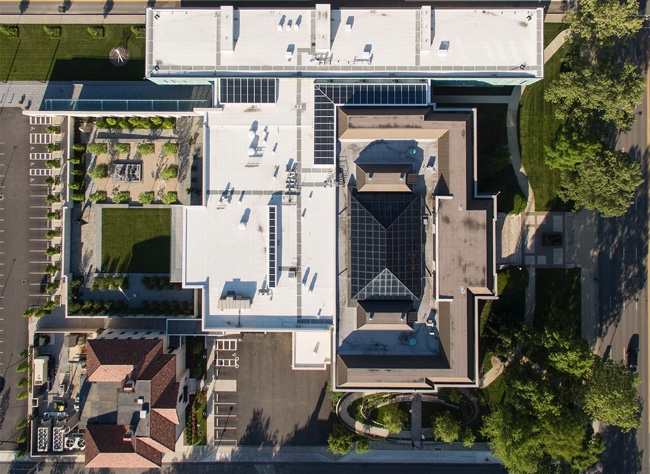 CMA is here for you wherever you are. We are committed to sparking curiosity, inciting empathy, creating connection, inspiring hope, and reminding all of us of our shared humanity through art and culture. Scroll through this selection of videos to design your own walk with art experience.
Artist Talk with Robin F. Williams
Listen to a talk with New York-based artist and Columbus-native Robin F. Williams whose work Final Girl Exodus was featured in the exhibition Present Generations: Creating the Scantland Collection of the Columbus Museum of Art.
We Fall Apart as Whole: Exploring Aminah Robinson, Richard Duarte Brown and Black Love As Resilience
Black love, oftentimes, is an act of resilience which resonates as power and beauty in spaces and places throughout the world. It is a guide, signpost, and marker for Black people who oftentimes find themselves falling apart, yet remaining whole as a people, community, and family. Exploring the idea of Aminah Robinson's Raggin' On, this talk will examine the culture carriers who exemplify the importance of holding on to family and community in both good and bad times.
Conversation and Book Release with Dr. Treva B. Lindsey
Award-winning Black feminist historian and author Treva B. Lindsey will join Carnegie Medal for Excellence poet, essayist, and cultural critic Hanif Abdurraqib to talk about her latest book, America, Goddam: Violence, Black Women, and the Struggle for Justice.
Baseera Khan Artist Talk
Join us for an artist talk with Baseera Khan, whose work I Arrive in Place with a High Degree of Psychic Distress (Pink) was chosen by CMA's Contemporaries as their 2021 annual acquisition.
Wednesdays@2 featuring Everything But The House
Join Margaret Wunderlich from EBTH to learn about market trends, how to sell at auction, and what to look for when assessing the value of antique, vintage, and contemporary items.
George Bellows: Art, Politics, and Boxing with Charlie Brock
Explore the evolution of George Bellows' political identity in this conversation with Charlie Brock. The artist famously described his youth as "surrounded by Republicans" in Columbus. He then went on to illustrate for the socialist magazine The Masses in New York and, later, to support America's entry into World War I in 1917. Art and politics intersected in complex, sometimes contradictory ways throughout his brief but full life.
Donna and Larry James talk with Nannette Maciejunes about their collection
Listen to a conversation with Donna and Larry James and Nannette Maciejunes about their collection and the exhibition Forward Together: Promised Gifts from the Collection of Donna and Larry James
Roy Lichtenstein: History in the Making, 1948–1960 Curator Talk
Listen to a conversation with Elizabeth Finch, Chief Curator of the Colby College Museum of Art and co-curator of the exhibition and Jody Patterson, Associate Professor, Roy Lichtenstein Foundation Chair of Art History at OSU.
Van Gogh's Empathy with Andrew Shelton
In this lecture, Andrew Shelton discusses how the key to Van Gogh's artistic achievement laid in his incredible ability to empathize with and develop deep compassion for his fellow human beings. This aspect of Van Gogh's talent is particularly clear from the artists who inspired him—artists who are often disparaged today for the emotionalism and even the sentimentality of their art. Dr. Shelton is professor of history of art and acting chair of the department of art at Ohio State University.
Susan Doll: Van Gogh on Film
Tune in to learn about Van Gogh being the subject of feature films from around the world, including Hollywood. Major directors have shaped his life story to represent an idea or make a point. Instead of Van Gogh the historical figure, film historian Dr. Susan Doll explores Van Gogh as symbol in such films as Lust for Life (1956, starring Kirk Douglas). Dr. Doll teaches at the Ringling College of Art & Design, Sarasota, Florida.
Wednesdays@2: Through Vincent's Eyes, Part 1: The Art of Van Gogh
David Stark, chief curator emeritus, discusses the works by Van Gogh in the exhibition Through Vincent's Eyes: Van Gogh and his Sources in a talk that also includes information on the artist's tragically brief life and the evolution of his bold and innovative style, reflected in his paintings, drawings, and prints.
Wednesdays@2: Through Vincent's Eyes, Part 2: Van Gogh's Favorite Artists
In this second lecture of a two-part overview of the exhibition Through Vincent's Eyes, David Stark surveys works by artists in the exhibition who were influential to Van Gogh. These range from Old Masters to turn-of-the-century masters of modernism—from obscure painters to famous artists like Monet and Gauguin. Van Gogh's art reveals his creative genius in transforming multiple sources, an examination of which enrich our understanding of his compelling works.
Derek Fordjour Artist Talk
Tune in to this discussion with multidisciplinary artist Derek Fordjour, whose immersive and haunting installation STOCKROOM Ezekiel is a highlight of the current exhibition Present Generations: Creating the Scantland Collection of the Columbus Museum of Art. With a series of patterns, sounds, materials, and objects that seem both structured and arbitrary in their logic, STOCKROOM Ezekiel speaks to a range of historical systems that impact the fate of Black and Brown communities in the United States today.
She Made HERstory: Aminah Robinson and the Celebration of the Complexities of Black Life and Culture
Critical Race Theory and the study of racism are sources of controversy in today's educational environments and the basis of proffered legislation throughout the United States. Listen to Dr. Treva B. Lindsey for an in-depth discussion on this topic through the lens of the work of artist Aminah Robinson.
Keith and Nadine Pierce Lecture on American Art
Listen to the annual Keith and Nadine Pierce Lecture on American Art featuring Dr. Jody Patterson, the Roy Lichtenstein Chair of Art History at the Ohio State University. Her lecture explores the development of modern American art during the Great Depression, with a focus on the public murals created under Roosevelt's New Deal WPA culture programs.
"Women Behind The Lens" Opening
An exploration of works by women photographers from the permanent collection of the Ross Art Museum celebrating arts patron Sally Ross Soter.
Visit London's National Gallery with Ann Dumas
CMA's European Curator Ann Dumas has arranged a special treat! Ann, who lives in London, will take us via Zoom on an Art Escape to see her favorite paintings at the National Gallery. Though she will be joining us from London, she will be able to answer your questions through the magic of Zoom.
Aminah Brenda Lynn Robinson Home Studio Tour
Take a closer look into the beloved Aminah Brenda Lynn Robinson's home and renovation
Wed @ 2 Wyeth and Cadmus: Dance, Music, and Male Muses
Dr. Amanda Burdan, curator at the Brandywine River Museum of Art, Chadds Ford, Pennsylvania, joins Dr. David Stark, chief curator, in an online conversation about Jamie Wyeth's portraits of Russian ballet dancer Rudolf Nureyev, currently on view in the Ross wing.
Wednesdays@2: Folk Art Road Trip
CMA's Adjunct Curator of Folk Art Michael Hall gives a behind-the-scenes look at the exhibition Folk Art Road Trip.
Art After Stonewall Tour with Nina West
Thank you to our friend Nina West, for conducting this tour of Art After Stonewall, 1969 1989 in support of the Columbus Museum of Art.
Wednesdays@2: Ohio Art and Artists
Columbus Museum of Art Executive Director Nannette Maciejunes and Chief Curator David Stark talk about works by Ohio artists now on view in Museum galleries.
Wednesdays@2: Dreamers and Doers: Newark at the Turn of the Last Century
This program introduces audiences to an exhibition presented jointly at two locations: CMA and The Works, a history and science museum in Newark, Ohio. The exhibition is titled No Mere Button-Pressers: Clarence H. White, Ema Spencer, and The Newark Camera Club. It provides a glimpse into a thriving group of amateur photographers active in Newark in the late 19th-century.
Wednesdays@2: Aminah Robinson & the Spirit of Home
Take a behind-the-scenes tour via Zoom of the newly renovated home studio of Columbus artist Aminah Brenda Lynn Robinson and see how the restoration has captured Aminah's spirit and at the same time created a warm, comfortable space where artists can live and work. Home was sacred for the artist, who wrote: "Whenever I leave home to visit in another place, I carry in my soul the spirit of home." Carole Genshaft, curator-at-large, and Deidre Hamlar, consultant, lead the tour and also serve as co-curators for the upcoming exhibition, Raggin' On: The Art of Aminah Robinson's House and Journals.
Wednesdays@2: The Artists' Eye: CMA's Modern Art Masterpieces
Chief Curator David Stark presents a virtual walkthrough of newly reinstalled CMA permanent collection highlights. Take a fresh look at your favorite masterpieces of European and American painting, including iconic works by such artists as Monet, Matisse, O'Keeffe, Bellows, Lawrence, and Motley. Works are grouped according to thematic content: portraits, cities and towns, the world at war, and views of nature. See how great artists of the late 19th and early 20th century presented time-honored themes in bold, innovative styles, such as Impressionism, Cubism, and Expressionism, which often shocked contemporaries.
Wonder Room Reimagined
Explore the Wonder Room in CMA's Center for Creativity and hear artist Jeila Gueramian, fashion designer Kelli Martin and artist Susie Underwood talk about their artworks.
CMA is here for you wherever you are. We are committed to sparking curiosity, inciting empathy, creating connection, inspiring hope, and reminding all of us of our shared humanity through art and culture. Scroll through this selection of videos to design your own walk with art experience.
A conversation with Nannette Maciejunes & Ann and Ron Pizzuti
In autumn 2019, the Museum presented Driving Forces: Contemporary Art from the Collection of Ann and Ron Pizzuti, a celebration of the first year of the Pizzuti Collection building and programming joining forces with CMA. The first exhibition to span both CMA locations, it is also the largest exhibition of work ever shown from the Pizzuti's private collection. Hear Ann and Ron Pizzuti talk about the exhibition, their collection and their legacy of contemporary art in Columbus and beyond.
Conserving Old Master Prints
Get a behind-the-scenes view of the conservation of old master prints that are part of CMA's collection
Botanical Wonders
Nannette Maciejunes and Donna Wasserstrom discuss Donna and Rodney Wasserstrom's gift to CMA and the exhibition Botanical Wonders, featuring quilts from the Wasserstrom's collection, which are now part of CMA's permanent collection.
The Photo League and McCarthyism: Interviews with Erika Stone, Vivian Cherry, George Zimel, Robeccah Lepkoff, Arthur Leipzig and Ida Wyman.
CMA houses one of the largest collections of photographs by The Photo League. Guided by a belief in the transformative power of photography, the Photo League took to the streets in the 1930s and 1940s to record the effects of poverty, war, racial inequality, and social injustice. The Photo League artists produced a powerful body of work before being disbanded by the politics of McCarthy-era America.
Artist Ed Piskor
Ed Piskor is a graphic artist and cartoonist who was awarded a graphic novel residency by CMA in 2013. Each year, CMA, along with our partners, seeks graphic artists from outside Columbus who demonstrate an experimental approach to creating comics and graphic novels for a residency is designed to provide an opportunity to develop a work-in-progress and to exhibit work at CMA.
Artist George Tooker
George Tooker is an American figurative painter who received a National Medal of Arts in 2007. CMA featured his work in an exhibition in 2009 entitled George Tooker: A Retrospective and houses in our collection, among others, Tooker's paintings Lunch, 1964 and Cornice, circa 1949.
Artist Evan Penny
Evan Penny is a sculptor known for works that range from lifelike and hyperrealist to distorted or stretched. His human forms are created out of silicone, pigment, hair and aluminum. Penny's sculpture, Back of Kelly, 2005, is part of CMA's collection. In 2007, CMA presented Currents: Evan Penny, the artist's first museum exhibition in the United States.
A conversation with artists Aminah Robinson and Faith Ringgold
Aminah Robinson was known for art inspired by the African concept of Sankofa, understanding the past in order to go forward. Faith Ringgold is an artist, painter, writer, sculptor and performance artist, best known for her narrative quilts.
Who is Aminah Robinson?
Known for art inspired by the African concept of Sankofa, understanding the past in order to go forward, Aminah Brenda Lynn Robinson lived and worked in Columbus, Ohio, until her death in 2015.
Artist Robert Buck
In 2016, Pizzuti Collection featured the exhibition States of America: Robert Beck/Robert Buck. In 2018, as part of their transformation gift to CMA, Ann and Ron Pizzuti donated 35 Robert Buck's from their private collection to CMA. This feature includes Buck responding to the diverse social and cultural changes in today's world and a tour of the artist's studio on the lower east side of Manhattan.