Wearing a mask at the Museum is optional.
Click here
for more information on visiting.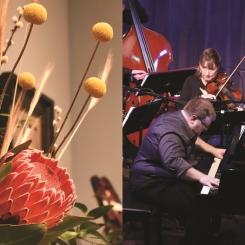 Tony Hagood's Jazz Blossoms
April 30, 2023
2:00–4:00 PM
Location: CMA
In conjunction with Art in Bloom, Tony Hagood's Quartet will present a concert focusing on spring and jazz compositions inspired by flowers and nature. Check out the great floral arrangements and join us to hear songs like A Blossom Fell, A Flower is a Lovesome Thing, Up Jumped Spring, Honeysuckle Rose, Passion Flower, La Vie en Rose and many more!
Tickets are $20 for members, $25 for non-members in advance, and $30 for everyone at the door.