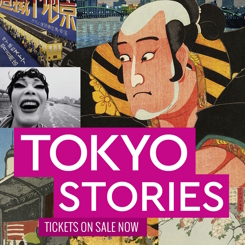 Exhibition on Screen, Tokyo Stories
February 8, 2024
7:00–8:30 PM
Location: CMA
Directed by David Bickerstaff, running time: 90 minutes
Exhibition on Screen is offering access to the world's greatest institutions and leading international art experts, each film is a cinematic journey into the personal and creative lives of history's best-loved artists.
A thrilling encounter with one of the world's great art capitals.
Based on a major exhibition at the Ashmolean in Oxford, Tokyo Stories spans 400 years of incredibly dynamic art – ranging from the delicate woodblock prints of Hokusai and Hiroshige, to Pop Art posters, contemporary photography, Manga, film, and brand-new artworks that were created on the streets.
The exhibition was a smash-hit five-star success and brought a younger and more diverse audience to the museum. The film uses the exhibition as a launchpad to travel to Tokyo itself, and explore the art and artists of the city more fully.
A beautifully illustrated and richly detailed film, looking at a city which has undergone constant destruction and renewal over its 400-year history, resulting in one of the most vibrant and interesting cities on the planet.
Tokyo has a powerful engine that just doesn't stop. There is an energy, a particular floating power in Tokyo. Whatever happens, this city gets rebuilt again and continues to move forwards.
—Machida Kumi
Tickets are $12 for members and $15 for nonmembers at the Museum.
Exhibition on Screen is presented in partnership with McConnell Arts Center, Gateway Film Center, and Columbus Museum of Art. We are excited to present art documentaries at each location with this partnership.