Exhibition on Screen is offering access to the world's greatest institutions and leading international art experts, each film is a cinematic journey into the personal and creative lives of history's best-loved artists.
This series of Exhibition on Screen is presented in partnership with McConnell Arts Center, Gateway Film Center, and Columbus Museum of Art. We are excited to present art documentaries at each location with this partnership.
Tickets are $12 for members and $15 for nonmembers at the Museum.
Film Schedule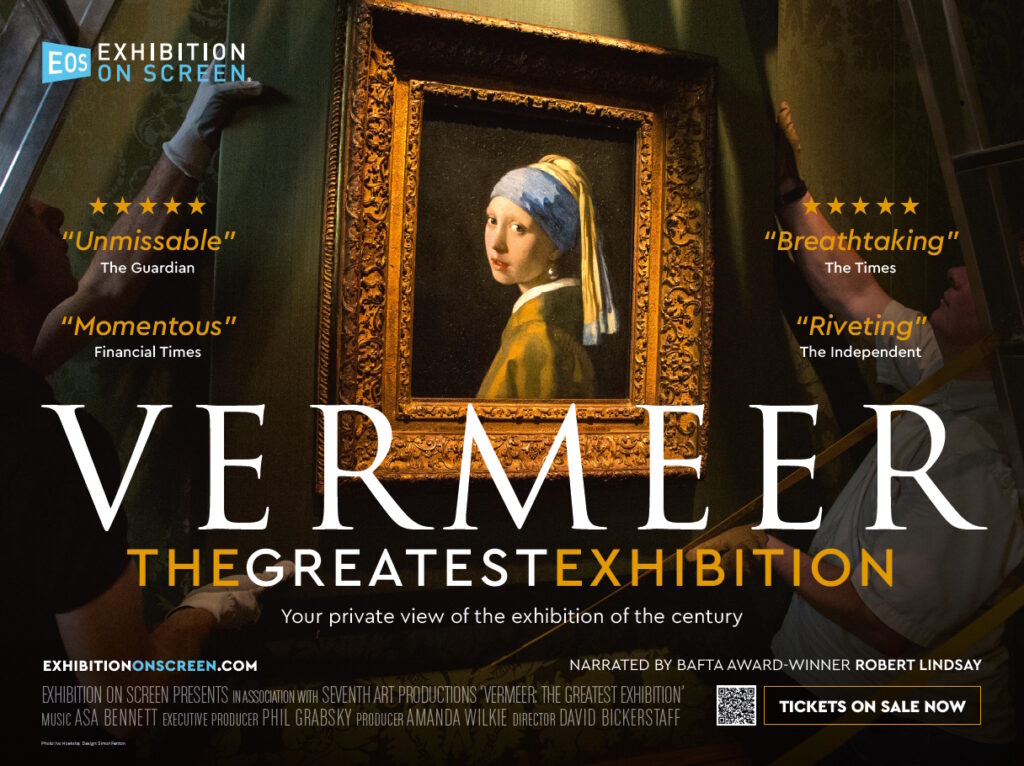 Vermeer: The Greatest Exhibition
Directed by David Bickerstaff, running time: 90 minutes
October 12, 7:00–8:30 PM
In the spring of 2023, the Rijksmuseum in Amsterdam opened its doors to the largest Vermeer exhibition in history. The show sold out within days of going on sale. This film offers you the chance to experience the exhibition of the century on the big screen.
With loans from across the world, this major retrospective brings together Vermeer's most famous masterpieces including Girl with a Pearl Earring, The Geographer, The Milkmaid, The Little Street, Lady Writing a Letter with her Maid, and Woman Holding a Balance. In all, 28 of his surviving 35 works.
This film invites audiences to a privileged view of the exhibition, accompanied by the director of the Rijksmuseum and the curators of the show. A truly once-in-a-lifetime opportunity to discover the genius of Vermeer and his fascinating and mysterious life.
Other Showings:
McConnell Arts Center: October 6, 7:00 PM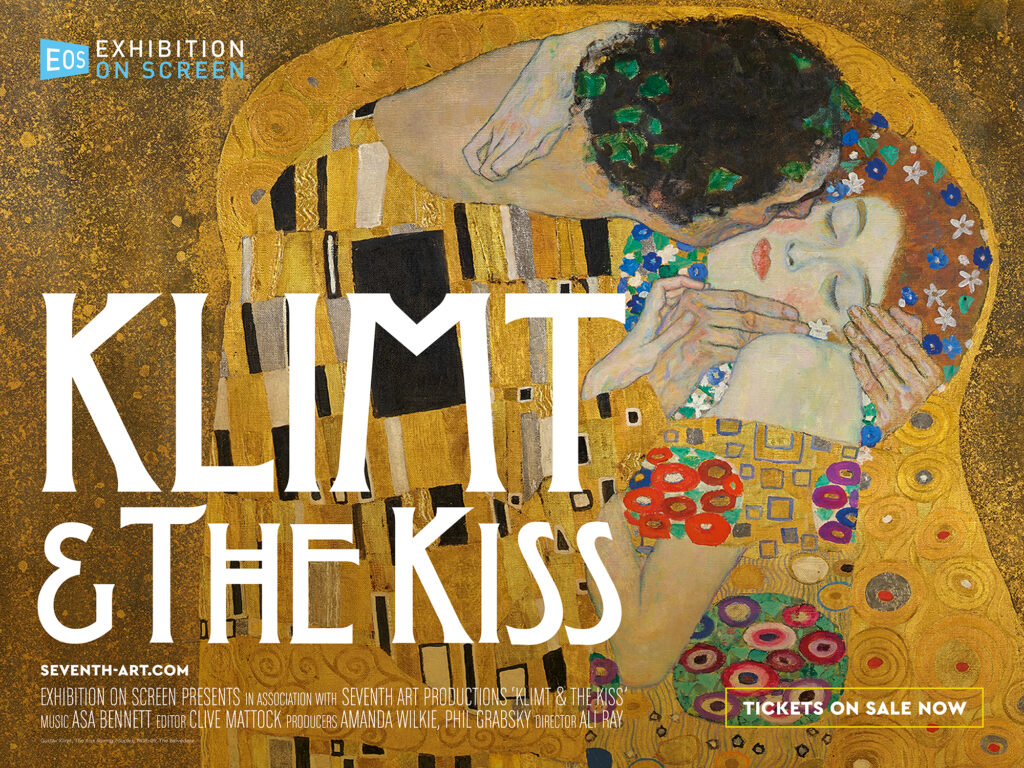 Klimt & The Kiss
Directed by Ali Ray, running time: 90 minutes
November 9, 7:00–8:30 PM
From the director of Frida Kahlo and Mary Cassatt – Painting the Modern Woman comes a powerful, gripping and passionate new film.
Klimt was a titan of the Art Nouveau movement, creating decadent new worlds which merged tender sensuality, ancient mythology and radical modernity.
Discover the scandalous life and the rich tapestry of extraordinary influences behind one of the world's favourite paintings.
The Kiss by Gustav Klimt is one of the most recognised and reproduced paintings in the world. It is perhaps the most popular poster on student dorm walls from Beijing to Boston.
Painted in Vienna around 1908, the evocative image of an unknown embracing couple has captivated viewers with its mystery, sensuality and dazzling materials ever since it was created. But just what lies behind the appeal of the painting – and just who was the artist that created it?
Delving into the details of real gold, decorative designs, symbolism and simmering erotica, a close study of the painting takes us to the remarkable turn of the century Vienna when a new world was battling with the old.
Other Showings:
McConnell Arts Center: November 3, 7:00 PM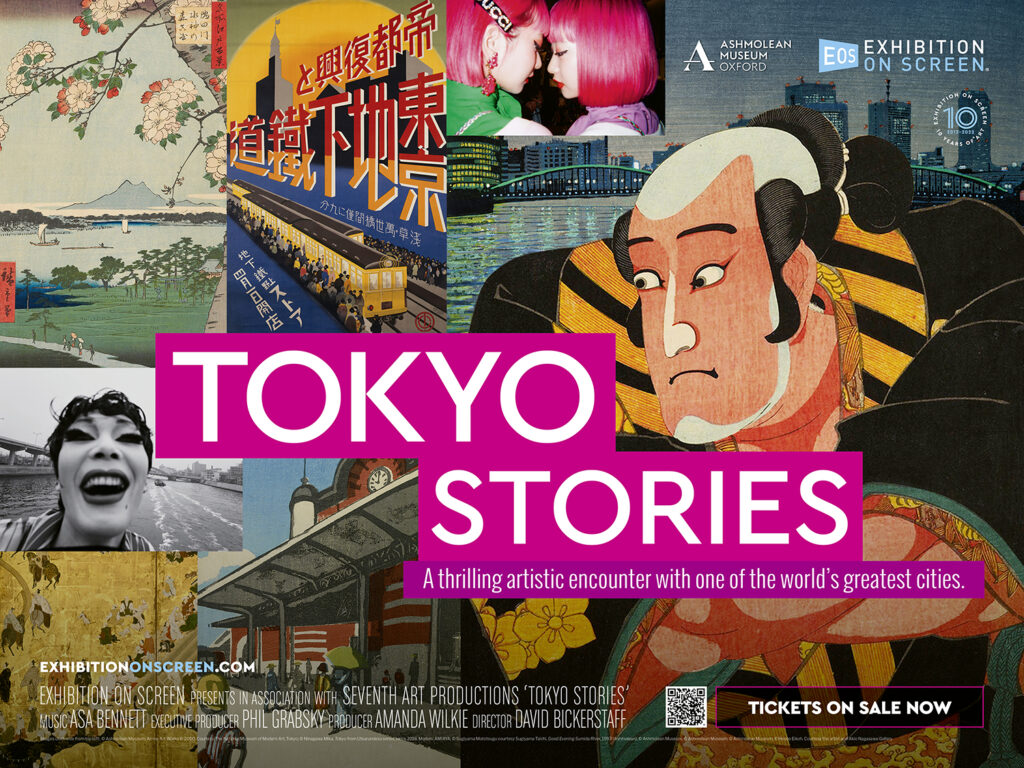 Tokyo Stories
Directed by David Bickerstaff, running time: 90 minutes
February 8, 7:00–8:30 PM
A thrilling encounter with one of the world's great art capitals.
Based on a major exhibition at the Ashmolean in Oxford, Tokyo Stories spans 400 years of incredibly dynamic art – ranging from the delicate woodblock prints of Hokusai and Hiroshige, to Pop Art posters, contemporary photography, Manga, film, and brand-new artworks that were created on the streets.
The exhibition was a smash-hit five-star success and brought a younger and more diverse audience to the museum. The film uses the exhibition as a launchpad to travel to Tokyo itself, and explore the art and artists of the city more fully.
A beautifully illustrated and richly detailed film, looking at a city which has undergone constant destruction and renewal over its 400-year history, resulting in one of the most vibrant and interesting cities on the planet.
Tokyo has a powerful engine that just doesn't stop. There is an energy, a particular floating power in Tokyo. Whatever happens, this city gets rebuilt again and continues to move forwards.
—Machida Kumi
Other Showings:
McConnell Arts Center: February 2, 7:00 PM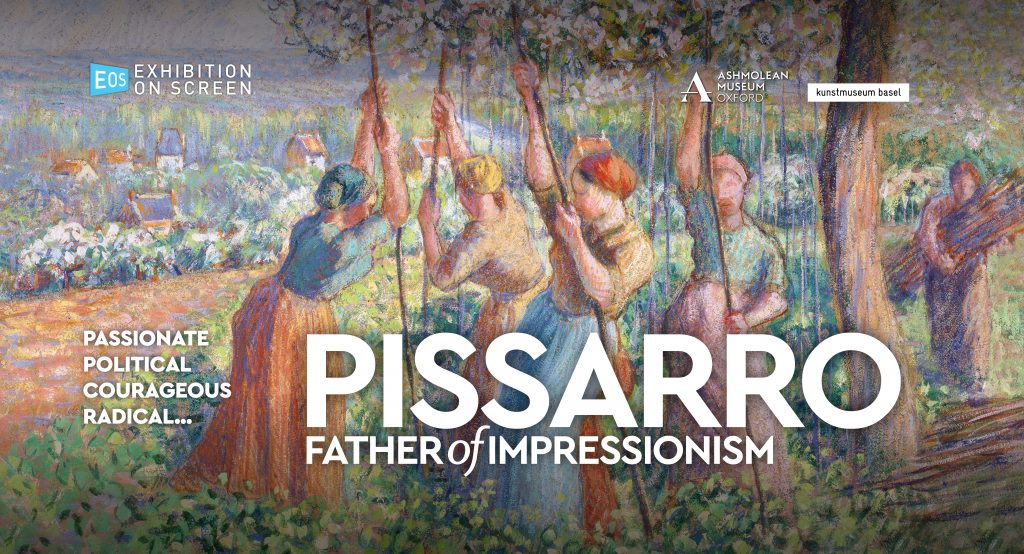 Pissarro: Father of Impressionism
Directed by David Bickerstaff, running time: 94 minutes
March 7, 7:00–8:30 PM
The most extensive documentary ever made about one of the most significant artists in history
—Sydney Herald
Without Camille Pissarro, there is no Impressionist movement. He is rightfully known as "the father of Impressionism".
Born in the West Indies, Pissarro found his passion in paint as a young man in Paris and, by the age of 43, had corralled a group of enthusiastic artists into a new collective. Their first show was scorned by the critics but the group had acquired a new name: the Impressionists. For the next 40 years Pissarro was the driving force behind what has today become the world's favourite artistic movement.
Pissarro was a dedicated family man, generous with his advice, passionate about experimentation, well-read, socially aware and an anarchist. It was a dramatic path that Pissarro followed and, throughout it all, he wrote extensively to his family. It is through these intimate and revealing letters that this gripping film reveals Pissarro's life and work.
This enlightening, beautifully illustrated documentary assures Pissarro his place in history.
—Mature Times
Filmed on location in France, the Ashmolean Museum in Oxford and the Kunstmuseum in Basel. With exclusive access to the most extensive archive of any Impressionist painter and to the first major Pissarro retrospective in four decades, this film explores the enthralling and hugely important biography of an extraordinary artist.
Other Showings:
McConnell Arts Center: March 1, 7:00 PM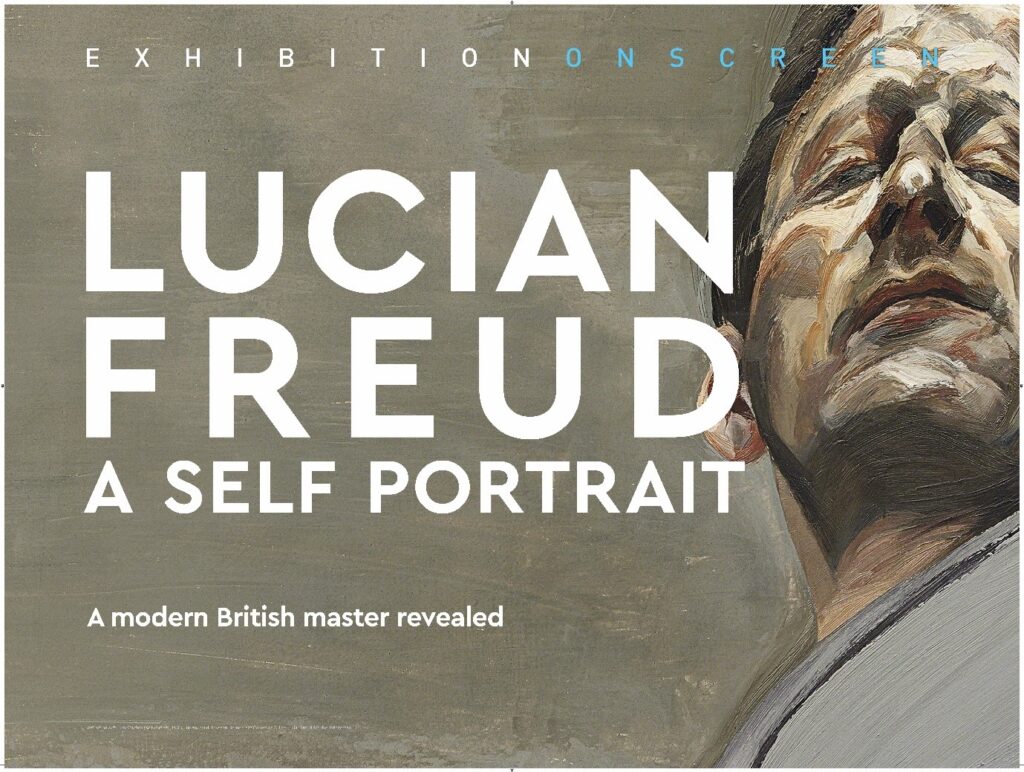 Lucian Freud: A Self Portrait
Directed by David Bickerstaff, running time: 86 minutes
April 11, 7:00–8:30 PM
For the first time in history the Royal Academy of Arts in London, in collaboration with the Museum of Fine Arts in Boston, is bringing together Lucian Freud's self-portraits.
The exhibition will display more than 50 paintings, prints and drawings in which this modern master of British art turned his unflinching eye firmly on himself. One of the most celebrated painters of our time, Lucian Freud is also one of very few 20th-century artists who portrayed themselves with such consistency.
Spanning nearly seven decades his self-portraits give a fascinating insight into both his psyche and his development as a painter, from his earliest portrait painted in 1939 to the final one executed 64 years later. When seen together, his portraits represent an engrossing study into the dynamic of ageing and the process of self-representation.
For Lucian Freud the act of 'looking' was everything. This film is very much about the self, the progress of time and one man's intense struggle with the making of making art.
A well-rounded Study. Art lovers will enjoy the explication of Freud's working methods, the close-ups of cruddy brushes; while gossip-fanciers will lap up the 'bad boy' anecdotes.
—Total Film Magazine
Other Showings:
McConnell Arts Center: April 5, 7:00 PM
Image: As seen in Exhibition on Screen Hopper: An American Love Story
Edward Hopper, Nighthawks (detail), 1942. From: The Art Institute of Chicago, Fifty-third Annual Exhibition of American Paintings and Sculpture. Chicago: 1942