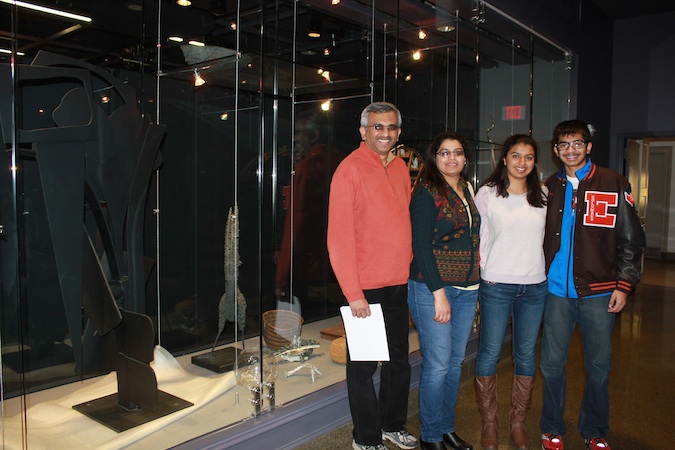 I've been thinking lately about the music industry People's Choice Awards.  In all honesty, I can't say that I follow them. I can't reliably name any recipient of recent awards, although I could probably guess a few names based on media banter.  But the possibility of a people's choice award in an art museum intrigues me.  And even knowing that the very concepts of high art and people's choice are somewhat incongruous, I set out this week to bring them together. A perfect opportunity presented for an impromptu people's choice experiment at CMA.  And I took advantage.
The focus of my people's choice experiment was the objects in the large glass wall adjacent to the Wonder Room. The Wonder Room is currently closed for a makeover and will re-open with much fanfare on December 14.  To align with the mysterious forest theme of this gallery, the objects in the glass wall will change, too.
Prior to the Thanksgiving weekend, we placed a selection of some of these objects on the floor of the glass case. Our designer included a sign indicating that this is an installation in process.
What a perfect chance to discover what our visitors like, what catches their eye, what piques their curiosity! I thought.
On Saturday, I approached several enthusiastic visitors for my experiment.  The delightful family pictured here was visiting from Columbus, Indiana.  "It's just a three-hour drive so it makes a good day trip," said father Sandeep.  Perfect, I beamed.  Any family who is willing to drive 3 hours to visit our museum deserves to be counted in my experiment.
Sandeep's family favored a Lalique scarab vase, a Paul Manship bronze of Diana, and a sinuous Lino glass sculpture. Check.  Those 3 works will make the final cut. Mother Sangeeta and daughter Meghali were especially curious about the story behind the bronze sculpture.  Sangeeta wondered if I plan to share information and stories about the works.  Sandeep suggested creating an app with more information.  Duly noted.  The "people" want some context and stories about the objects.
What I discovered in my brief, impromptu experiment is not entirely surprising.  The jaw-dropping Lino sculpture is a definite people's choice winner.  But so is the quirky bird sculpture that, as one visitor described it, looks like a cat who stumbled upon a guard dog.  I learned that visitors like the beauty and the beast; they're captivated by what is stunning and they're fascinated by the quirky and the peculiar.
We'll be putting the final touches on the glass wall this week and next.  And, thanks to several obliging visitors, it will reflect some of the people's choice.
Comments
comments