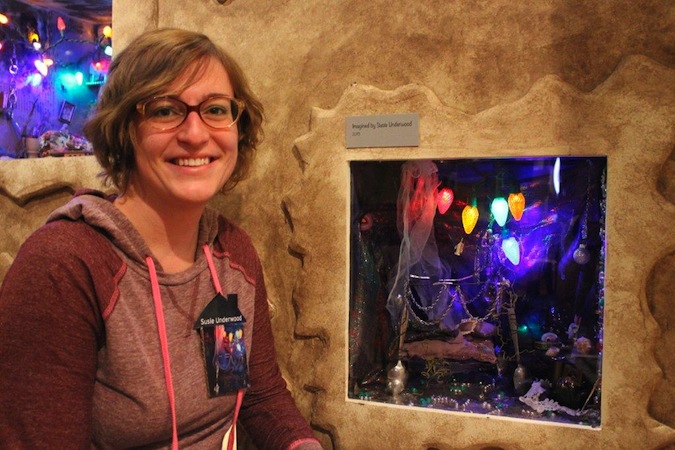 Eight Columbus artists contributed their talents, skills, and imagination to help us inspire awe and promote a spirit of play in the new Wonder Room.
We are proud and delighted that these artists took a risk along with us, that they shared our passion for the peculiar and the uncanny; that they embraced our vision for this quirky gallery that merges surprise and mystery, play and great art.
"It feels really good to be part of this community of artists who are working on this special project. To be valued by the Museum as an artist, is great!" – Susie Underwood, Columbus artist, pictured above                                                     

Early in the planning my colleague and collaborator Jeff Sims and I made a decision to partner with local artists for this project. Why? Because we value the way artists think, imagine possibilities, and take risks.  And we value the depth of creative talent right here in Columbus. We believed that with local artists we could orchestrate just the right mix of eccentricity, wonder, and play.
These talented artists did not disappoint. Their diverse creations are critical to the unique Wonder Room experience. When you visit the space, you will discover:
a life-size, mixed-media Tree of Wonder by Zepher Potrafka
five meticulous, miniature installations created by Susie Underwood,Caitlin Lynch, and Sharon Dorsey

many phantasmagoric costumes designed and handmade by Heidi Kambitsch of Openheartcreatures
a captivating graffiti wall painted by Giovanni Santiago
an inventive Storytelling Adventure Game designed and hand-painted by Brian R. Williams
the most wondrous Spalted Maple Looking Glass and Marked By installations by Dorothy Gill Barnes
Some of these creations are designed to be touched, manipulated, and played with.  Others – more fragile works of art – are placed strategically in places where visitors will discover them, unexpectedly. Their magic is experienced by peeking and looking and marveling.
Since the Wonder Room re-opened in December, I have been observing, conversing, and playing with many visitors in the space. I witnessed two adult woman engrossed for more than an hour with the Storytelling Adventure Game.  I gather countless visitor drawings of the Tree of Wonder.  And most recently, I watched as a very young boy bounced from one miniature installation to another with glee –pointing, remarking, and then very purposefully, photographing them.
If you haven't had a chance to visit the newly designed Wonder Room, I encourage you to make time to check it out. Discover for yourself the awe-inspiring creativity hatched right here in Columbus.
Comments
comments