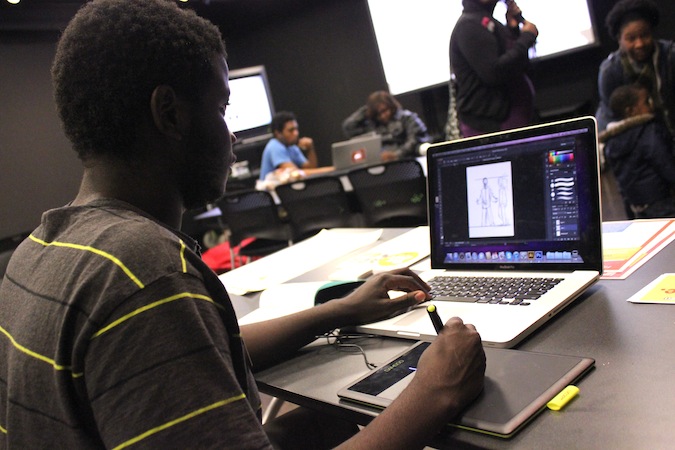 If you've attended CMA on a Thursday night, chances are you've noticed teenage visitors in the Center for Creativity playing Xbox, creating sculptures, composing songs, or even hanging out with friends. The CMA Teen Open Studio is a part of the nationally recognized Surge Columbus collaborative along with Columbus Metropolitan Library, Center of Science & Industry (COSI), Wexner Center for the Arts, and WOSU Public Media. Surge Columbus partners are working to create a city-wide network of studios, labs and spaces that empower teens to discover and pursue their learning interests outside of school by connecting them with mentors, digital and cultural resources, and each other. Since its debut in January 2014, CMA's Teen Open Studio has served more than 150 teens from more than 30 local high schools.
After school programming has become increasingly important for our country and our local Columbus community. Sociologist Ray Oldenburg claims that people need a neutral space beyond school and home where they can develop social bonds and live social lives. This is also a place where creativity, imagination and critical thinking skills can be developed and fostered.
By offering after school digital media labs, Surge organizations can supplement the creative learning needs that teens aren't receiving in school, while offering safe, inviting, and accessible spaces for teens in our city. These studios, labs and creative hubs are intentionally designed as unique environments, different from the school settings teens are accustomed to. Spaces are informal, unpretentious, and always free to the teen. A variety of workshops are available for teens to participate in, though they are not required.
Cities all over the country are creating digital media labs for teens. The MacArthur Foundation, Institute of Museum and Library Services, and many others are looking to museums and libraries for the future of education, supporting these organizations' efforts. Chicago, Washington DC, and New York are a few of the cities that have pioneered these after school learning opportunities. Though spaces and programs may look slightly different from city to city, our philosophies and guiding principles are aligned.
Connected Learning is one of those approaches. According to researchers, Connected Learning makes learning relevant to all populations, real life and work, and the realities of the digital age, where the demand for learning never stops. Connected Learning places value in creating spaces where dedicated mentors work side-by-side with teens to help them identify their interests and put those interests into practices that could transform into careers and other professional opportunities.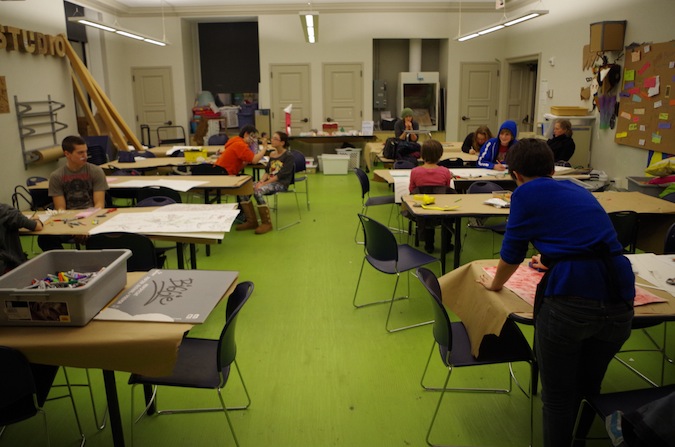 Another approach that aligns with Connected Learning is HOMAGO, which stands for Hanging Out, Messing Around, and Geeking Out. This acronym is based off of research compiled by professor and anthropologist Mimi Ito, and shows the natural way in which teens interact with digital media. Two spaces at CMA, the Innovation Lab and Studio, are set up each week to intentionally support this approach.
The Innovation Lab serves as the technology hub, offering a range of digital media including Macbooks equipped with the Adobe Creative Suite, iPads, Wacom Tablets, photography equipment, and even an Xbox for the "hanging out" inclined. It is also holds a full functioning, sound proofed recording studio with studio quality microphones, headphones, editing software such as Garageband/Logic Pro, and a MIDI keyboard for creating beats. The Studio across the hall is where teens can find a range of fine art supplies including painting, drawing, printmaking, sculpture, sewing machines and even monster make up. Students are encouraged by mentors and teaching artists to push their ideas, try new mediums and materials, and collaborate with other youth in the spaces.
Many Teen Open Studio participants do not have regular access to computers, Internet, or some of the other resources CMA has to offer. Our studios serve as a social space and entry point for many teens in our community. Many come to hang out, while other teens who are "geeking out" have taken their interests to new levels. One teen came to the space for the first time because he heard about our recording studio from some friends. Now, months later, he has composed a number of original songs and is adding these tracks to his portfolio in hopes to attend college next year for audio engineering.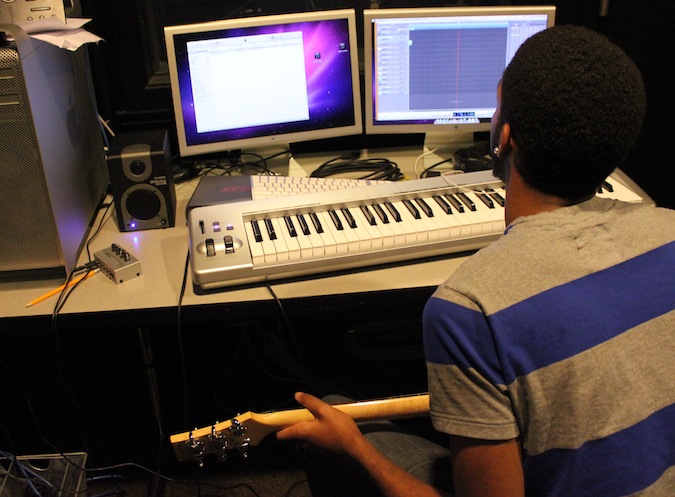 Another teen with an interest in graphic design came to our space having messed around in Gimp, a free image editing software that mirrors the pricey Adobe Photoshop. This teen learned how to use a Wacom drawing tablet as well as Photoshop, and worked with a CMA mentor to design a logo for his first freelance commission as a young designer. He's attending the School for Advertising Arts in the fall and had this to say about CMA: "If I didn't have this museum, I don't know where I would be, like what my career would be. I know I would still have art, but not a career!"
Surge Columbus wants to make learning opportunities like these available to as many teens as possible, and connect them with mentors and digital resources that are available at each of the SURGE cultural institutions. The CMA Teen Open Studio is offered every Thursday evening from 4:00-8:00pm to teens ages 14 – 19.
More information on Youmedia, Homago and Connected Learning. For more information about the CMA Teen Open Studio or other SURGE Columbus opportunities, contact Morgan Anderson or visit www.surgecolumbus.org.
Comments
comments