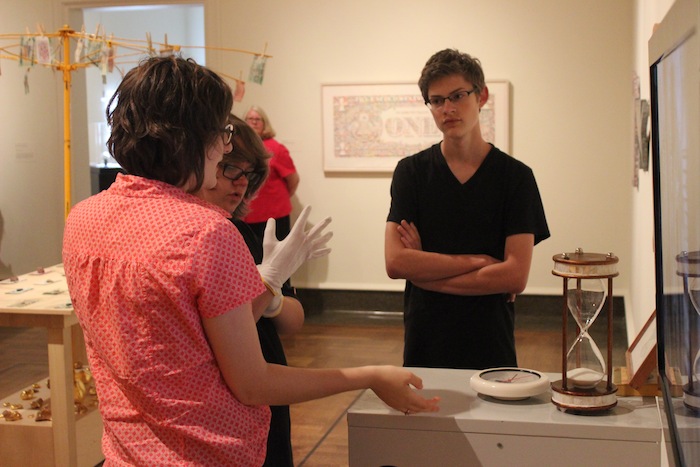 SURGE Columbus is a collaboration between Columbus Museum of Art, Columbus Metropolitan Library, Wexner Center for the Arts, WOSU Public Media, and COSI to connect teens with tools and resources to explore technology, media, art and more.
Recently the CMA Drop-In mentors had a chance to take the SURGE teens to the opening of In ___ We Trust: Art and Money, and it was an incredible experience for the teens. None of them had been to an art opening before, and some had never even seen an art exhibition! As we began to walk through the galleries, the teens were excited to explore the works on display, and even more so, engage with the hands-on features, like turning the handle to make a pressed penny, or perusing the time bank files. It stimulated conversations about art process, personal preferences and favorite artists, and the ideas, motivations, and materials behind the pieces in the show.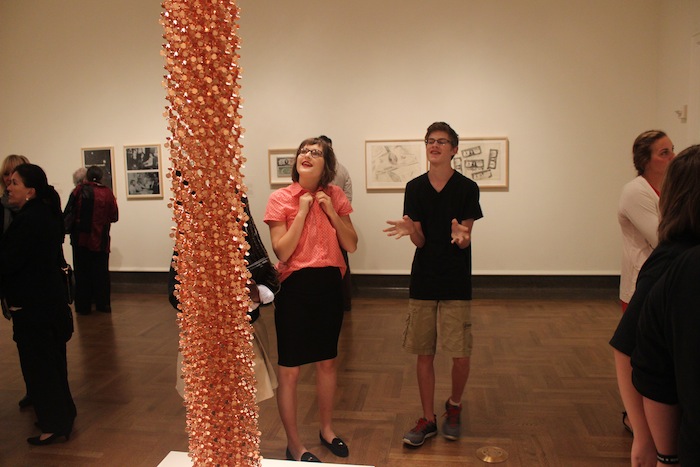 To attend the opening of In ___ We Trust was a huge opportunity for the teens. It was a chance to see art in action, something that many of them had never seen before. It was inspiring to many; one teen even came back to Drop-In with an idea to create some art that would include a lot of shiny quarters. It was also a learning experience—many teens got a lesson on the culture of art exhibitions and how to respectfully walk through and appreciate a show like In ___ We Trust. As a mentor, I was elated for the teens to have this invaluable opportunity!
– Mackenzie Musgrave, CMA Drop-In Studio Mentor for SURGE Columbus
Comments
comments