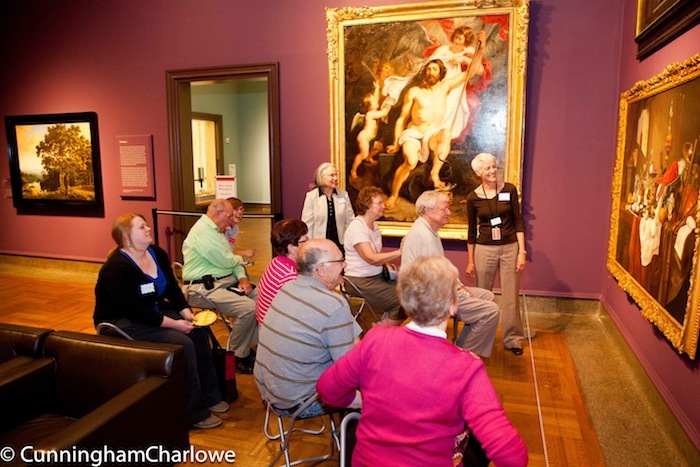 Toward the end of the movie Still Alice, starring Julianne Moore (who won an Oscar for her performance as Alice Howland, a Columbia University linguistics professor who's stricken with an early-onset form of Alzheimer's at age of 50) Moore is listening to Kristen Stewart (who plays her daughter Lydia) rehearse a scene for an upcoming audition. Lydia asks Alice if she knows what the scene is about. For a moment Moore's face is blank. Then there is a flicker in her eyes. Alice can only get out one word: "Love." It's a rare moment of connection between mother and daughter struggling to deal with the effects of such a difficult disease.That moment of connection fits with research which suggests that the arts can be a powerful tool in treating Alzheimer's. The arts can trigger memory, which allows those with Alzheimer's to use their imagination, as well as, help them be more engaged and alert, and better able to communicate.
For the past several years the Museum has offered free monthly Sparking Imaginations tours designed for individuals diagnosed with early-stage Alzheimer's disease or dementia, and their caregivers.
The Museum has more than 100 CMA Docents including a small group of specially trained docents who work in partnership with the Alzheimer's Association of Central Ohio and AWARE, THE Alzheimer's Women's Association to Reach and Engage, to spread awareness and facilitate the Sparking Imaginations tours.
The participants (caregivers included) are given the space to explore together as they discuss a few select works of art in the galleries with a docent.
Sparking Imaginations is one way for all participants to take a break from their daily routines. Through this small group experience, the participants might share their thoughts on what they imagine the artist was thinking and often, these creative stories induce laughter. With laughter, there comes the joy.
One of our docents of the Sparking Imaginations committee recently shared with me a story of a participant— how his wife declined to attend the tour but he felt the need to come to the Museum. I believe Sparking Imaginations is meaningful for the time away that spent in our spaces and for the moments of joy or laughter.
Read more on our Sparking Imaginations tours in this recent article (For some Alzheimer's patients, viewing artwork may trigger memories, Columbus Dispatch, February 19, 2014).
Sparking Imaginations is free to the general public the last Tuesday of every month at 1:00pm. Advanced registration is required. To reserve this tour or for more information, please call 614.221.6801.
We are very grateful to our Supporting Sponsor: The Max and Victoria Dreyfus Foundation, as well as the following additional supporters, Robert Bernard, Sarah Bongiorno, Sheryl & Steven Ellcessor, Ann Flaherty, Gail Thomas.
Comments
comments