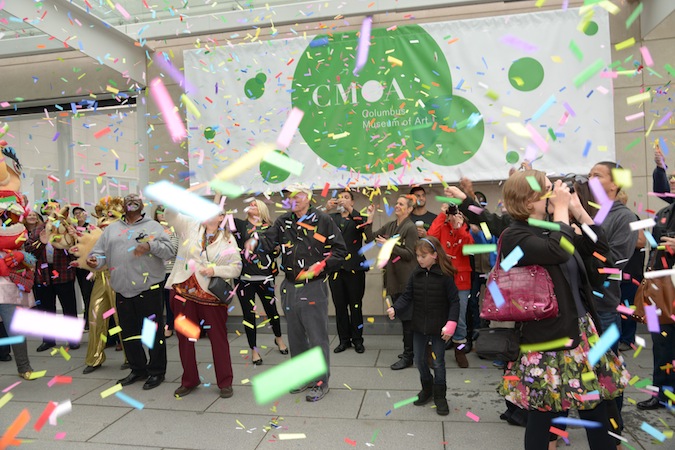 It's been an amazing year capped off by the opening of the Columbus Museum of Art new Margaret M. Walter Wing, named Best Architecture of 2015 by the Wall Street Journal. During the opening of the new Walter Wing October 22-25, CMA welcomed 15,000 visitors. Here's a round-up of press stories and what people are saying about #newcma.
"With its abundant natural light, soaring ceilings and contemporary design, the addition is a physical statement about the museum's place in the city (and the city's place in the museum)."
The New Columbus Museum of Art: An Illustrated Guide, Columbus Monthly, October 2015
The new Walter Wing is "a meeting point between art, the public, and the physical city."
–With Custom Designed Galleries and Cinematic Facades, Columbus Museum of Art Opens New Wing, Hyperallergic, October 22, 2015
"The new wing is all about connections, old and new, audience and collection, art and community."
– New CMA Ready for Grand Opening, Columbus Underground, October 22, 2015
"Congratulations to those involved in the project and to all art lovers in Central Ohio on having a vibrant new showcase for art."
– Museum Wing a Work of Art, Columbus Dispatch, October 25, 2015
"With lofty ceilings, an abundance of natural light, and copper and limestone interior, the contemporary design focuses on creating a place that inspires and connects all of Columbus."
– Columbus Museum of Art's New Addition, CMA's Nannette Maciejunes and New Wing Architect Michael Bongiorno on WOSU Allsides with Ann Fisher, October 26, 2015
"If you care about art… this should be a no-brainer. Don't think twice about it. Go."
–Newly Completed Expansion Gives Columbus Museum of Art a Welcoming Wow Factor, The Plain Dealer, October 28, 2015.
"The two exhibits on display highlight Columbus' long-standing connection to the masters of modern art while hinting at the museum's potential as a force to be reckoned with in art presentation in the Midwest."
– 2 Inaugural Displays at Columbus Museum of Art Set High Mark, Columbus Dispatch, November 1, 2015
"You're going to discover a contemporary collection you did not know we had."
– New Wing of Columbus Museum of Art, Broad and High, November 11, 2015
"With a new wing and significantly augmented gallery space, the museum will have more beautifully modern space to showcase its collection of 13,500 artworks."
– Columbus Museum of Art Adds Bold New Expansion to its 1931 Building, Architectural Digest, November 20, 2015
"The Columbus Museum of Art's beautiful expansion creates a space for contemporary art that beckons visitors."
– Modern Love, Ohio Magazine, December 2015
New Walter Wing Named Best Architecture of 2015
– Their Modesty Becomes Them, Wall Street Journal, December 17, 2015
Voted Best Arts and Culture Institution 2015
"For the second year in a row, our readers selected the Columbus Museum of Art as their number one destination for culture in the city, and for very good reason. The CMA just completed a major renovation project in October and re-opened to the public with an expanded space showcasing more modern and contemporary art. If you haven't been to see the new wing, it should be on your to-do list for 2016."
– Best Arts and Culture Institutions 2015, Columbus Underground, December 28, 2015