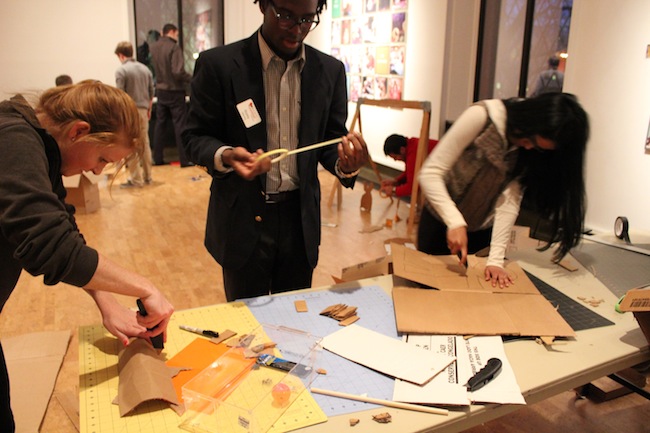 Think of a time when you felt creative. What did it feel like, sound like? What were you doing? What were others doing? Close your eyes and spend a minute reliving that experience of creativity.
Now, imagine that you could experience that daily – at work, school, home – and that you could foster that experience for others. How might you do that, and what might be different for you and for them? This question is at the heart of meaningful life in today's dynamic world, and of tackling the unprecedented challenges that come along with it.
When I interviewed for my position here, I was asked to share a time when I had practiced creativity. The example that came to mind was from fourth grade when I participated in a yearlong creative problem-solving competition. I don't remember how exactly I came up with the idea, but I remember a few of the ingredients – scraping my fingernails along the strings of my violin to hear their eerie resonance; playing with the distortion and amplification of speaking into a cup; spending hours alone with the rustles and croaks of creatures in the creek near our house. I took all the strings off my violin, strung them over the opening of a plastic cup, and made a cricket. The E string (the one without ridges), was strung perpendicular to the others to make the scraping sound I had made with my fingernail. The design went through several iterations before I was satisfied, but in the end I was so thrilled with my creation that I remember it 20 years later. It was, by far, the best thing I ever did with that violin.
An idea that transforms a community or a field begins in a sketchbook, debate, or garage.
Don't get me wrong – I didn't submit my cricket to the patent office. This is a just a simple illustration of how opportunities for authentic creativity can matter deeply to a person. Creativity can affect our sense of ourselves and change our way of seeing, discovering, and engaging in the world. It is also the basis of the dispositions needed to tackle the unprecedented challenges of our times. Innovation emerges when people and groups have the confidence, permission, space, and time to mess around with ideas. An idea that transforms a community or a field begins in a sketchbook, debate, or garage.
Creativity builds and rallies the habits of imagining, analyzing, making and remaking, persisting, questioning, wondering, noticing, all with the authentic purpose of addressing things that matter to us. This is what learning looks like, though it isn't often what schooling looks like. This is what good work looks like, though it isn't often what workplaces look like. This is what living in community looks like, though it isn't often what our neighborhoods look like.
But it could be.
Our 2016 Creativity Summit, April 7-9, will convene an amazing mix of provocateurs from the national stage and from our own backyard to help us reimagine. They will ask with us: What could creativity look like in our lives, workplaces, and schools, and how might we better cultivate it in ourselves and others? So many remarkable thinkers will be inspiring us in this inquiry that I can't possibly choose one to highlight. Instead, I am going to tell you one, completely unmissable experience each day:
Thursday – Workshop an actionable and inspiring question in our galleries with author Warren Berger,
Friday – Hear a range of Columbus creatives discuss what enables creativity, then play around with these ideas by designing your own space
Saturday – Synthesize this 72-hour blitz into a "gift" for a stranger, under the inspiration of the fabulous street artist Stephanie Rond
You don't have to come to every day, but each will be incredible and unique. And as a bonus, on Friday night we will host a free screening of the award-winning documentary "Most Likely to Succeed." Based on Harvard innovator Tony Wagner's book, the film is a deep look at a school designed to promote the kind of learning and creating I was engaged in when I was making my cricket. The film makes the case for reimagining learning, and shows how one school has done it. It's an inspiring story, and more inspiring still will be the families, educators, and community members who will come out to start a conversation about what this could look like for the children they care about.
That is what the whole Creativity Summit is about – coming together with other people who care about creativity in all aspects of life, and asking how we can recapture that creativity you imagined at the beginning of this post, strategizing how we can create the conditions for creativity, and connecting with diverse minds to activate creativity within our spheres of influence, whatever that may be. I am excited to take up this challenge, and I hope you will join me in it.