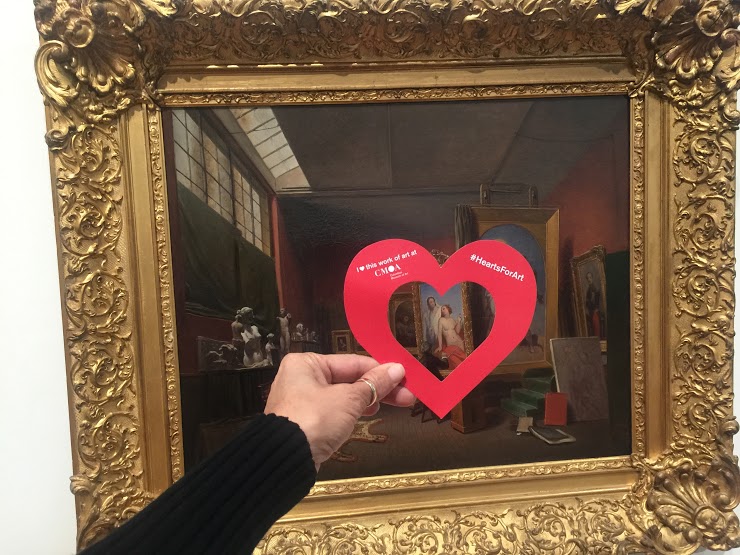 Art has the power to inspire, transform, transfix, and unite us.
Once again Columbus Museum of Art is inviting museums and galleries to join us in celebrating Valentine's Day with #HeartsforArt, February 11-16, 2020. Launched by Columbus Museum of Art (CMA) and Oakland Museum of California in 2014, Hearts for Art is a fun way for visitors to express their love for art.
Here's how Hearts for Art works:
• Online: Encourage visitors to share their art crush by taking a picture and using hashtag #HeartsForArt, and tag your museum across your favorite social media platforms.
• And/or in the galleries: Have hearts available for visitors and encourage them to place the heart in front of a work of art they love, take a picture, and share using #HeartsForArt, and tag your museum on social media.
Feel free to hack the project to fit your institutional goals. CMA will be celebrating from February 11-16, 2020, but feel free to join in anytime that week or the whole week. Participating museums in the past have included Oakland Museum of California, Denver Art Museum, Minneapolis Institute of Art, Philbrook Museum of Art, Santa Cruz Museum of Art and History, Detroit Institute of Arts, and many more.
This year to better track participation in #HeartsforArt we're encouraging museums and galleries interested in participating to fill out a Google Survey.
We'll be sharing some of our favorite posts throughout the week, and including them in an online gallery.
Questions? Feel free to reach out directly!
– Jennifer Poleon is CMA Digital Communications Manager. She organized Columbus Museum of Art's #MobilePhotoNow exhibition, a worldwide crowdsourced Instagram exhibition that was the largest mobile photography exhibition ever presented by a museum.
– Hannah Mason-Macklin is CMA's Manager of Interpretation and Engagement. This past fall Macklin gave a Ted talk on Decolonizing Museums, and what role museums should play in our society today.
Comments
comments