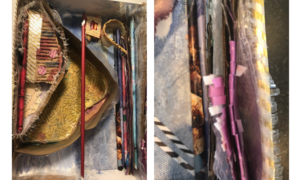 The action of unraveling means to unravel apart, so as to create new beginnings. I find myself always collecting interesting papers, fabrics, textiles, magazine clippings, items that have been ripped or torn, that should be thrown away but I just can't seem to do so (ahem- potential hoarder alert!). I have this LOVE for old books, the antique paper inside, the smell of those pages and the way they tear with ease. These artifacts seem to pile up in places all around my life and work… just waiting to become something else.
Un●rav●el – Verb
undo (twisted, knitted, or woven threads).

investigate and solve or explain (something complicated or puzzling).
When I started to think about unraveling as a theme, I looked at the definition. Then, I grabbed all this collection of papers laying around the house, the gatherings from my life. And I started deconstructing and unraveling them by either cutting them or tearing them. Without much thought, only intuition and action, I deconstructed them without plan. Just the simple ACT of unraveling.
First, set some rules for yourself in each step, this is something that is so necessary for me when making. I need to simplify through the steps, to keep my focus and to stay on track.
Step #1– Tips for Unraveling:
Step #1 rule Deconstruct. Move fast. Don't think. Most times, when I am making art, I think too much, it holds me back or makes me stop working.
Cutting and tearing all of these items into 2-3" strips, I followed my instinct and the process felt easy and relaxing. It was quiet but I also was very mindful that I wanted to not spend much time thinking, that was for the next step.
This time working seemed like a meditation. I didn't think, only participated in the unravel.
I chose to build inside of an 8x 11' shallow box as a canvas. This created a structure and boundary for adding the unravel.
Step #2 Re-Constructing the Unraveling of:
Step #2 Rule– Pair materials, stack and collage together. Think more than step #1 but still move fast and with your intuition.
Use this time to also unravel your thinking… So much is happening right now in this world. Check in with those inner feelings while you work. What feelings can you infuse into the work? Unravel your thoughts, process them and make them into something new. While I worked, I found these thoughts came into my awareness. Does life unravel? What really unravels? Are the events happening in current events unraveling? Is it slow or fast? What happens after the unravel?
When I went into reconstruction of the materials, I decided to start by stacking the strips and gluing them together. I used stick glue, double sided tape and hot glue for the varying materials.
I also added magazine papers to the mix to add color and another paper texture. I mostly folded and rolled these papers.
Step #3- Adding to the Canvas Box
Step #3 Rule: Stick with your artistic instinct. Don't make a plan.
This is always the step that kicks up the most of my insecurities. As you work, push those feelings aside. Make for the sake of making. Explore what you find yourself really enjoying during the making.
What I appreciate about this work is that I made it with little to no plan, this work is filled with moments that unraveled, deconstructed and, finally, reconstructed. What a metaphor for the life we are living right now. And that I finally created space for the chance to put to use that ol' recycled paper collection I had piling up around the house. Ironically, this work became one of those works that is located somewhere between the 2D and 3D, which makes sense because that is my favorite space. The unknown, the space that teeters in between two realms. Another beautiful metaphor for daily life in 2020.
Sarah Danner Hebdo is the 3D Arts & Computer Graphics teacher at Whitehall Yearling High School. She has 17 years of experience as an art educator in middle and high school settings.
IG @99artballoons
FB https://www.facebook.com/sarah.danner.311
Find a CMA Studio Challenge that speaks to you and thanks to everyone who has participated. Share your creations on social media by tagging #myCMAstudio.#myCMAstudio is a digital version of our drop- in program, Open Studio, which is currently unavailable to the public due to Covid-19, and part of CMA's JPMorgan Chase Center for Creativity Studio to explore ideas, solve creative challenges, and collaborate with friends and family. Pick up a Studio in a Box with all the supplies and materials needed to aid you in our weekly challenges or allow our CMA educators to guide kids Pre-K – 8th grade in an online Weekly Studio Meet-up.