By now you've probably heard of Día de los Muertos, or Day of the Dead; the sugar skulls, the skeletons, the parties and cemeteries. It's mysterious, colorful, fun and sad all at once. It's a unique and beautiful blend of joy and grief, life and death. Maybe you feel intrigued and curious to try some of the traditions yourself. I'd love to share my story and inspire you with one of my favorite parts of Día de los Muertos, the ofrenda.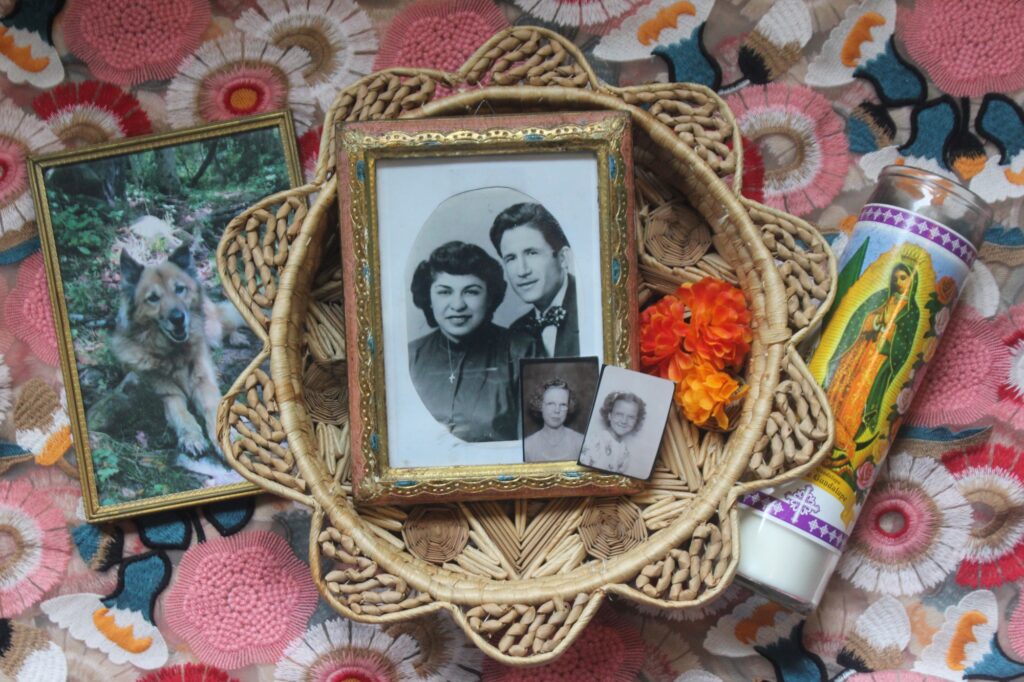 The purpose of an ofrenda
An ofrenda is an altar, built to honor lost loved ones. Offerings are placed upon the ofrenda, to help us remember, learn about, and celebrate their lives. Traditional ofrendas are full of symbols and meaning, which have a long history with the holiday and people. Día de los Muertos customs are rooted with the Aztec belief that during Día de los Muertos the souls of lost loved ones can return from the land of the dead, feast on the smells of the food and drinks on the ofrenda, and be with their beloved families again. The ofrenda is made to connect both worlds, the living and the dead. It can connect us to our past, and allows the dead to connect with us. And the process of building the ofrenda is a powerful tool to teach children about their families and better understand traditions.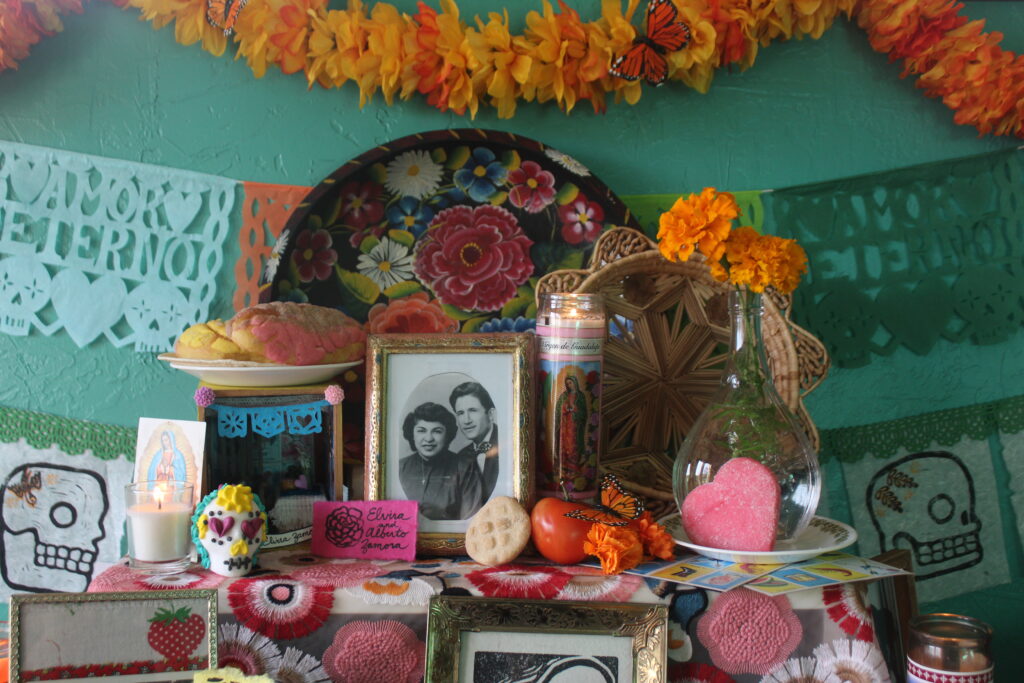 Why I make ofrendas
My Grandma Zamora died when I was two years old, and sadly many Mexican traditions ceased as well for our family. No more tamale dinners on Christmas Eve, cascarónes fights, or homemade tortillas. I didn't even know about many traditions until I grew older. Pan dulce, Mexican sweet bread, was always at my Grandpa's, but a lot more was missing, and I longed for it. It was sad enough not having my Grandma in our lives, but made worse to lose these traditions. I decided to change that.
I learned more about who she was and what she liked to do, and that she made fresh tortillas daily for her family of nine. I learned how she practiced her English by reading to children at the library. I began making tortillas, tamales, and cascarónes. I made my first ofrenda and dedicated it to her with pan dulce, Mexican bingo and her old earrings. I imagined her, and felt closer to her, and felt that I was making her proud. I knew that when I became a parent I would teach my own children about her, so they could feel this connection too.
This is Día de los Muertos, this is what it is about! Honor the dead, remember the lost loved ones. You can learn about who you are and what your family did for you. You can also grieve those you have lost more recently, in a way that encourages talking about them and sharing their stories.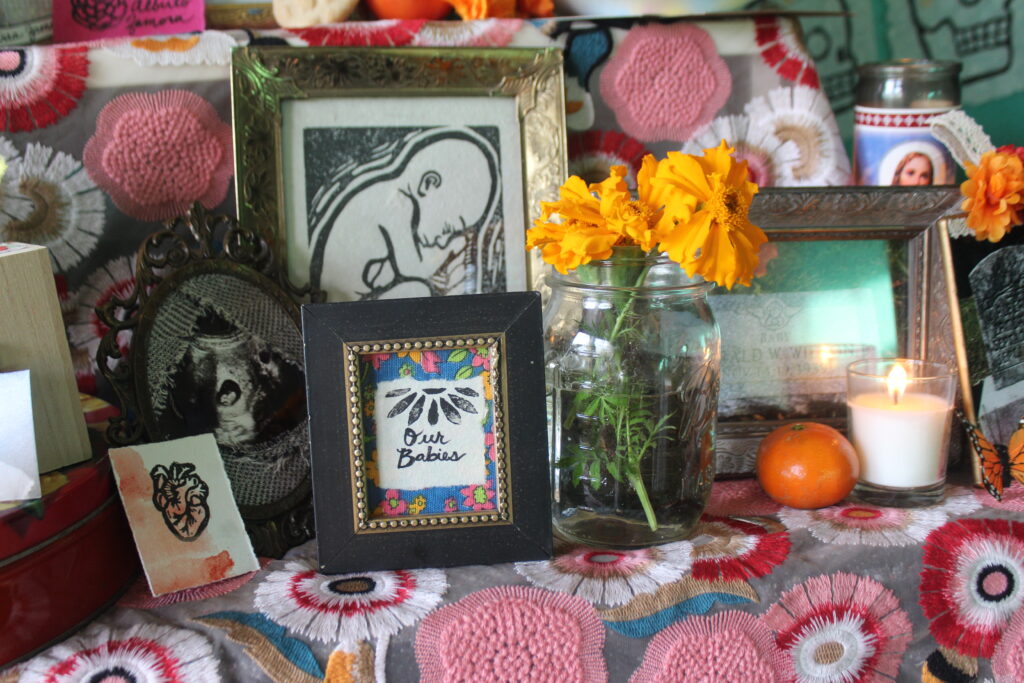 Who do you want to honor?
Now I encourage you to try this yourself. Decide who will be on your ofrenda. Ofrendas are most often built for family members, but you may also want to include dear friends or beloved pets. They are family too, and their loss may be more recent and painful. When I see my dog, Rumbly's, photos on our ofrenda I deeply miss her, but am comforted to see her as part of the family. Some people choose to honor a celebrity or historical figure they admire and this is fine too.
There's someone else you may also choose to honor, a baby. It's terribly common for families to go through miscarriages and infant loss. Although I advocate for people to share their losses I understand first hand how difficult this is to talk about. Making a special dedication to our lost babies is something I choose to do for them. I have also learned about how my grandmothers went through incredible losses, and this reminds me of the strength one must find.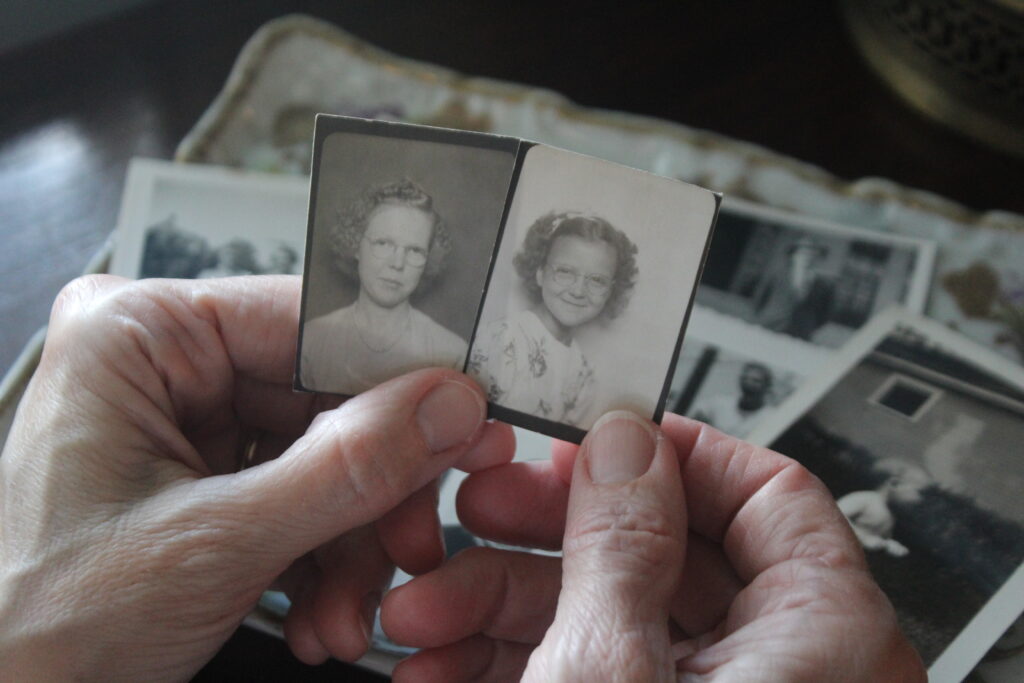 Reflect and gather
It's time to reflect on lost loved ones, and learn about those you never knew. Talk to your family, ask to see photos. Ask the questions; what did they love, what did they eat, what reminds you of them, what did they teach you.
Then begin collecting. Gather a few photos and maybe you will even discover your parent or grandparent has something that once belonged to them. Go buy that pan dulce or corn on the cob or even gross circus peanuts that Mabel loved for some reason. The more you ask and reflect, the more memories will spill out, and this is truly the important part. Remembering is what keeps lost loved ones alive.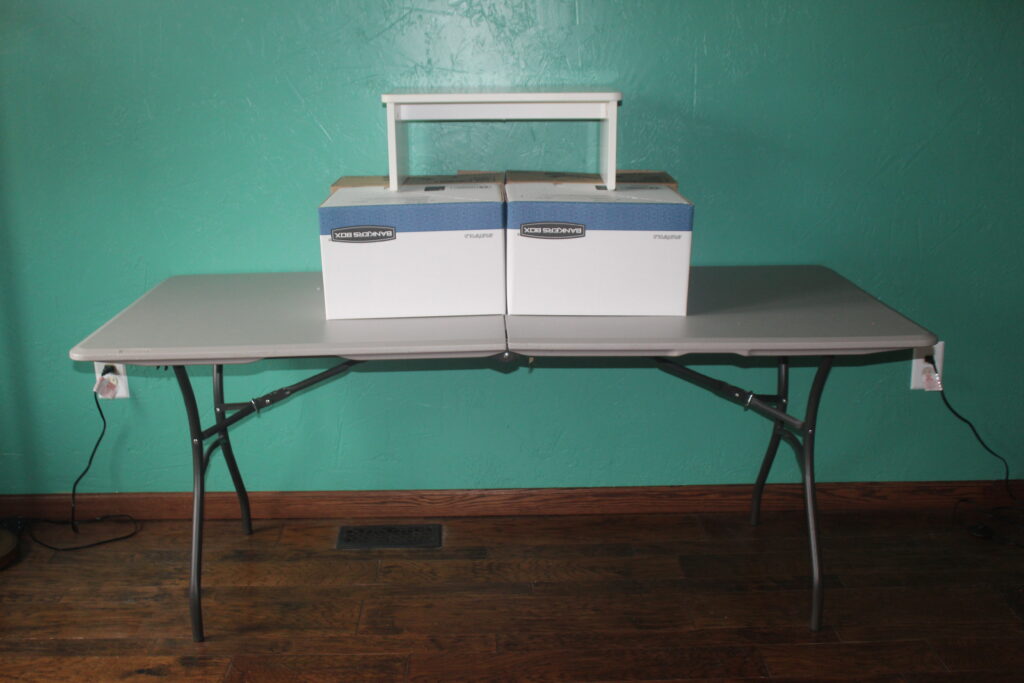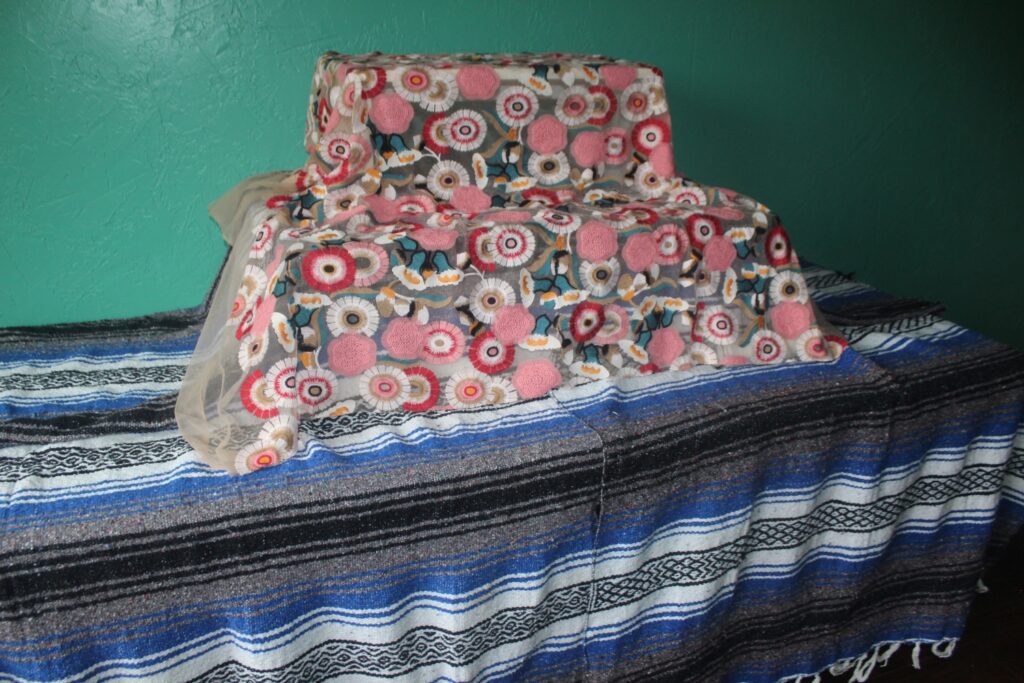 Build and decorate
The next step is to choose a table, a dresser, something on which to set up your ofrenda. Keep it small or go nuts and move furniture around. This is where you can get creative, and there's no wrong way because this is a personal dedication. Look through photos of Mexican ofrendas and you will see different sizes, some inside, some outside, and some built upon graves in cemeteries. If you want tiers, add some different boxes. Throw on a tablecloth, blanket or sheet. Your loved ones photos, objects and food will be arranged on the blankets. You can add incense or additional decorations. There are some meaningful offerings you can gather as well.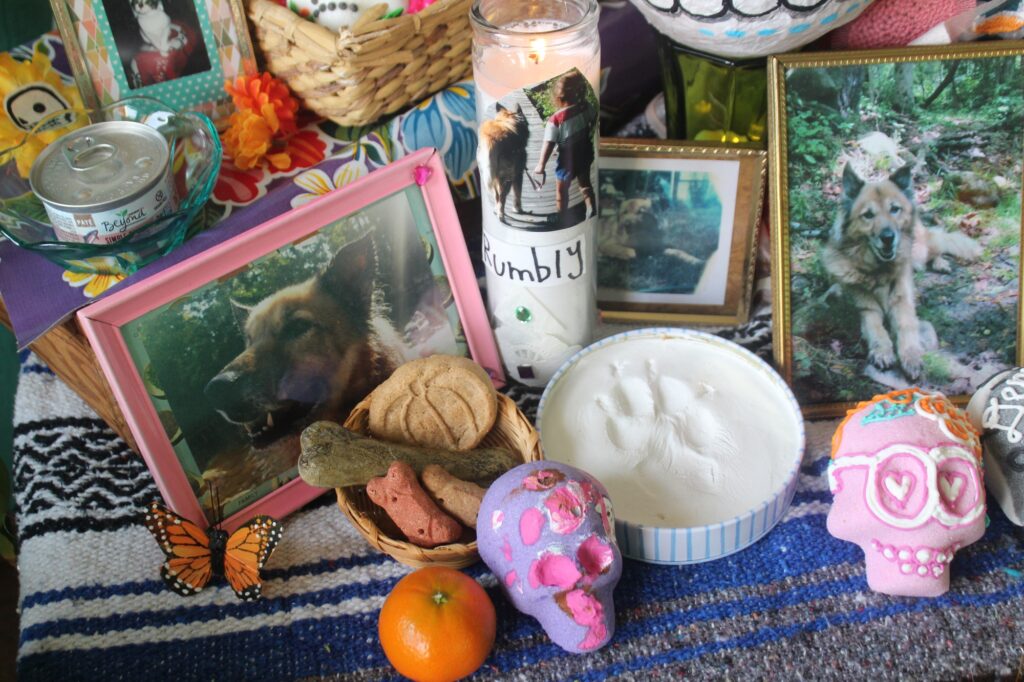 Traditional offerings you can add to the ofrenda: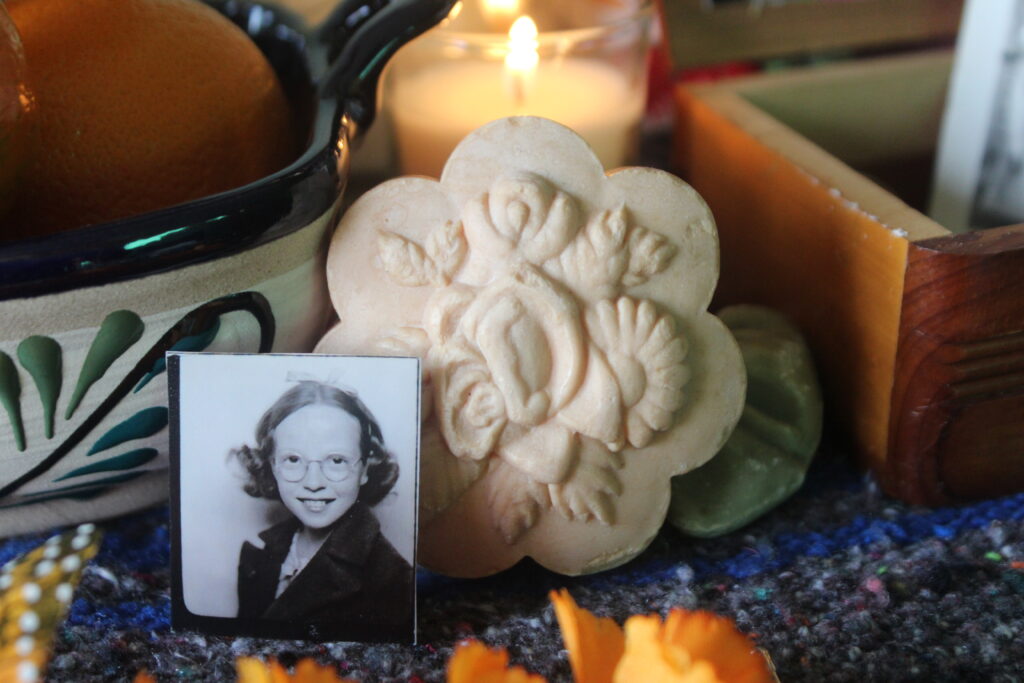 –Photographs– Photos of the lost loved ones along with their belongings or an object to represent their interests.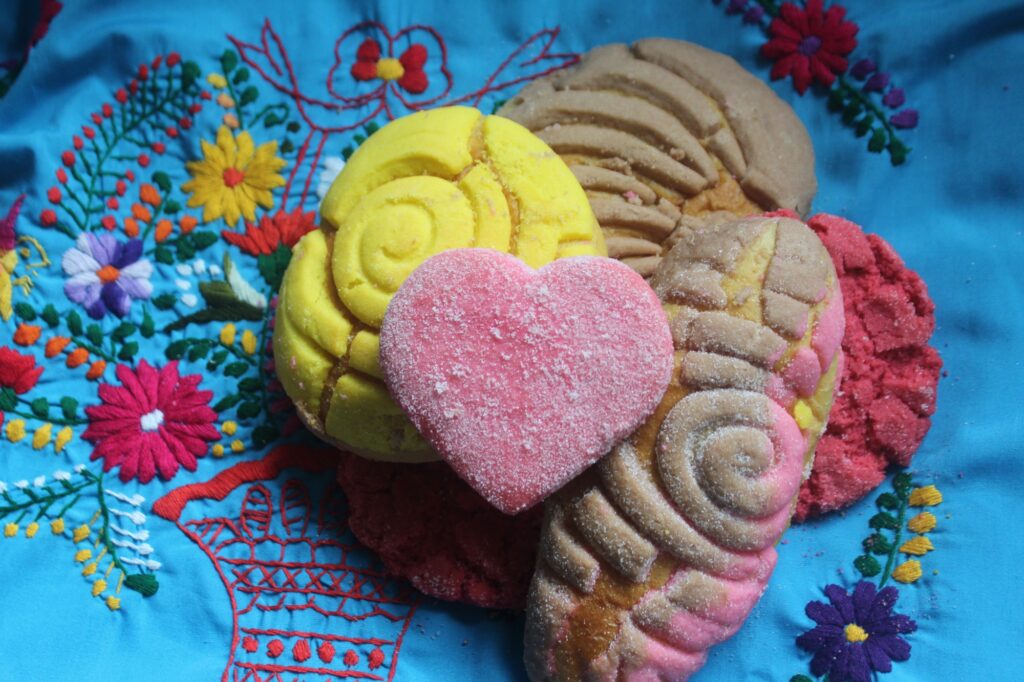 –Food and Drinks– The souls can enjoy their favorites from when they were alive. Water will quench the thirst of a tired soul, and fruits are also commonly placed on ofrendas.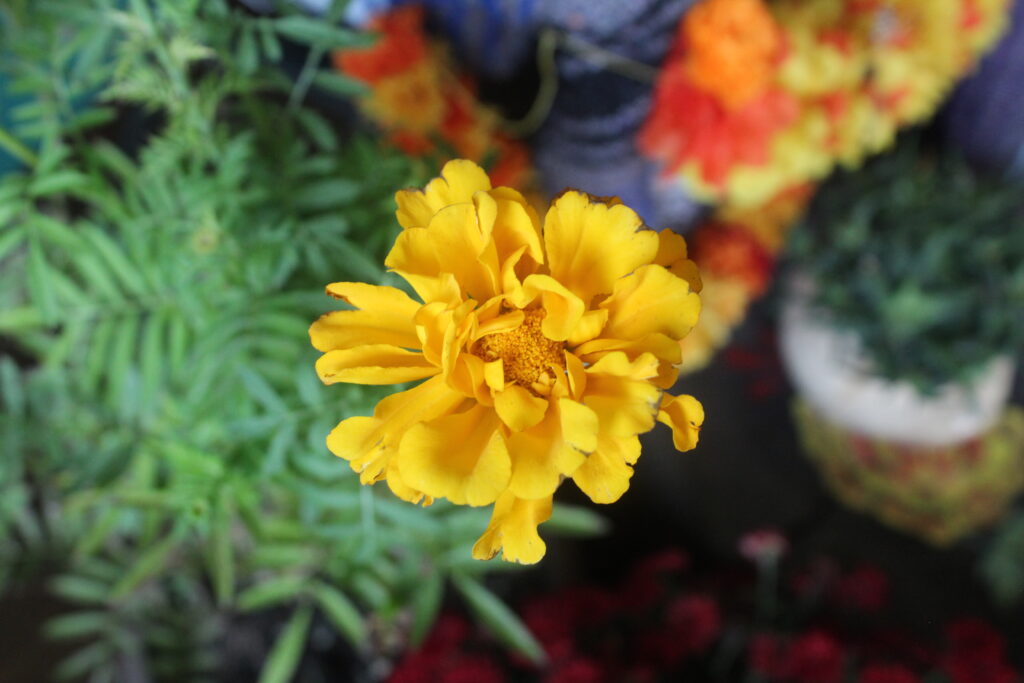 –Cempasúchil/Marigolds– "The flower of the dead", whose scent can guide the souls back. Put them in a vase, make garlund, or arrange just the petals.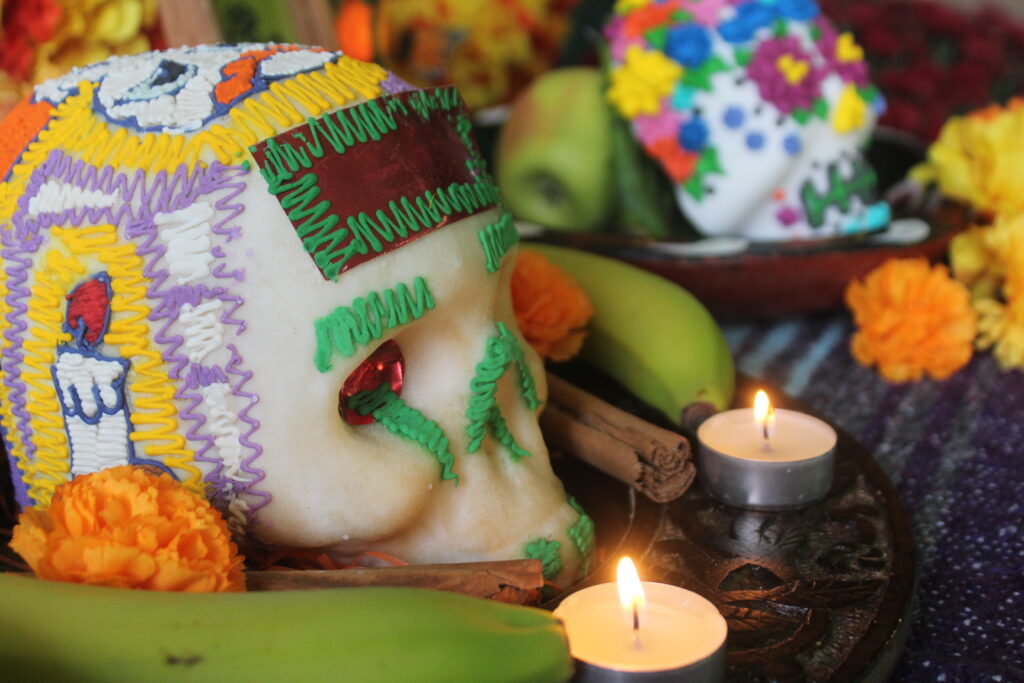 –Calaveras de Azucar/Sugar Skulls– Sculptures made from sugar molded into skulls, these can be made with a name of the lost loved one and represent both death and the sweetness of life. Large sugar skulls are decorative but smaller ones can be eaten.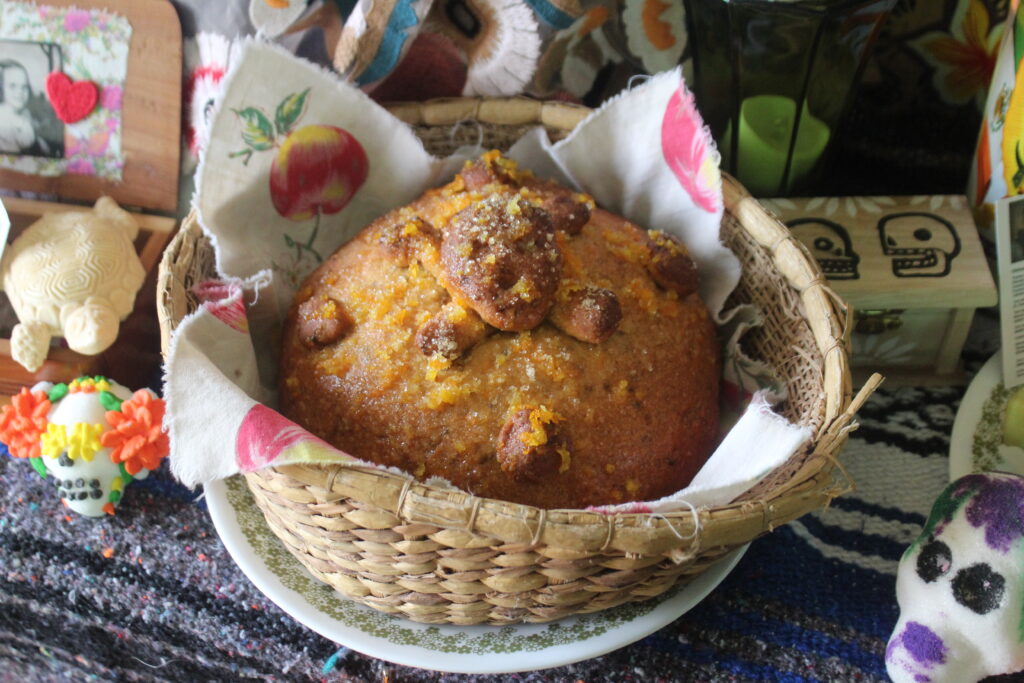 –Pan de Muerto/Bread of the dead– A sweet bread baked with the shape of bones on top, different throughout regions. Mine is topped with orange zest and sugar. This can feed a soul after their long journey back.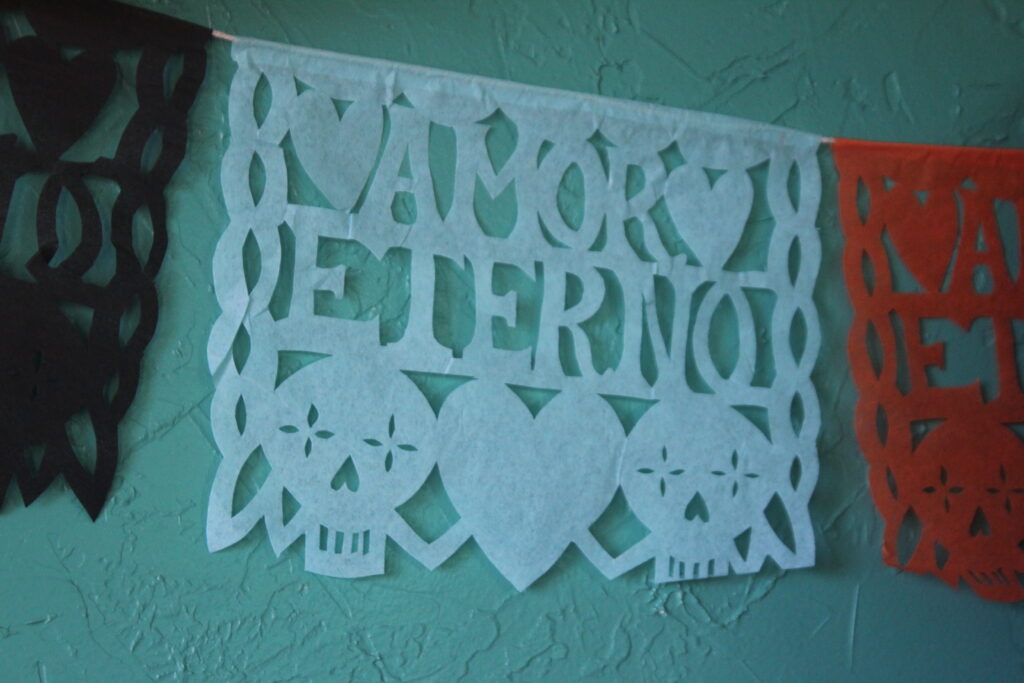 –Papel Picado– Banners of tissue paper carefully cut into designs with words and images. It can represent the fragility of life, or the banner's movement can represent the presence of a soul.
–Candles– The flame of a candle can represent hope and faith.
–Salt-It can represent the continuance of life.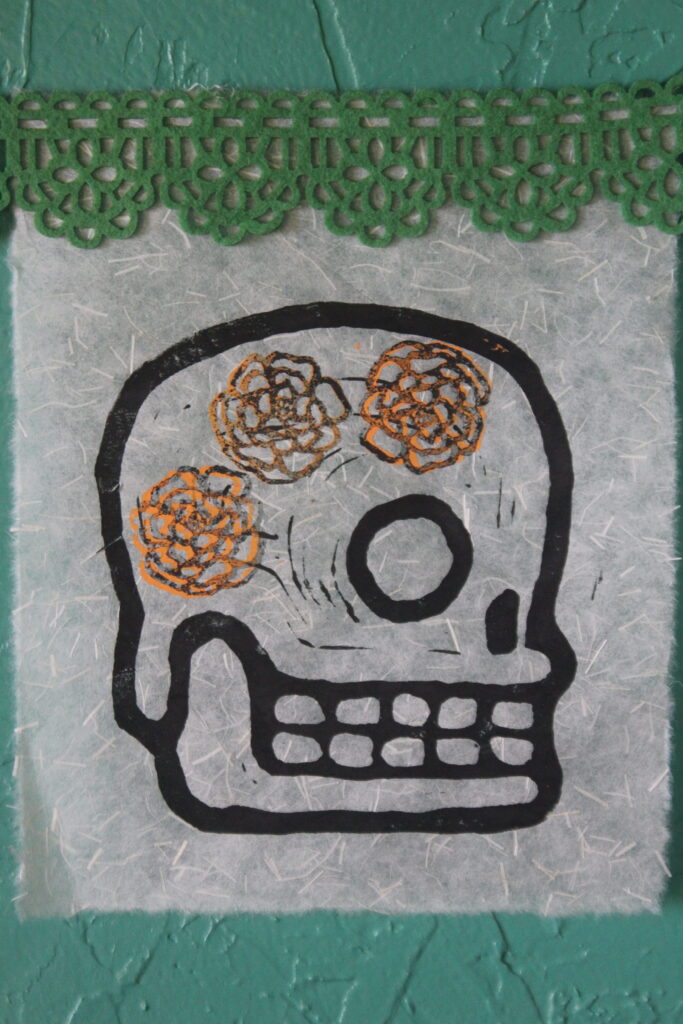 –Esqueletos/Skeletons– Much different from Halloween skeletons, Day of the Dead skeletons are colorful and comical. They often wear clothes as they did when they were alive, and are meant to bring joy.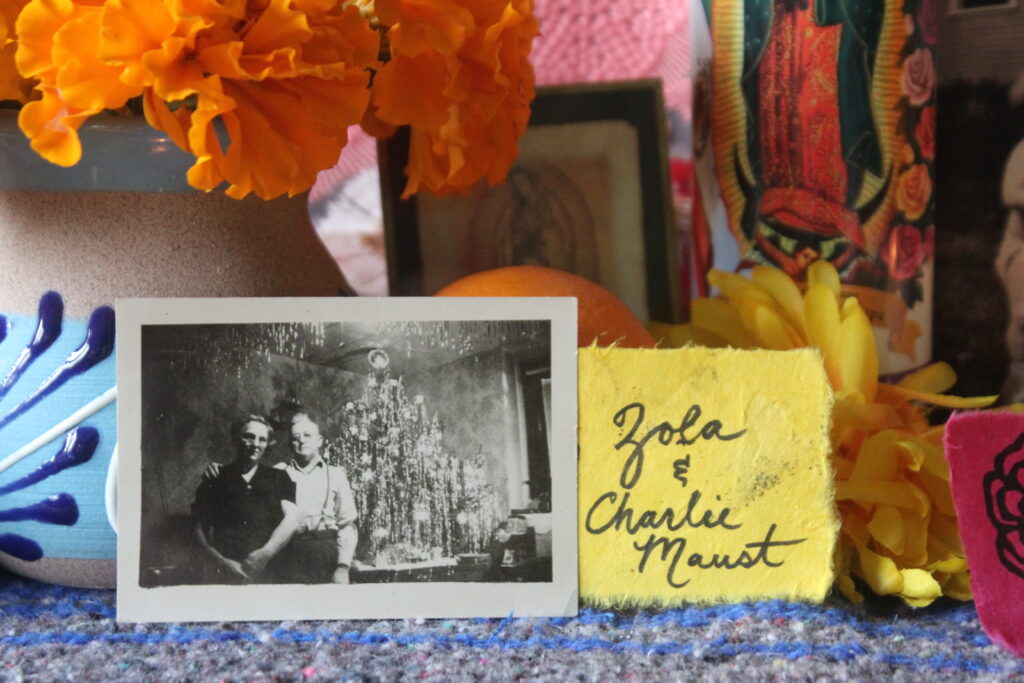 When you are ready to arrange everything on your ofrenda, take your time. Think about the memories behind the objects and food. Really look at the faces in the photos and let yourself feel the complex blend of emotions. You are grieving their loss, you are admiring their strengths, you are imagining what they went through. You are celebrating their life, laughing at stories you remember or ones your family has retold.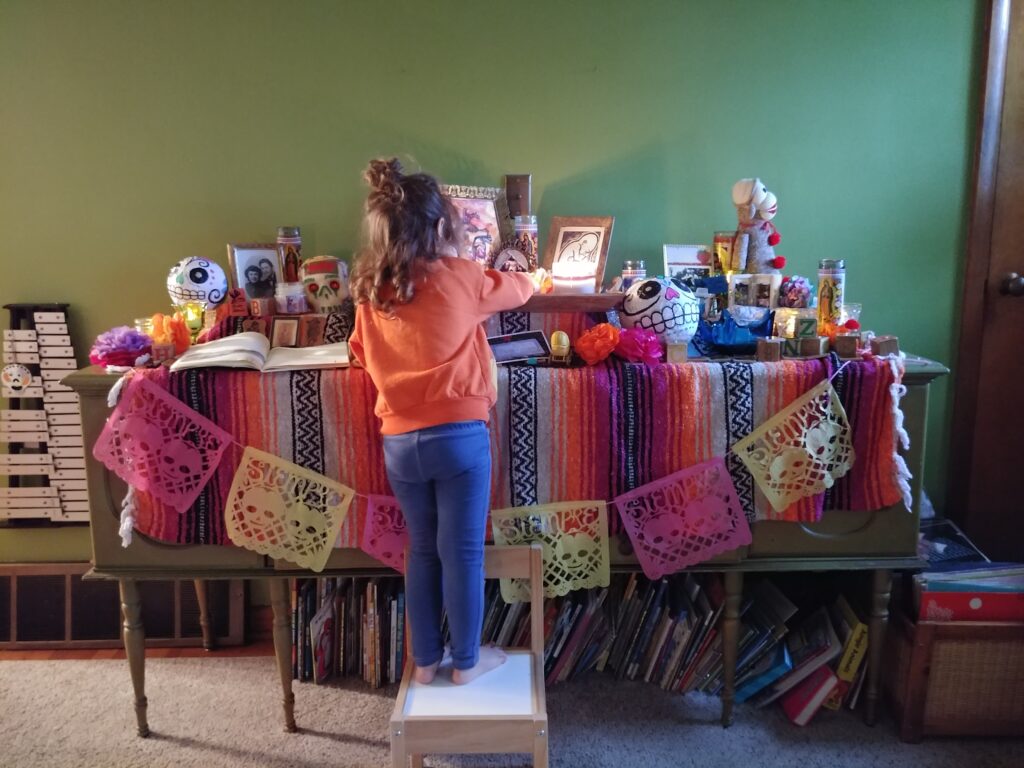 Retell the stories again
Maybe you have children in your family. Show them the ofrenda you have built, or let them add to it. Show them photos, and retell the stories. Let them taste some of the foods you have placed. Make an old recipe together. We make tortillas and applesauce. And we won't forget Uncle Greg's party cheese and bugles. Maybe your children are grieving too, and they need the experience more than you realize. This is all part of Día de Los Muertos.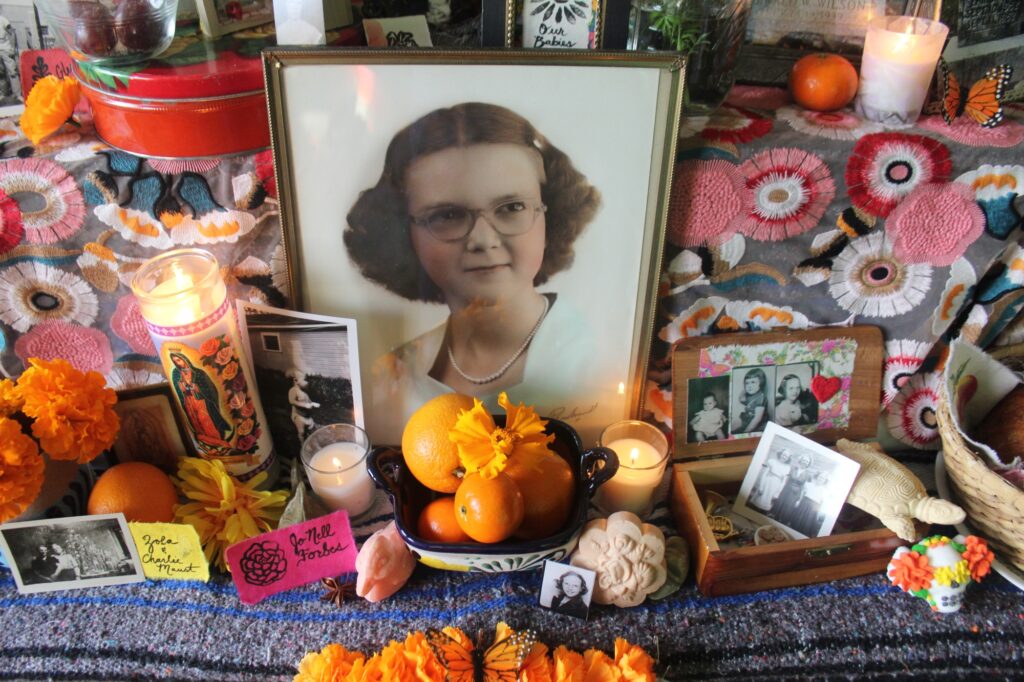 Let the ofrenda grow
Every year our ofrenda gets a little larger. This is partly due to losing more loved ones, another Uncle this year. But it is also because I enjoy the connection of learning about another family member and adding that devotion.
This year my Great Aunt Jo Nell has a new place near her parents. She died at age 14. I was able to sit with my grandparents and hear about how she loved to tease my grandpa and play double dutch. My mom brought out photos I had never seen, of Jo Nell as a baby and a beautiful young girl. She even still has her old soap collection with funny little animals and ornate flowers. I'm reminded of the strength and sorrow my grandma has gone through for 68 years since losing her sister.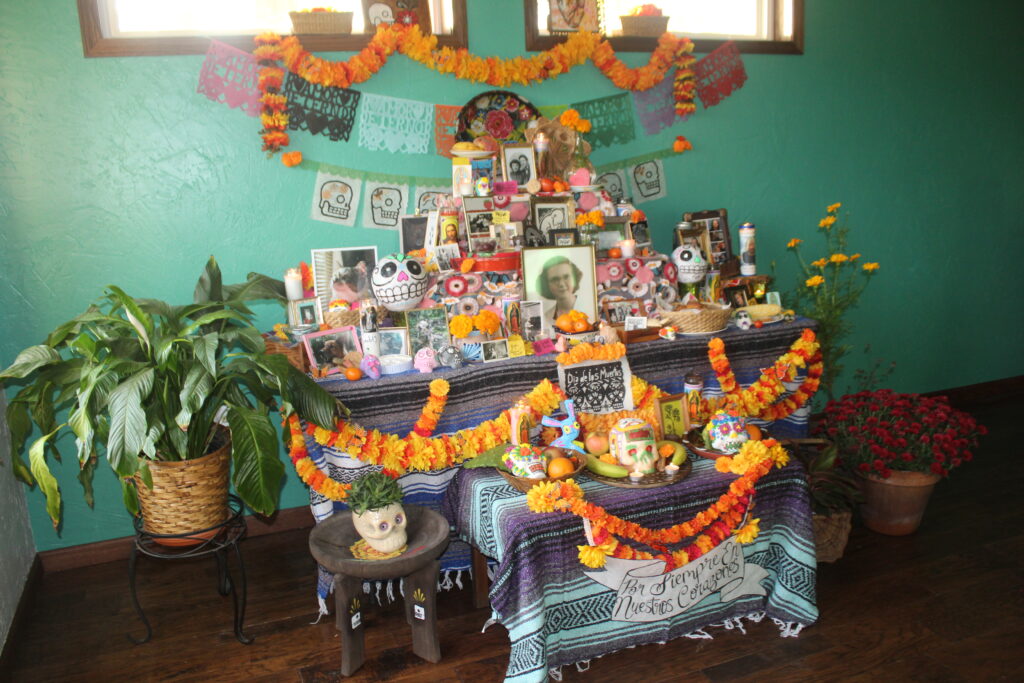 Now it's your turn
I encourage you to go out and try this. Find a way to celebrate and honor your lost loved ones in your own way. Build an entire ofrenda, or just start by calling your granddaughter or grandparent, or digging out old photos. Go to your favorite Mexican bakery and buy your favorite pan dulces, and share them with your kids, while you describe how there was always a plate of these at your grandparents house.
Share it with us!
We want to see what you make and do. We want to hear the stories. We want to see the way you celebrate and honor your lost loved ones. Share at #myCMAstudio
About the author
Renee Zamora is a Columbus artist who works with printmaking, mixed media and found objects. Her time is pretty much consumed by being a mom and home- school teacher, therefore her current art is intertwined into family traditions or inspired by daily life. She is also the co-owner of Las Primas Handmade, specializing in handmade sugar skulls, ofrendas, headbands, piñatas, prints, edible treats and more.
____________________________________________________________________
Related Events
Visit our Día de los Muertos page for CMA events and local community events.

Comments
comments