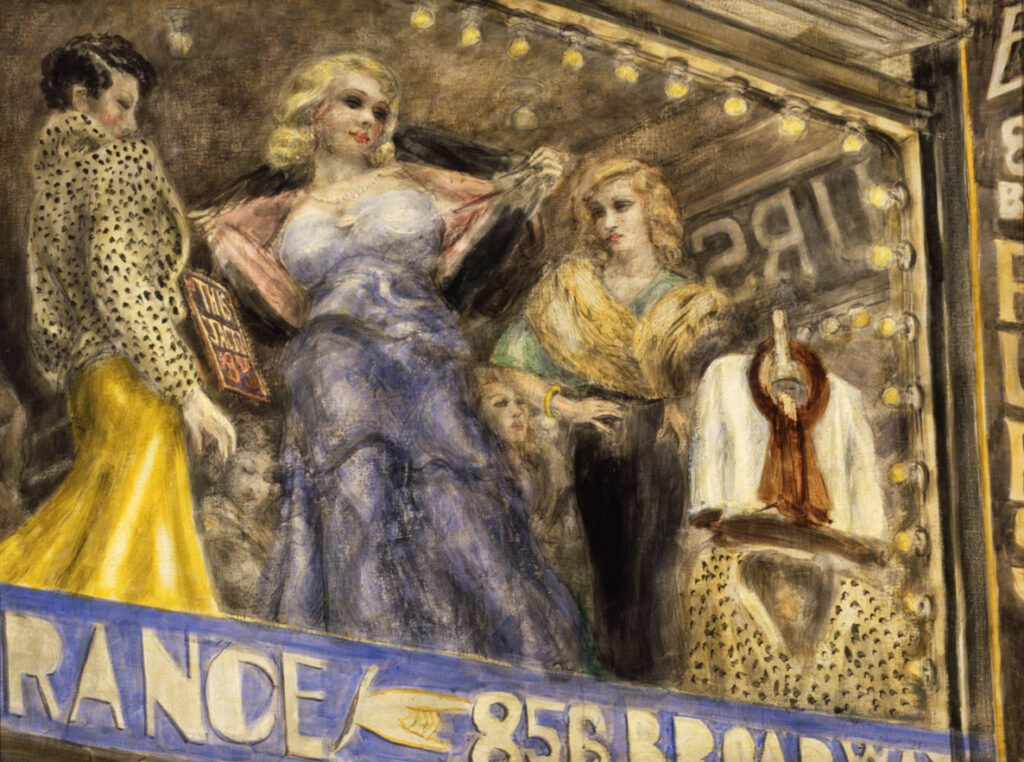 Reginald Marsh
American, 1898 – 1954
Hudson Bay Fur Company, 1932
Egg tempera on muslin mounted to particle board. Museum purchase Howald Fund, 1956.
Reginald Marsh was a prolific sketcher and chronicler of life of the middle- and lower-income working class in New York City from the 1920s through his death in 1954. Even though he was born into a well-to-do family, he found it more fun to paint the working class of New York City and the places they visited like burlesque dance halls and the public beach and amusements at Coney Island. He was sympathetic towards those less fortunate than himself and said, "in and around New York City there were dumps, docks and slums – all wonderful things and in the city subways, people and burlesque shows".
Hudson Bay Fur Company was painted in 1932 during the great depression. In spite of breadlines and high unemployment women aspired to dress like the Hollywood actresses they saw in the movies. Even if they had limited funds women wanted to replace their outdated 1920s clothing with the latest styles and look glamorous, alluring and attractive.
Marsh's studio was very close to Hudson Bay Fur Company and when he was not walking around New York City sketching the sights, he was in his studio drawing and painting what he saw on the bustling street below. He loved to gaze out his window with binoculars to observe the vibrant activity on the sidewalk. During the depression it was not unusual for stores to use real women as models in their store windows. Look up and see how many women you see. Can you find five women? Do they all look real or could one be a mannequin?
Hudson Bay added the sign with the store's address to cover the women's ankles because they thought people passing by paid too much attention to the model's ankles and not enough to the furs and clothing for sale. Marsh frequently included text in his artwork. What other signs do you see in the painting?
Marsh delighted in what was considered seedy or vulgar subject matter at the time and his art was popular partly because he did not conceal sexual content. Today the models in the window may seem less provocative and maybe even quaint. What do you think?
Linda Bauer is one of Columbus Museum of Art's many docents. Our docents mission and joy is to engage museum visitors in meaningful conversation and to encourage visitors to make personal connections with the art of CMA.
Comments
comments