At the virtual CMA Members' Opening of Raggin' On: The Art of Aminah Brenda Lynn's House and Journals on November 18, 2020, Columbus poet Scott Woods captured Aminah's spirit in a vibrant poem. Here is the poem and some of the objects and scenes that inspired it.
Catch These Hands (For Aminah)
Scott Woods
"The beginning of one's life never begins with oneself."
– Aminah Brenda Lynn Robinson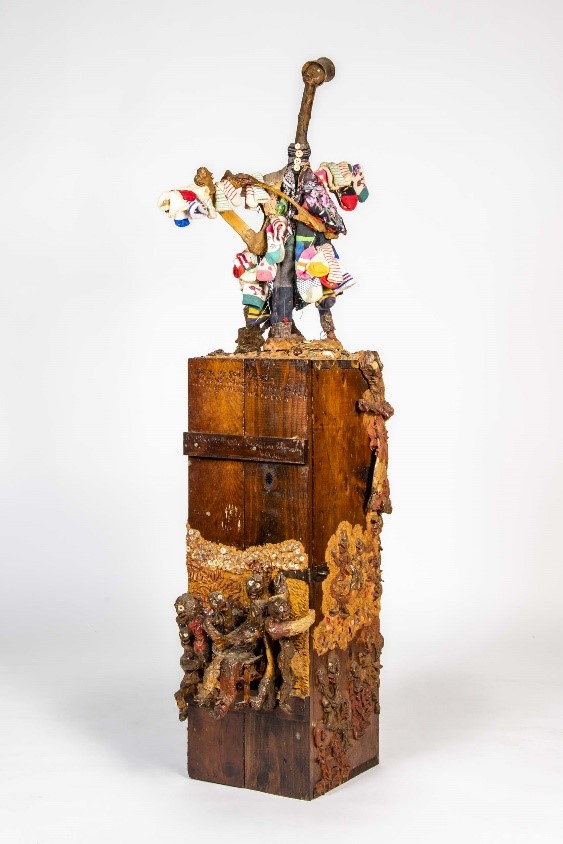 Sockman, 1980, mixed media, Estate of the Artist

When writing a gospel,
always note the place, then the activity.
The place will not always stay –
sometimes they crown our emancipated spaces someplace else –
but someone will always need a sock or a chickenfoot.
Keep track of these bones.
One day you may have to make flesh clay of them.
Someday someone will somehow
sometime your something.

What you need a bed for anyway
when you got all this world to sleep on?
Kitchen is just a place to cook more art.
Dining rooms make great studios,
bedrooms profound museums.
A hallway is a perfect place for another gallery.

So claim your space now and loudly:

Kitchen
Bathroom
Poindexter
Beatty Center
The Cameo
The Pythian
Ted's Place
All of the schools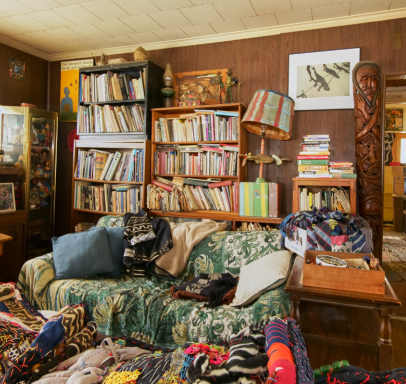 Aminah's Living Room


Uncle Alvin Says….in 1200 AD, Mixed media, Columbus Museum of Art, Bequest of the Artist

These places where we ruled and now hold on to with our teeth,
where we have been before, and before before,
her Uncle Alvin says as early as 1200,
when Afrikans settled the Ohio Valley
in ships made from stitches and stories.

Those ancient Afrikans who became
the silt and dust of Poindexter Village,
whose children would disappear into its obsidian streets
and upon whose flesh you could grow the grandest blackberries,
which just goes to show that stories run in Aminah's veins.


Themba Bears Witness, 1996-2012, mixed media, Estate of the Artist

Raggin on from Sapelo Island to now,
a cart full of brown smiles turned to scowls as they passed,
baptized by an orchard of ripe and hanging kin,
always looking back,
first over the shoulder,
then with arms open wide to the past
as if the trees might give up their ghosts.
And in her hands they do.


Incantations, 1996-2912, Estate of the Artist

The masks of Themba are not disguises
but our true selves hollering into the red sky,
all these Black people who smile
but do not show they teeth,
calling forth all the buttoned-down gods of man
to come catch these hands.

Let us make a quilt of the quilts,
Needle to thread life, a maestro of souls.
Even if you out of work, you work.
Hands are the first tools of a people and
all her hands large enough to hold the world.
At least this one.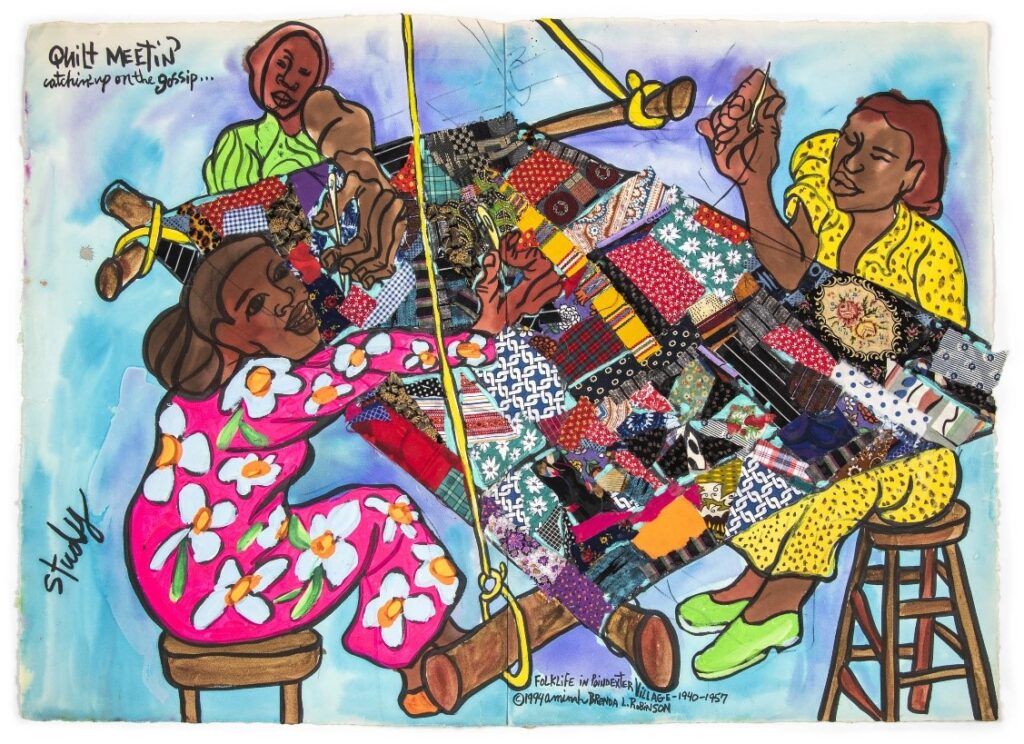 Quilt Meetin' catching up on the gossip, 1994, mixed media on paper, Estate of the Artist

Called out each morning from a
sidewalk shaped grocery list
a street full of prayers
a block of hymns and
the mundane sold in ecstasy,
head kicked back in laugh you can almost hear,
a dancers gait frozen and held aloft
on pedestals of auction block wood
and family albums that look like gallows.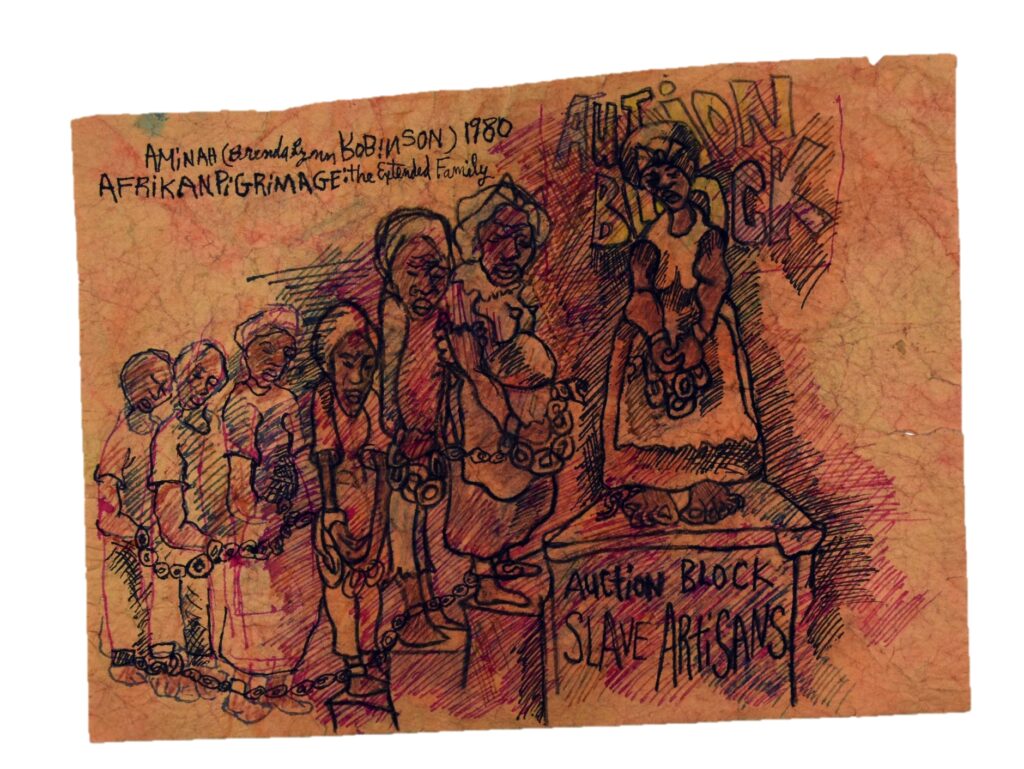 Auction Block, 1980, pen and ink and pastel on paper, Estate of the Artist

Iceman, Breadman,
Ragman, Sockman,
Cameraman, Vegetableman,
Chickenfoot Woman,
come get your hustle on!
It's a blues life, a jazz walk,
a symphony of Mount Vernon lives
dotting the musical staves
of songs sung in the leathery tongues
of Eastside angels.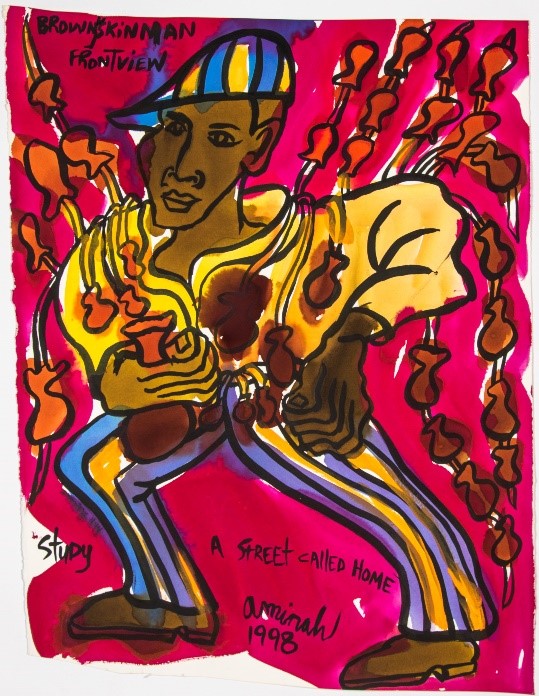 Brownyskin Man, 1998, watercolor, Estate of the Artist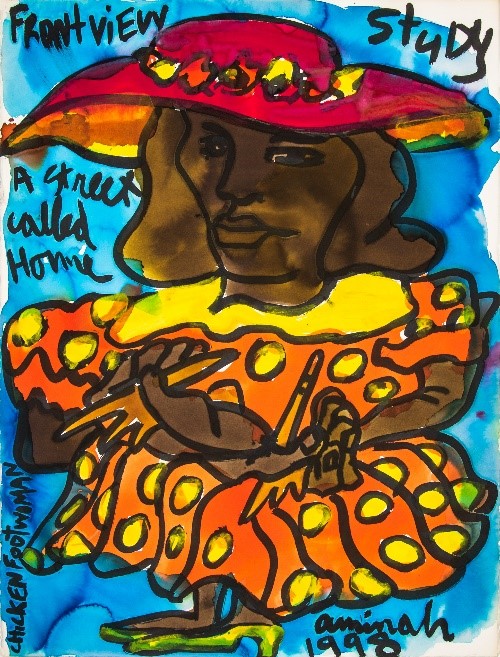 Chickenfoot Woman, 1998, watercolor. Estate of the Artist

Oh, to need a rag so bad you buy one.
A sock delivered to your door,
ice so heavy the sun take its sips and leaves

Learn to be one thing on this avenue
and you'll live forever.
To become what you carry is to become a patron saint of the bramble:

Umbrellaman is a golem of shades,

Chickenfoot Woman a priestess
of every good Saturday night supper for seven blocks.

Aminah made of brush and rag and button and hogmawg,
carrying all of her people like a Brownyskin Man,
a pantheon of Black Jesuses.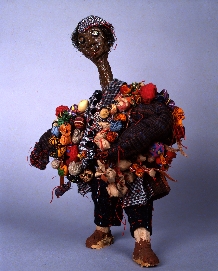 Brownyskin Man, 1997, mixed media, Columbus Museum of Art, Museum Purchase with funds donated by Wolfe Associates, Inc.

And I stand here,
in this archive of captured dreams,
an Alexandrian library of long gone mystics,
looking at this button,
a goddess' eye looking back at me
strung firm into the face of an ancestor
I did not know I had,
Themba whispering to me that a life is a walk;
that ragonnons,
unfolding and unfolding through time,
take a life to create and capture at once.


Dad's Journey, 1972-2006, mixed media, Columbus Museum of Art, Gift of the Artist

The beginning of one's life never begins with oneself.
So says the Artwoman, the Buttonteacher.

So says the Hogmawg chef and the empress of blackberries,
the Envelope steamer and the gupa goddess.

So says the gardner of bottles and spirit catchers,
the mayor of villages that sink into the concrete
and come back blacker still,

as if their roots were oil and slave blood.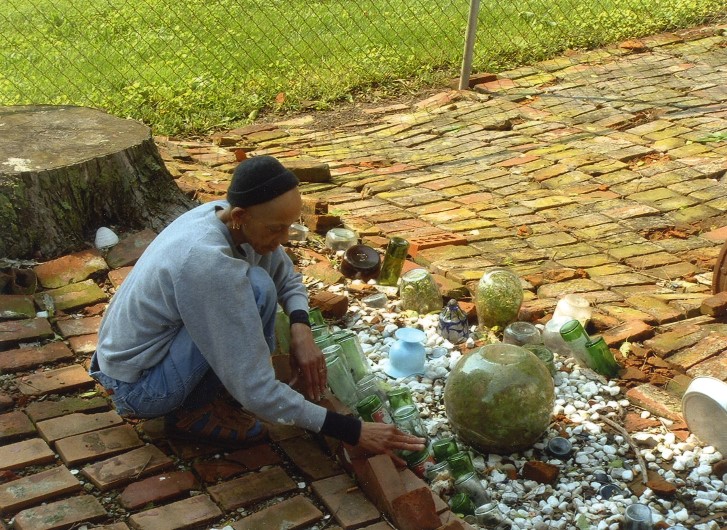 Robinson in her front yard bottle garden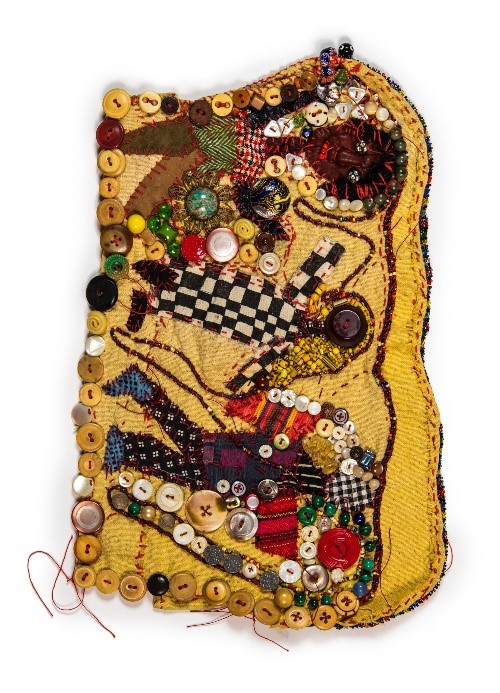 Button Beaded Book, date unknown, mixed media, Estate of the Artist

So says the Afrikan time traveller and the eternal Ohioan,
The Trustworthy Daughter Thus Named.
So says the realtor of holy places and sensei of stitches,
the librarian of sleepy-eyed languages,
an optometrist of cowry shells
the archeologist of memory over searching,
the carrier of homes,
the avatar of unrequited love letters
that have had their bellies steamed open
to make room for more love.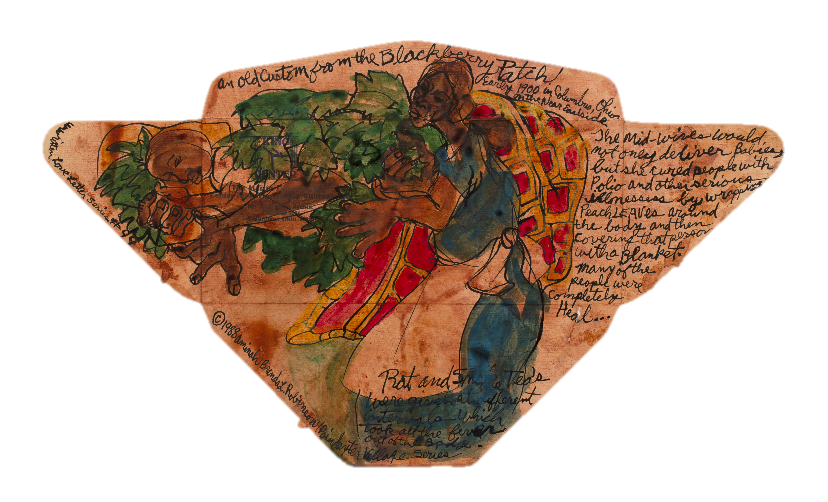 An Old Custom from the Blackberry Patch, Unwritten Love Letter, 1988, mixed media on envelope, Estate of the Artist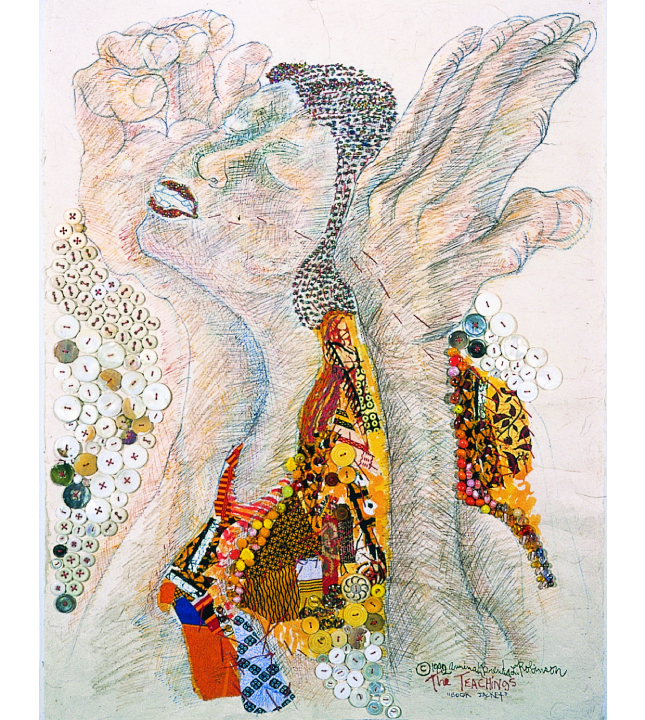 The Teachings, 1992, Mixed media, Columbus Museum of Art, Gift of the Artist

So says the teacher of this last lesson,
who is somehow gone but present,
still drawing on the walls,
still penetrating all hallelujahs,
midwifing the Middle Passage back into now,
still catching every newborn/old world
in her great hands.
Comments
comments