Columbus-based artist Bryan Moss is a comic artist, painter, and educator. Moss is also an art instructor at Columbus College of Art & Design and the Columbus Museum of Art. He is currently working on his own comic book as well as freelance projects including large-scale murals, immersive experiences, designing treasure maps, and more.
Bryan is currently the full-time caretaker for the home of the late Aminah Robinson, which Columbus Museum of Art has recently renovated, thanks to a grant from the Columbus Foundation, to serve as a home and studio for a new artist-in-residence program.
Memphis artist Johnathan Payne was scheduled to be the first artist-in-residence in summer 2020. That has been delayed by a year because of the COVID-19 pandemic.
Moss has lived in the house since August 2020, creating art in Robinson's former studio. When the pandemic began in spring 2020, the Museum commissioned him to create a series of comics in response to what was happening in the world. Today we're sharing a sneak peek of that project.
Can you tell us about the story these comics tell and where we were a year ago?
As we all know, when the Covid-19 pandemic first hit and the city shut down, it was an extremely isolating, surreal time, so the comics begin in that space of isolation and loneliness. Right before the lockdown, I had been working on a show for the Gateway Film Center, so I had all these large-scale paintings filling up my studio and when the lockdown hit, all of that came to an abrupt halt. So the comic shows that – the sense of all this build up and energy and then the city suddenly being empty with no movement or activity. I tried to document some of the routine I established during quarantine – walking downtown to my studio, reading in the mornings, and making work – but the comic really captures this kind of extended stasis I think we all felt during that time.
I didn't want to stay in that space though. As much as we were all isolated and stuck in our homes alone, I knew there were other stories and other experiences still happening in the city, so as the comic unfolds, I wanted to try and show that by telling other people's stories. I put out a call across my social media to ask for people's stories in quarantine, and as I began to get responses from people, I began to tell those stories in the comic. I hope that reading the comic will make people feel that same feeling of quarantine – the initial isolation and loneliness – and then the feeling of the world opening up again as we found new ways to connect and relate to one another.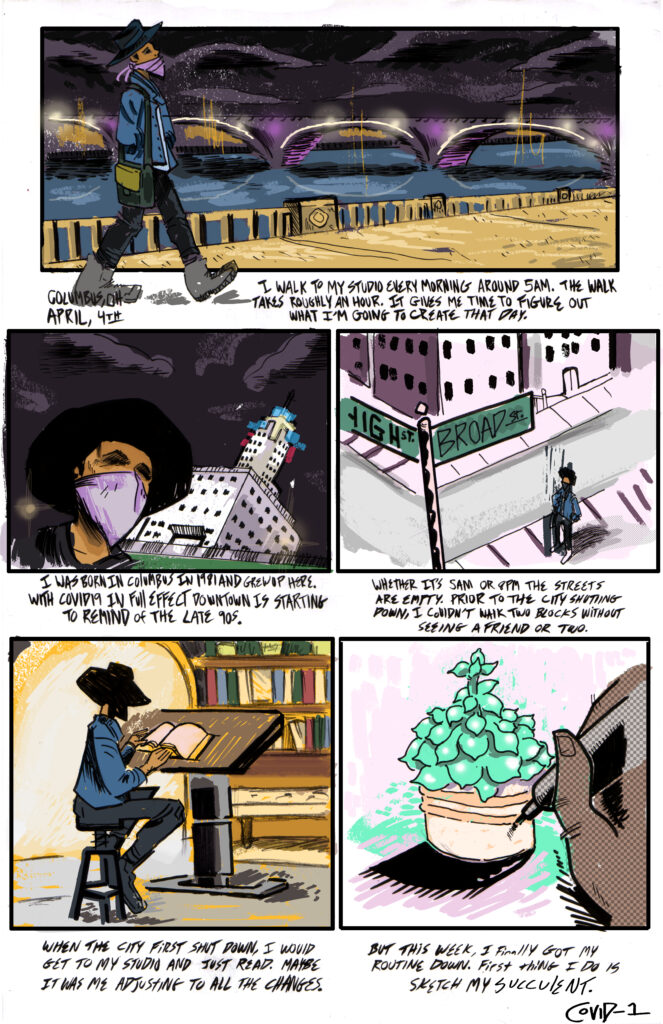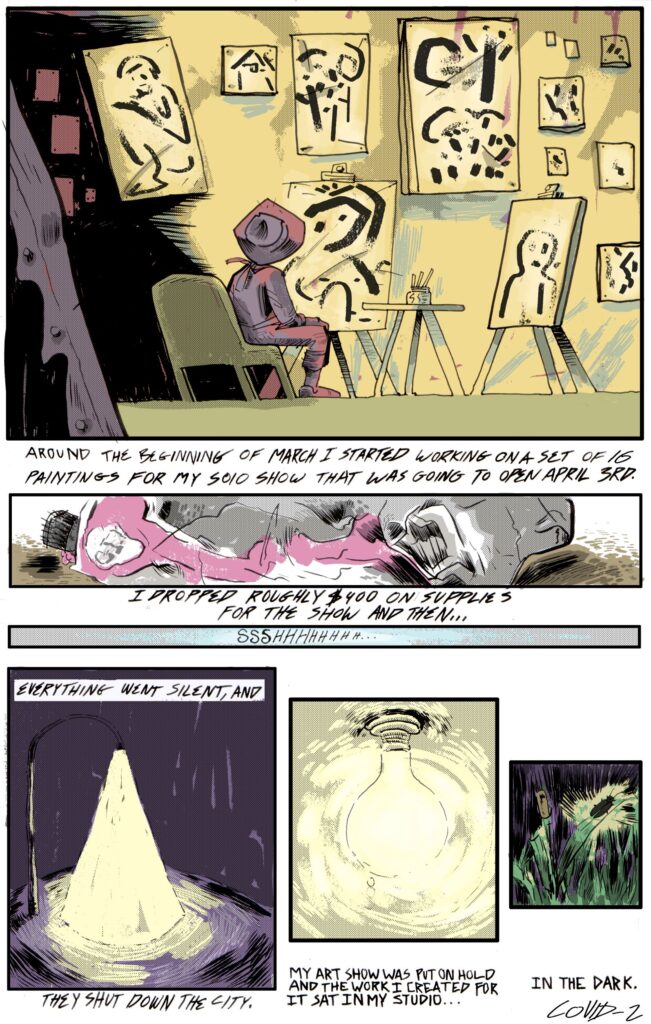 How have the comics evolved through 2020?
I think as we moved through 2020, we realized that Covid-19 was not the only social upheaval we were facing, and the comics reflect that. Especially as we went into the summer and saw the reinvigoration of the Black Lives Matter movement around George Floyd's death, I felt like I need to document how that movement and the pandemic were intertwined, how we were seeing just this enormous outpouring of pain from the Black community. Racism is a public health crisis just as much as Covid-19 is, and it felt really important to me that I allow that to be a part of the evolution of the comic.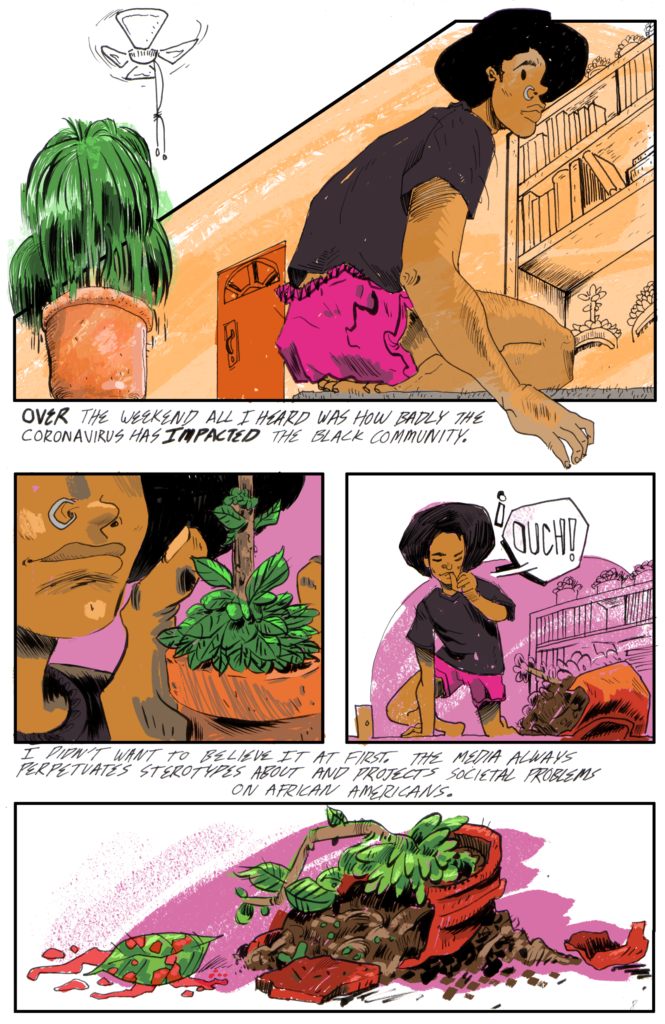 Tell us about your creative process for creating this series.
Much like our posts on social media, I wanted there to be an immediacy to this comic. Whether it was me telling my story or illustrating the stories of others, the process was very quick, very intuitive and organic. The stories feel lived in and the world is fully realized in this comic, but it all came together fast, just like when you post to Instagram or send a Tweet.
How has the process of creating this comic been different from your approach to writing and illustrating other comics? What has been similar?
I very rarely make comics about my own life, so that is already a departure for me in terms of writing and then depicting myself in comics. It was a welcome opportunity, though, because, like I said, it was this chance to document all these huge social upheavals that we were going through. I think I'll look back on these comics like a snapshot of this year of change and growth and struggle in the community. All of my work tries to reflect the community some way and tell their stories, so even while writing about myself was a different experience, writing about the community is very consistent and very in line with what I do.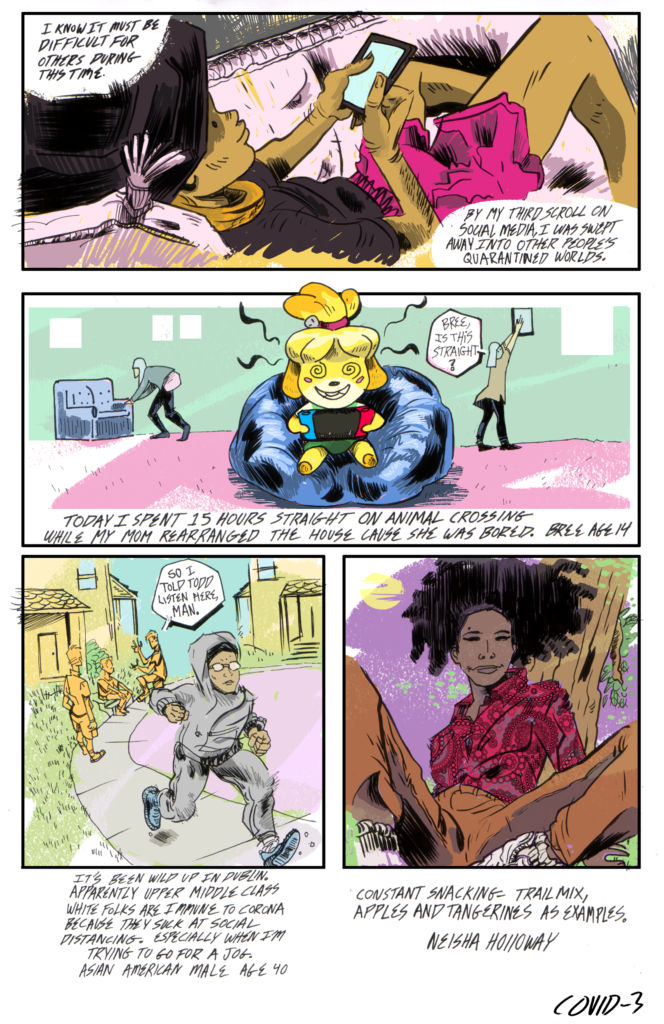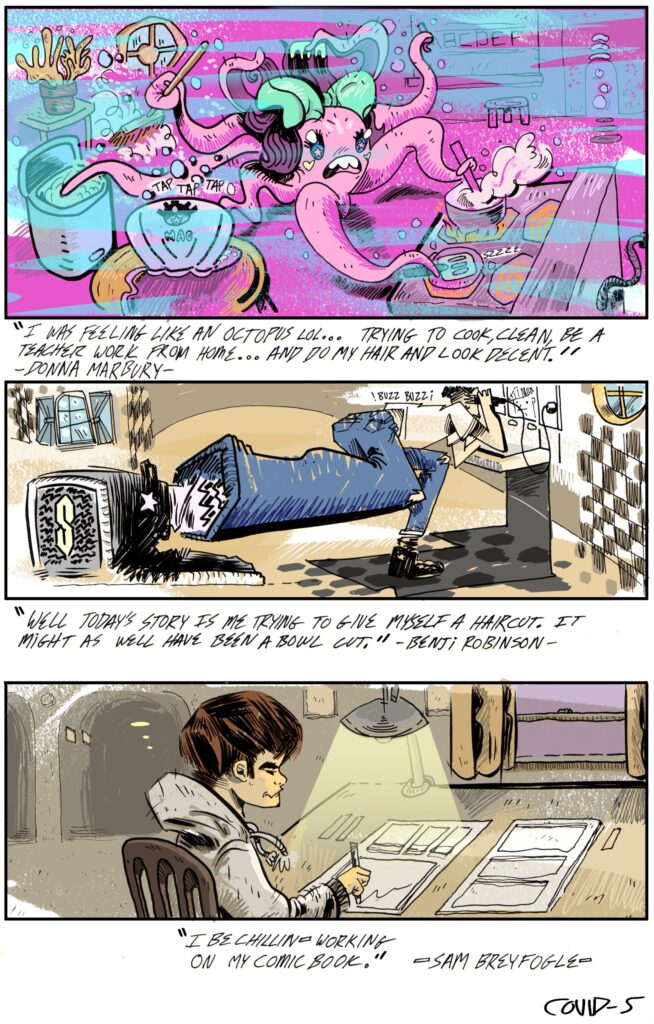 What has surprised you the most about this project?
I think just that core narrative – how the comic moves from isolation to a cacophony of voices. That wasn't where I saw the comic going, but I'm grateful that I've been trusted to tell all these stories from the community and bring them to life.
What impact has the process of creating this Covid-responsive project had on you?
Working on this comic really saved me from feeling isolated and alone during quarantine. It became this way to reach out to the community even though we were all physically separated. And then on the other hand, it also allowed me to process everything that happened over the summer with the murders of Breonna Taylor and George Floyd. To have this space to work out everything I was thinking and feeling alongside the community was incredible, and I am so grateful to have the space and time for this process.
How do you hope people engage with this comic? Or What do you hope people take away from this comic?
I hope that this comic gives people the inspiration and the permission to go back to their memories of quarantine, lockdown, the BLM protests, and everything that we maybe view as "negative" or difficult about 2020 and see how those experiences actually shaped us and helped us grow. I want us to keep telling stories about this moment and really have the space to reflect on this time of great change.
What role has living in Aminah's house played in your creative life, your creative process?
Being at Aminah's has been a very healing process since the loss of my mom — it's a very maternal expression that I feel being in this space. I also love being in the neighborhood and building relationships with the neighbors. That's allowed me to recreate a value system that I kind of lost when I moved downtown. It's cool to tell the neighbors about what projects I'm working on and then they'll see me on TV or in the news and they'll congratulate me in a very sincere and authentic way. The neighborhood's so active and alive: I love seeing the kids playing or walking around the streets; there's lots of animal life, too, which is unique for a space that's so close to the city.
Being at Aminah's makes you feel like you don't have to leave for days because you have everything you need right here. When you're in the house, you're kind of having this dialogue with her all the time. I find a lot of answers that I'm trying to work out in my art in her artwork in the house, her books, the notes people have left for her on the walls.
Thanks for sharing your work & experiences with us today, Bryan. You've certainly kept busy over this past year and the CMA Comics project is just a small component of what you've been working on. Is there anything else you'd like to share before we sign off?
Thank you! I appreciate the support from CMA always, so it's exciting for me to get to share this project. I'm currently wrapping up two other big projects: my first graphic novel for Abrams Books, Eightfold Path, which will be out in early 2022. I also just completed a very fulfilling collaboration with White Castle and Coca-Cola. To celebrate the 100-year anniversary of their partnership, I created a mural at the White Castle Headquarters here in Columbus and designed three cups that are now available at any White Castle nationwide.
Interested in learning more about Bryan's work? Follow him on Instagram @strangethingsmoss