Tracy Powell once had a thriving career in real estate for 15 years, but her childhood interest in fashion remained alive in her heart.
Everyone thought I was going crazy because I was very good at what I did. I made a lot of money selling real estate, but the call to create fashion and art was so great," says Powell, who stopped selling houses and decided to study fashion at The Columbus College of Art & Design as a nontraditional student in her 40s.
Originally from Columbus, Ohio, Powell now leads The House of IsA and her avant garde designs are inspired by comic books, movies and hip hop. She uses her inspiration to produce beautiful designs that display a high fashion hand with a juxtaposition of hard and soft. Powell is also driven by her faith and the strength of the women she's known throughout her life. Powell will be exhibiting works for the second time at Wonderball, inspired by the Future theme. Below, she discusses her inspirations rooted in her family and the past, present and future of her own fashion legacy.
Q: How did you become interested in fashion?
Tracy Powell: My interest in fashion came from my mother. Actually, fashion was the direction she wanted to go, but she ended up being a licensed cosmetologist. I was going to the hair shows and fashion shows. I was actually a tomboy, so I drove her crazy for a long time. I'm the only girl and I have all brothers. As I was growing up, I started dressing my friends in middle school, changing their hair and their clothes. I loved it.
Q: After several years in real estate, how do you define success now as a designer?
Powell: When I was selling real estate, it was built based on numbers and sales and who's hot and popping. My life right now is about legacy. It's about doing things that are going to leave a mark or a trail for someone else to come behind me. Success for me would be someone else in my family coming up behind me and taking that over and making it grow just like a Louis Vuitton or Gucci.
Q: What are your thoughts about the scene in Columbus?
Powell: We are the third largest fashion industry in the nation. We also have a lot of independent designers here in Columbus, but the focus is more on the corporate end. Those companies are great, but I was already an entrepreneur before fashion so I knew that I would continue that same trajectory.
When I was a CCAD student, knowing that I'm not going to go the corporate route, I would say to myself, 'Where am I going to go to work with the amount of equipment that we have here at this studio? At the time the Columbus Fashion Alliance was an idea [Yohannan Terrell] was working on for the Idea Foundry. When I graduated, boom, he did it. And it's such a wonderful space. It's such a great place for people who want to create. I think it's fantastic what could be done in that space and the opportunities that are coming through there now.
Q: Checking out your Instagram (@thehouseofisa) your work is gorgeous. Can you tell me about some of the pieces from previous shows that you are proud of?
Powell: Last year, I was featured at the Decorative Arts Center of Ohio's Distinctly Paramount: Fashion & Costume from the Paramount Pictures Archives in Lancaster, in conjunction with Paramount Studios. Randall Thropp, archivist for Paramount Studios, brings costumes from several Paramount movies, from the 1920s to now.
We had a show and my collection was called Blameless. It was about spirituality and how Jesus was blameless. The name Isa means Jesus in Arabic. The name of my brand is The House of IsA, which is essentially the house of the Lord. Blameless was something I was thinking of with all of the things that were going on in the world with racism, George Floyd's death and how Jesus was without sin, but still persecuted. It was deep, but that was the space I was in at that moment.
Everything was white and I always put a little edge with my design. Some of the girls had gold grills. I'm from that hip hop, 80s culture. I wanted to put the bamboo earrings, big jewelry, the chunky jewelry that goes back to my urban roots.
Q: Can you give us a preview of what we will see from you at Wonderball?
Powell: I'll say the theme is about the future. My work is going to be about the progression of women, what we are to this world and how many hats we can juggle. We're all things, whether you are a homemaker or whether you are out in the world fighting that battle every day or you're a mom or grandma, we encompass all things. It's about women's empowerment.
Fashion designers are never really seen as artists, but I'm actually an artist, too. That's another one of my passions, for my designs to be displayed like a Van Gogh or a Gauguin.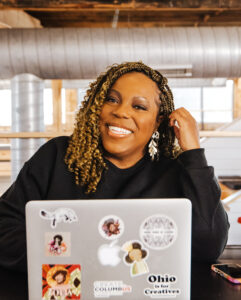 Donna Marbury is a journalist, communications consultant and owner of Donna Marie Consulting. The Columbus native was recently named as a board member of Cbus Libraries, and stays busy with her 7-year-old son and editorial assistant, Jeremiah.