Cynthia Amoah is no stranger to change. As a spoken word poet, artist, and writer, Amoah has connected with audiences in the United States and around the world. Adapting her performances for virtual formats post-COVID? Just another artistic challenge. "We can't survive without human connection," Amoah said in an interview with Columbus Museum of Art. "People will always find a way to connect."

Originally from Ghana, West Africa, Amoah has been performing and writing poetry since 2006. Amoah's poetry celebrates the roles of community and culture in shaping individual identity. Her work highlights the stories of marginalized people while exploring the intersections of gender, race, and nationality through storytelling. She completed her MFA in Creative Writing with a concentration in poetry at The New School, from which she was cited for Excellence in Poetry in 2019. Her work has been featured in OURS Magazine, Nimrod Journal, and Crab Orchard Review.

Amoah has strong connections to Columbus and the Columbus Museum of Art. In 2016, she collaborated and performed with Columbus-based Maroon Arts Group's "Write the Power" writers' residency. In the same year, she performed her poem "Honam" at TEDxOhioStateUniversity. As a high school student participating in the Mosaic program, she visited CMA and participated in teen arts programs. "CMA has been a sounding board to help me find my creative voice."

On January 30, she will debut a community poem about Wonderball that she constructed with crowdsourced perspectives from CMA volunteers. Amoah said, "I thought that writing a community poem would be a challenge. I thought I would receive testimonials and stories about how people struggled in 2020, but the testimonies were of breakthroughs, resilience, forgiveness, love, and celebration, even though so much has tried to hold us down this year."

We sat down with Amoah to get her thoughts on collaborating with CMA, supporting the Central Ohio arts community, and writing and performing in a virtual world.

Have you crowdsourced poetry in the past? How did that change your creative process? Why did you choose this creative practice for Wonderball?
My creative process usually consists of gathering a few concepts and ideas that inspire me, speaking lines and words out loud, in a repetitive nature, until sounds and metaphors come alive and can be written down in the form of poetry. For the Wonderball community poem, the process was similar in nature, but I allowed the themes of love, resilience, and hope in the responses gathered by the community to bring the poem to life. I believed (and still believe) in the intersection of art and community, in how powerful our voices are when they contribute to a collective narrative. This was actually my first experience crowdsourcing to create a poem and I was blown away by the amount of remarkable responses I received. It was necessary for me to include as many voices as I could in the poem. I had so little space to fill, but the experience forced me to investigate my own relationship with language, in learning how to be more mindful of word choice. So honestly, I hung on the beauty of every experience, and every word until the poem completed itself.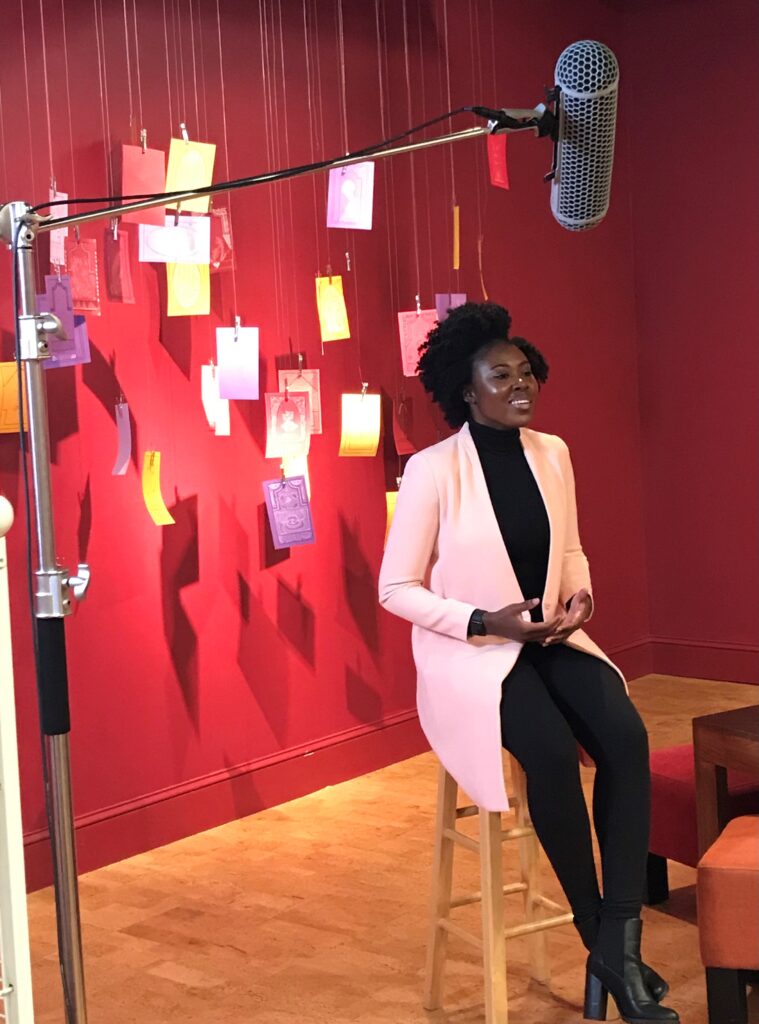 What has it been like to perform in virtual environments? How has live poetry changed?
I believe the greatest aspect of the human experience is resilience, our ability to adapt and change in the strangest of circumstances. Meeting virtually happens to now be a way we've learned how to adapt in these uncertain times. I'd say that performing poetry virtually is still "performing live," but has also had to adapt to the times. The hand clap is now an emoji, the praise shout is now a series of chats in the chat box telling me how much someone appreciated hearing my poems. Hearing a poem allows you to see the familiar anew and relies heavily on its aspects of sound and rhythm so as long as people still have the space to hear, poets will always have something to say. So then, poetry always lives.

You've partnered with CMA in the past, including for a virtual event. How does CMA foster your creativity as an artist?
In my experience working with CMA, I've realized that what they do exceptionally well is give artists in the community a voice. They also give artists the necessary tools and allow us the space and room to be our full selves; therefore, producing our most compelling pieces of art. Really, that's all artists need, the freedom to create and be, the platform to be celebrated and challenged to discover so much more.

What makes the Columbus arts community unique?
Columbus is a melting pot of creatives. I believe the power of our community lies within its diversity, but also within its acceptance and reception. There is room for everyone at the table, no one is cast aside because they're too different or sound too particular. I always say I stand on the backs of the poets and artists I first met in the Columbus community, and what's more, I am encouraged to embrace younger artists because of the mentorship I received from many artists who looked like me.

How do you anticipate the arts community will evolve in the coming years? What are you looking forward to?
I'd hope that our evolution as an arts community manifests in the form of us continuing to embrace new artists, and even newer art forms. I also hope we are constantly reflecting, archiving, and reimagining ourselves. For it is this attempt to conquer the great wilderness of ourselves that we realize how much art is a cause to defend our ability to hope, to fight, and to continue to strive.

Wonderball, CMA's annual celebration of wonder, creativity, and black and white fashion will be held virtually on January 30, 2021. Registration is free and open to the public. Donations are welcome and will support CMA's community arts programs.


Dinah Adams is a Marketing Analyst with AAA Ohio Auto Club, and is a member of the Wonderball Committee. Adams holds a Master's degree in communication from The Ohio State University.