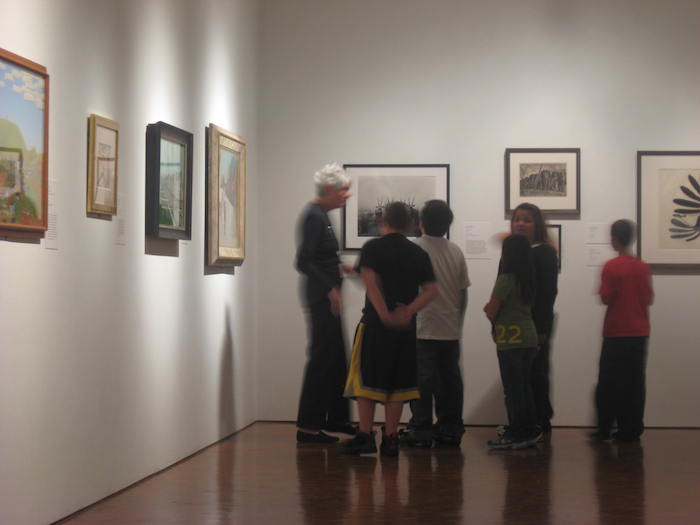 Columbus Museum of Art reopened to the public with immense care after Ohio's COVID-19 shutdown. The Museum's safety precautions for the June reopening included suspending all in-person programming and tours until further notice. While visitors are welcome to connect with works of art independently, what's a docent to do when there are no tours?!
At CMA, there are nearly 130 docents. Docents are community volunteers who train rigorously in order to engage thousands of visitors each year – including many Columbus City School students. For many docents, their dedication to the program is no small commitment. It goes beyond service and is a major source of social connection and life-long learning. So it comes as little surprise the docents have remained active during COVID restrictions, utilizing video conferencing to connect with each other.
The Docent Leadership Committee worked throughout the summer to create "Beyond the Frame," an opt-in way to organize independent study and participation in training activities. The title reflects the aspirational nature of the program, which is designed to help docents stay active and engaged with the CMA and encourage reflection. In addition to traditional "docent-led" learning resources such as mentorship, touring strategies, and a permanent collection study group, the docents are also encouraged to think "Beyond the Frame" by sharing resources that support anti-racism and anti-bias work, CMA collection inspired art making, and other materials that support creating inclusive and conversation-based gallery experiences for our community.
Some of the docents have even begun exploring how they might deliver virtual programming to audiences that they can no longer reach in person, such as those in nursing homes and retirement centers.
While it is uncertain when COVID-19 will be controlled enough for our docents to return to the Museum in an official capacity, what is certain is that the docents will be ready to resume their important role at the museum and engage visitors and tour groups with a renewed sense of purpose.

– Mark Zuzik is the Manager of Visitor Experience and Operations at the Pizzuti Collection of the Columbus Museum of Art and held multiple positions with the Pizzuti Collection prior to its acquisition by the CMA. Mark enjoys knitting, cooking, and visits museums as often as possible.