'Current' will be suspended over major downtown intersection and span over 200 feet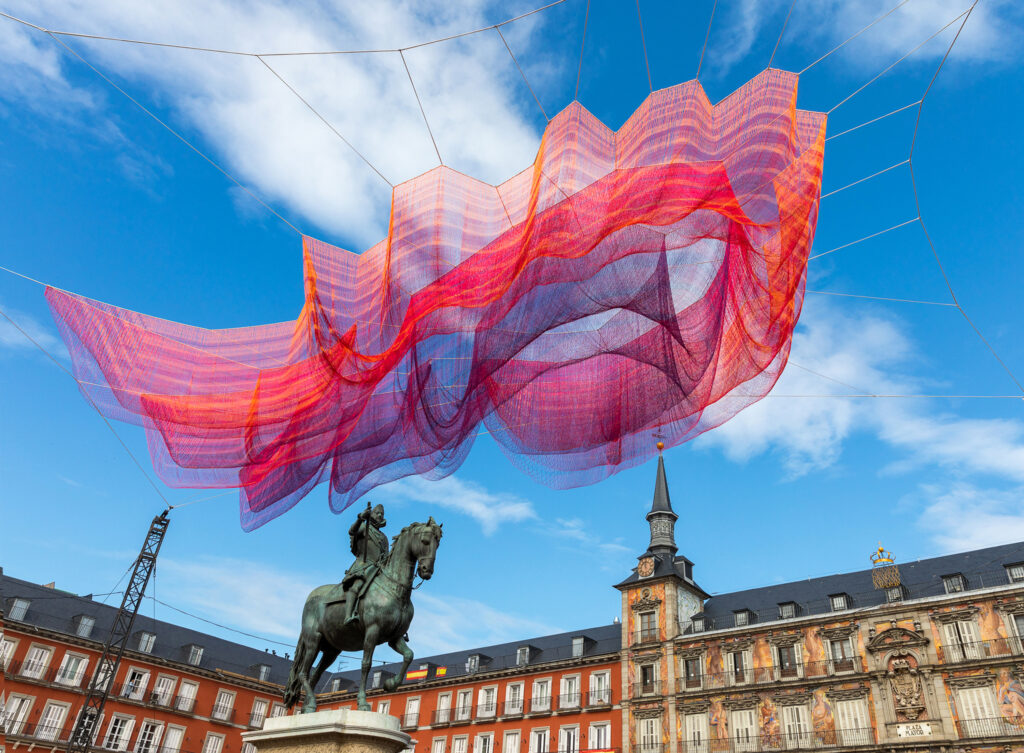 COLUMBUS, Ohio — The skyline of downtown Columbus will be transformed this June with the unveiling of Current, a monumental artwork by internationally recognized sculptor Janet Echelman. The 229-foot-long soft fiber sculpture will be suspended above the intersection of Gay and High Streets, stretching 126 feet in the air at its highest point.
Sculpted with 78 miles of twine and crafted into more than 500,000 knots, the blue and red cloudlike abstraction will be the longest piece of public art in Columbus and the first of Echelman's permanent sculptures to be suspended over a street. Using existing buildings as anchors, Current harmoniously knits together threads of new and nostalgic in a unique tribute to the city.
"Visible from an airplane, Current will be a beacon and a beckon, drawing people from across the city and region. It's going to be a defining image for our downtown and put Columbus on the map as a community that cares about — and invests in — transformational public art," said Mayor Andrew J. Ginther, City of Columbus. "When you visit the historic corner of Gay and High Streets, you'll know you've arrived at the nexus of culture in Columbus."
Echelman drew inspiration from the evolution of downtown Columbus and its role throughout history as a place of innovation and light. The city was one of the early adopters of street arches illuminated by gas lighting, and electricity has historically been a core industry for Columbus. Echelman's colors transition gradually from red to blue, leading visitors from the red bricks of the city's earliest buildings to its vibrant riverfront park. The title Current holds dual meaning, alluding to both river current and electric current of the iconic lighted archways, visualizing a flow of energy. The floating tapestry will glow after dark in a dramatic nighttime illumination.
"When I approach a new project, I start by diving into the history of the place. I became absorbed in Columbus' historical narrative and quickly fell in love with the city. The challenge to build such an ambitious permanent interconnected art commission over a municipal street attached to multiple private buildings might have been impossible elsewhere. I witnessed exceptional cooperation to achieve this public goal and came to understand firsthand what is nationally referred to as the Columbus Way," said Echelman. "I hope that Current captures that idea of interconnectedness and creates a space where people feel a sense of community and sanctuary. And I love that this artwork literally laces into the fabric of the city over the public street, because it's a place that everyone feels entitled to be present."
Echelman is renowned for creating colossal sculptures at the intersection of art, architecture, urban design, science and engineering. Combining ancient craft with computational design software, she has created more than 50 installations that have become focal points for urban life on five continents, from Singapore, Sydney, Shanghai and Santiago to New York and London. Her permanent art commissions draw millions of annual visitors in California, Washington, Oregon, Arizona, North Carolina, Florida, British Columbia (Canada) and Oporto (Portugal). Using the sky as her canvas, Echelman sculpts at the scale of buildings and city blocks. She uses fiber materials and structural netting to create her often ephemeral works that transform with wind and light, resulting in seemingly living and breathing objects. These ever-changing artworks constantly billow and adapt in response to the forces of nature, generating a local identity that invites the viewer to form a personal and dynamic relationship with the art.
Echelman leads a design team that spans the globe and includes aeronautical and mechanical engineers, lighting designers, computer scientists, landscape architects and fabricators. Her studio engineers projects according to the climate and intended lifespan for each site and context. She designed the work for Columbus to be seasonal with a period of hibernation each winter when the work is deinstalled to avoid ice accumulation, followed by a celebration ritual each spring when it is reinstalled. "As an artist, I follow nature. And I hope the winter functions like the absence of a lover, giving us a chance to experience it anew each spring," Echelman noted.
Current is part of a long-term effort to revitalize the downtown corridor by seamlessly integrating art into the neighborhood, creating an inspiring experience for visitors and residents. Led by development firm Edwards Companies, the goal is to cultivate an artistic hub around Gay and High Streets to complement the growing residential population of the burgeoning cultural district.
"With Current, we're reaching into history to redefine our future. This piece will be the north star for Columbus' new culture-centric compass. I envision this to be the first drop in the pond, sending waves throughout the Gay Street District," said Jeff Edwards, CEO of Edwards Companies. "As Current becomes embedded into the fabric of downtown, it will also serve as a starting point for engaging a diverse intersection of our community. To achieve this, we've created a working group of people with varying backgrounds who will help further define, program and activate this Arts and Culture District in the future."
Mr. Edwards funded the design and install of Current, representing the largest private contribution to public art in the history of Columbus, and donated the work to the Columbus Museum of Art. The Museum will oversee the care and maintenance of the sculpture as part of its permanent collection, ensuring it will continue to inspire wonder far into the future.
"Current will be an iconic part of the Columbus skyline," said Pete Scantland, Columbus Museum of Art's Board President. "Our Museum is grateful for Jeff's generous support and for his unwavering vision and determination to further affirm our city as a destination for world-class art."

Save the Date:
Media Preview
Thursday, June 1
Community Celebration
Friday, June 9
Additional details to be announced.

About the Artist
Janet Echelman has transformed urban environments through significant artworks on five continents that defy categorization, using unlikely materials from atomized water particles to engineered fiber fifteen times stronger than steel by weight. Echelman lived in a Balinese village for five years after graduating from Harvard College. She then completed separate graduate programs in painting and psychology. She has taught at MIT, Harvard and Princeton Universities and received an honorary Doctorate from Tufts University.
Echelman's TED talk "Taking Imagination Seriously" has been translated into 35 languages with more than two million views. Echelman is a recipient of the Guggenheim Fellowship, Harvard Loeb Fellowship, Aspen Institute Henry Crown Fellowship and Fulbright Sr. Lectureship. She also received the Smithsonian American Ingenuity Award in Visual Arts, honoring "the greatest innovators in America today." In popular culture, Oprah ranked Echelman's work #1 on her List of 50 Things That Make You Say Wow!, and the artist was named an Architectural Digest Innovator for "changing the very essence of urban spaces."

About Jeff Edwards
Jeff Edwards serves as chairman, chief executive officer, and president of Installed Building Products, (NYSE: "IBP"), as well as president of Edwards Companies. Installed Building Products, Inc. is one of the nation's largest new residential insulation installers and is a diversified installer of complimentary building products. The company manages all aspects of the installation process for its customers, including direct purchases of materials from national manufacturers, supply of materials to job sites and quality installation. The company offers its portfolio of services to new and existing single-family, multi-family residential, as well as commercial building projects from its national network of branch locations.
Edwards Companies is a privately held conglomerate operating primarily in the real estate development and construction related fields in many parts of the United States.
For many years, Mr. Edwards has been active in a number of business and charitable organizations. He was past president of the Columbus Museum of Art board of trustees, past chairman and current emeritus member of the Salvation Army advisory board and serves on The Columbus Foundation governing committee. He serves on the executive committee of The Columbus Partnership and the Columbus Downtown Development Corporation (CDDC) and is a member of the Policy Advisory Board of Harvard University's Joint Center for Housing Studies. He and his wife Lisa have four children and are future residents of Downtown Columbus.

About Columbus Museum of Art
Columbus Museum of Art (CMA) is where creativity and the daily life of its community intersect and thrive, as the Museum champions new and different ways of thinking and doing. CMA celebrates the creative process and sets the stage for people to experience art, ideas and relationships that spark creativity and nurture collective, courageous imagination. For more information, visit www.columbusmuseum.org.
###

Media Contacts:
Emma Caro
Blue Water Communications
800–975–3212
emma@bluewatercommunications.biz
Betsy Meacham
Blue Water Communications
800–975–3212
betsy@bluewatercommunications.biz

Select sculptures around the world by Janet Echelman, images courtesy Studio Echelman: