We believe it is our responsibility to support the City of Columbus' mask mandate, and to provide as safe an experience as possible for our visitors. We ask all Museum visitors to respect the mandate and each other, and please wear a mask.
Click here
for more information on visiting and to reserve a ticket.
Local artists and performers present creative exploration and fun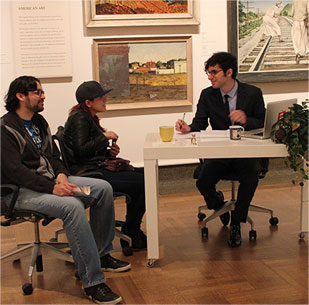 The Connector Series
For the past several years Columbus Museum of Art has partnered with some of the most provocative, creative people in our community to present intriguing, memorable experiences for visitors during the Connector Series. Come for unexpected encounters with local artists and performers, creative exploration, and fun.
The Connector Series experiences are normally held the first Saturday of the month from 1:00 PM – 4:00 PM, are for visitors of every age, and are included with admission.