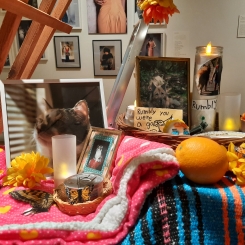 Community Conversation on Grief
October 29, 2023
1:00–3:00 PM
Location: CMA
Join CMA and community partners in an honest and meaningful conversation about grief, loss, healing, and the origins of Día de los Muertos. Guests are welcome to bring an object or photo to add to the community ofrenda to honor their lost loved ones.
This year's community partners will offer participants guided practices and conversation to support the grief process. Featuring healer Lori Guth, writer Ajanae Dawkins, and artist Renee Zamora.
Space is limited, registration is requested. Cost of the program is $5.
Conversación comunitaria sobre el duelo
domingo 29 de octubre, 1:00–3:00 PM
Únete a CMA y a los socios de la comunidad en una conversación honesta y significativa sobre el dolor, la pérdida, la curación y los orígenes del Día de los Muertos. Los invitados son bienvenidos a traer un objeto o una foto para añadir a la Ofrenda de la comunidad para honrar a sus seres queridos perdidos.
Los socios comunitarios de este año ofrecerán a los participantes una práctica guiada o una conversación para apoyar el proceso de duelo. Con la curandera Lori Guth, la escritora Ajanae Dawkins y la artista Renee Zamora.
El espacio es limitado, se solicita la inscripción. El costo del programa es de $5.