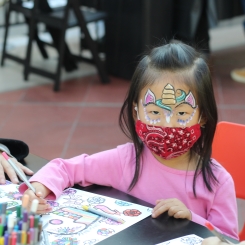 Día de los Muertos Family Day
November 4, 2023
1:00–4:00 PM
Location: CMA
Enjoy a family friendly afternoon at CMA celebrating Día de los Muertos with a participatory community ofrenda created by Renee Zamora, El Mercadito vendors, art activities led by Proyecto Mariposa, bilingual story time with Ellie Yorba, Lotería, a photo booth, Mexican pastries by Vainilla y Chocolate, and create a photo frame to commemorate a loved one in Open Studio with guest artist Ebony Hernandez.
Enjoy $5 general admission all day. Registration is encouraged.
Día de la Familia del Día de los Muertos
4 de noviembre, de 1:00–4:00 PM
Columbus Museum of Art
Disfrute de una tarde familiar en CMA celebrando el Día de los Muertos con una ofrenda comunitaria participativa creada por Renee Zamora, vendedores de El Mercadito, actividades artísticas dirigidas por Proyecto Mariposa, hora de cuentos bilingües con Ellie Yorba, Lotería, una cabina de fotos, Repostería mexicana de Vainilla y Chocolate, y cree una fotografía marco para conmemorar a un ser querido en Open Studio con la artista invitada Ebony Hernandez.
Disfrute de una entrada general de $5 durante todo el día. Se solicita la inscripción.