Wearing a mask at the Museum is optional.
Click here
for more information on visiting.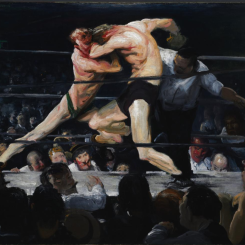 George Bellows and the Art of Sports
November 4, 2021
6:00 – 7:00 PM
Location: CMA & Online
Hear Mark Cole, William P. and Amanda C. Madar Curator of American Painting and Sculpture at the Cleveland Museum of Art examine the artist George Bellows. Sporting images punctuate the career of George Bellows (1882-1925), who was a gifted athlete in his own right. By the time he came of age at the dawn of the 20th century, sports had transitioned from informal entertainments to organized national obsessions. An astute observer, chronicler, and interpreter of the world around him, Bellows presented his sporting subjects as microcosms of society. Ultimately for the artist, sports were metaphors for life itself, and his images of skill and rivalry stand as potent symbols for the brash competitive spirit of early modern America. This program is a hybrid experience with an in-person talk and a virtual Zoom session. Check back to this page to tune-in to the virtual experience on the event date.
George Bellows, Stag at Sharkey's, 1909. Oil on canvas, Cleveland Museum of Art, Hinman B. Hurlbut Collection.