Wearing a mask at the Museum is optional.
Click here
for more information on visiting.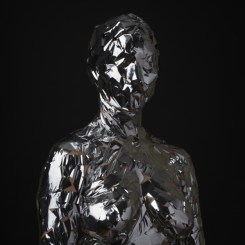 Opening Day of Gina Osterloh: Mirror Shadow Shape
February 24, 2023
10:00 AM–5:00 PM
Location: CMA
The Columbus Museum of Art is proud to present Mirror Shadow Shape, a solo exhibition by Filipinx American artist Gina Osterloh (b. 1973, San Antonio, TX). Osterloh's studio-based practice uses photography, film, performance, and drawing to examine the preconceived ways we understand ourselves and others. By drawing parallels between the performative spaces of photography and identity, Osterloh's work directs us to see just how much cannot be known by looking.
In Osterloh's early work with brightly colored photographic tableaus, camouflage became a tool for investigating how forms articulate distinction and belonging: figures flatten into silhouettes that are obscured by patterned backdrops and heads are turned down and away from the camera, becoming faceless anti-portraits.
Image: Gina Osterloh, Mirror Woman (detail), 2020. 31 x 22 inches, archival pigment print. Image courtesy of the artist, Higher Pictures Generation (Brooklyn, NY), and Silverlens Galleries (Manila, Philippines)