Wearing a mask at the Museum is optional.
Click here
for more information on visiting.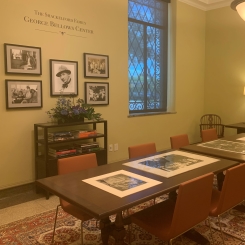 Opening Weekend of the George Bellows Center
November 5, 2021
1:00–3:00 PM
Location: CMA
Celebrate the opening of the new George Bellows Center, a hub dedicated to fostering and incubating exhibitions, publications and scholarly research and presenting public programs related to the legendary American artist and his contemporaries. Throughout the opening weekend, visitors will be invited to stop by the Center for a rare look at Bellows' arts record book, as well as Bellows prints, lithographs and paintings.
CMA has the single most important collection of Bellows' work in the United States. The museum continues to add to its Bellows holdings and is compiling one of the most significant collections of the artist's lithographs in a public institution, as well as growing and caring for Columbus' collection of Bellows paintings and lithograph drawings.