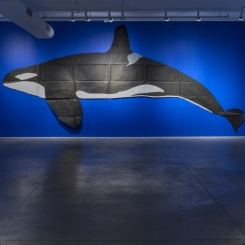 Visit the Pizzuti Collection of CMA for Gallery Hop
April 2, 2022
12:00–5:00 PM
Location: Columbus Museum of Art at The Pizzuti
The Pizzuti Collection of the Columbus Museum of Art is open for Gallery Hop on April 2 from 12:00–5:00 PM. Admission is just $5.
Check out the two major exhibitions on view through April 22. Bruce Robinson: Flutterby presents a range of paintings and assemblages by the longstanding Columbus-based artist and educator. Many of Robinson's works—whether figurative or abstract—create a tactile, layered surface and address forms of movement.
Nina Katchadourian's To Feel Something That Was Not of Our World is an immersive and deeply personal work about resourcefulness, hope, and creative capacity under duress.