Columbus Museum of Art at The Pizzuti
September 9, 2023–February 4, 2024
Admission Information
Sarah Rosalena: In All Directions is included with the cost of general admission at Columbus Museum of Art at The Pizzuti
Members get FREE admission.
Not a member? Join today!
You do not need to purchase tickets in advance. If you need help planning your visit, call 614.221.6801. For additional information about Columbus Museum of Art at The Pizzuti, including hours and admission costs, click below.
Exhibition Description
The Columbus Museum of Art is proud to present In All Directions by Sarah Rosalena (b. 1982, Los Angeles, USA). Rosalena's artworks fuse the materiality of traditional and Indigenous craft techniques with emerging technologies to produce objects that break boundaries and borders imposed by colonialization. Her hybrid forms of ceramic, textile, and beadwork examine the geo-political effects of climate change, dispossession, and extractive economies through anti-colonial and feminist perspectives. Through her art, Indigenous and craft technologies open new knowledges between the ancient and the futuristic, the human and nonhuman, and handmade and autonomous. The title of the exhibition, In All Directions, at once signals the irrelevance of the compass points in the expansiveness of the universe, and the potential held in multi-cosmologies, temporalities, and the infinite that could help us rewrite the narratives of the past and imagine different futures that break the binary structures rooted in "discovery." In All Directions includes several major bodies of work, such as Transposing a Form (2020), Above Below (2020), Standard Candle (2021–2023), and Pointing Star (2023), as well as new textiles and sculptures created for presentation at the CMA.
Central to the exhibition is Rosalena's investigation of scholarly and corporate dreams of space exploration and colonization, such as pottery series Transposing a Form. Working in consultation with researchers at NASA-JPL, she prints 3D ceramic sculptures from simulated Mars regolith that cite Indigenous coil pot techniques and the most advanced research in material science and space architecture. Likewise, her expansive textile practice transforms astronomical and satellite data into sensuous and tactile material form. Above Below, a series of AI-generated double-sided jacquard weavings, uses a neural network trained on satellite data to model geological transformations of Mars over millions of years, hypothesizing the red planet's wet past in deep time and its potential future as influenced by human intervention and desire. The front of each tapestry envisions the melting and terraforming of Mars and implies, on the reverse, the simultaneous, disastrous effects of climate change on Earth that provoke neo-colonial fantasies of leaving our world and which exacerbate environmental destruction through extractive resource mining.
Rosalena's art highlights the dispossessive practices that undergird innovation and discovery in astronomy, geology, and planetary science. Her Standard Candle series adapts digital weaving and Indigenous glass beading to reproduce photographic plates from the 100-inch Hooker telescope, upon which women "computers" performed their calculations at California's Mount Wilson Observatory in the 1920s. Their labor enabled Edwin Hubble to prove the existence of the universe beyond the Milky Way galaxy. Rosalena materializes a double erasure – of the "women's work" supporting scientific discovery and unceded Tongva land upon which the observatory sits. One hundred years later, the observations recorded at Mt. Wilson are no longer possible, as light pollution from Los Angeles now obscures the stars by which we once oriented our place on the planet and in the cosmos. Rosalena's material transformations of scientific data suggest means of exiting the Euclidian logics of Western science and epistemology and opening on to alternative forms of worldmaking and knowledge.
Sarah Rosalena (Wixárika) is an interdisciplinary artist and researcher based in Los Angeles. She is Assistant Professor of Computational Craft and Haptic Media at The University of California, Santa Barbara. Rosalena is a recipient of the Creative Capital Award, the LACMA Art + Tech Lab Grant, the Steve Wilson Award from Leonardo International Society for Art, Sciences, and Technology, the Carolyn Glasoe Baliey Art Prize, Artadia Award, and the Craft Futures Grant from the Center for Craft. Recent solo exhibitions include LACMA at Mount Wilson Observatory, Museum of Contemporary Art Santa Barbara, Clockshop, and Blum & Poe Gallery. Her textiles and ceramics are in the permanent collection of the Los Angeles County Museum of Art.
Sarah Rosalena: In All Directions is a collaboration between the CMA and the Department of History of Art at The Ohio State University. Organized by Prof. Kris Paulsen, the exhibition is the collective effort of students in her 2022 curatorial practice seminar: Maika Kagawa Bahr, Christine Fashion, Julia Harth, Mia Kivel, Hannah McCasland, Sterling Nix, April Riddle, and Amanda Tobin Ripley. An exhibition catalog will accompany the exhibition, containing writing by the students, alongside contributions by anthropologist Dr. Elizabeth Povinelli and geographer Kathryn Yusoff. The exhibition and publication have been made possible by a Global Arts + Humanities Discovery Theme Community Engagement Grant from The Ohio State University, a Craft Research Fund Exhibition Grant from the Center for Craft, a Ronald & Deborah Ratner Distinguished Teaching Award, and an Arts and Humanities Community Engagement Grant from The Ohio State University College of Arts and Sciences.
Exhibition Publication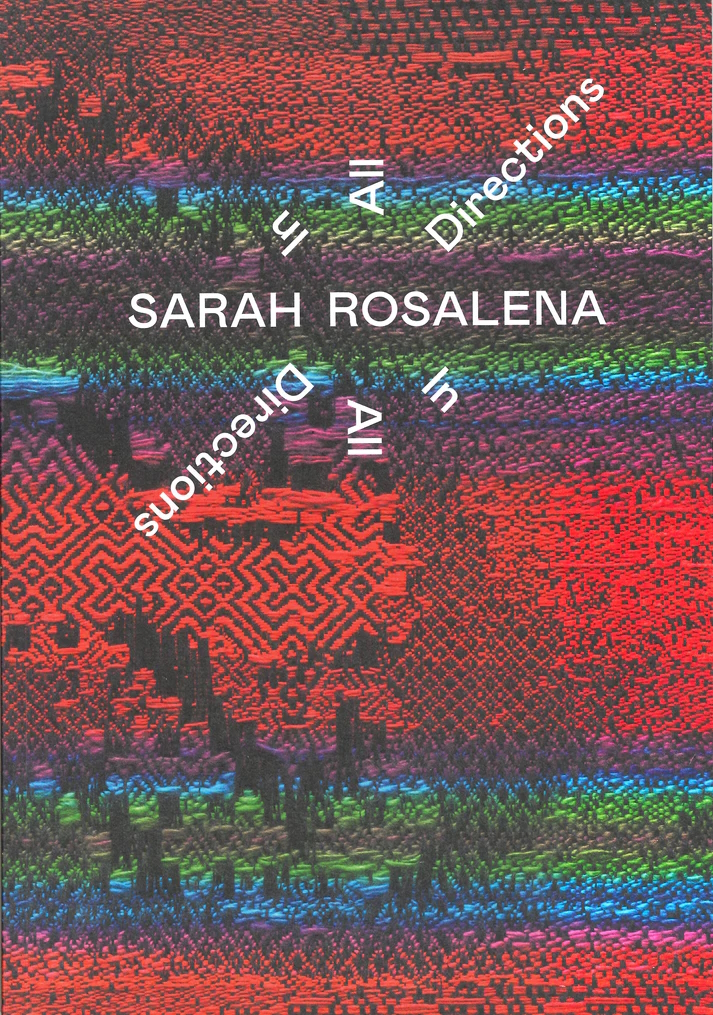 $ 19.95 USD
Purchase online, at the Museum Store, or at The Pizzuti.
Sarah Rosalena, Transposing A Form, 2020. Ceramic 3D print of MMS-2 Enhanced Mars Simulant, bentonite clay, aluminum-based glaze. Courtesy of Blum & Poe, Los Angeles/New York/Tokyo, photo by Jenalee Harmon