Schokko Café is a vibrant, contemporary café located on the main floor of Columbus Museum of Art near the main entrance, and looks out onto the Patricia M. Jurgensen Sculpture Garden. Menu items change seasonally with an emphasis on local ingredients, fresh interpretations of modern cuisine, and rustic comfort foods.
Hours
Tues-Weds: 10:00 AM – 5:00 PM
Thurs: 10:00 AM – 9:00 PM
Fri-Sun: 10:00 AM – 5:00 PM
Mon: Closed
Please note: Schokko Café does not take reservations.
Now Serving Brunch
Sat & Sun: 10:00 AM – 2:00 PM
Cafe Pop Ups
Join us in Schokko Café the third Thursday of every month for special, themed dinner selections and menu.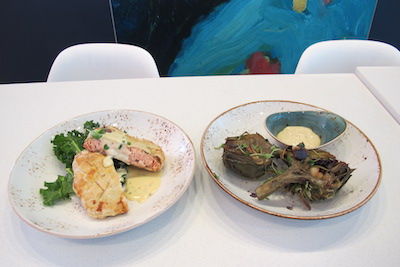 Blossoms
June 20, 5:00 – 9:00 PM
The theme for June is Blossoms, featuring menu items including goat cheese stuffed squash blossom with spicy marinara ($10), grilled artichoke ($8), salmon en croute with asparagus and lavender infused cream sauce ($12), and dandelion fritters with roasted garlic ($8).
Folk & Flavor Pop Up
July 18, 5:00 PM – 9:00 PM
Folk + Flavor feature your favorite cook-out style food, cold drinks, and the summer sounds of the all-woman band, The Salty Caramels. Chef Laura transports you to the neighborhood block party with her picnic-style menu. It's everything you love about a July night in Ohio – a little salty and little sweet! So grab your spot on the patchwork blanket and enjoy a night filled with folk and flavor. All are welcome, no reservations requested.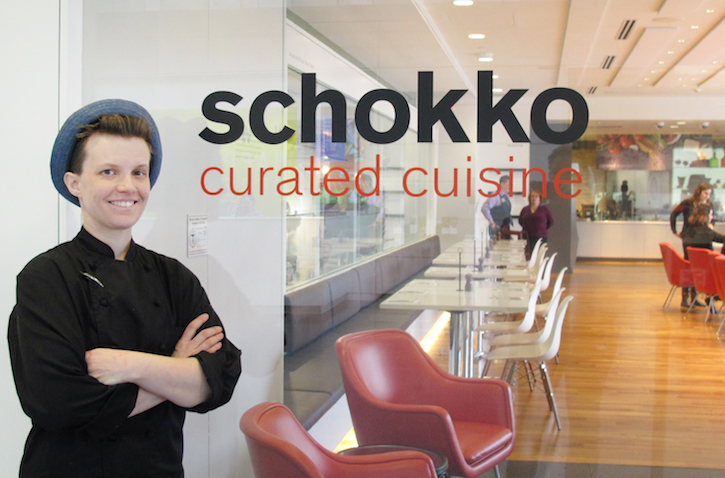 Chef Laura Richmond
New chef Laura Richmond joins CMA as Executive Chef of Schokko Café and in-house catering. She is reimagining the dining experience and menu for the cafe. Richmond brings a farm-to-table approach to cooking with an emphasis on exploring fresh interpretations of modern cuisine, rustic comfort foods, and classic French cooking. Richmond most recently served as sous chef at Brio and was previously the executive chef at Westies Gastropub, and sous chef at Cooper's Hawk.