Schokko Café is a vibrant, contemporary café located on the main floor of Columbus Museum of Art near the main entrance, and looks out onto the Patricia M. Jurgensen Sculpture Garden. Menu items change seasonally with an emphasis on local ingredients, fresh interpretations of modern cuisine, and rustic comfort foods.
Hours
Tues-Weds: 10:00 AM – 5:00 PM
Thurs: 10:00 AM – 9:00 PM
Fri-Sun: 10:00 AM – 5:00 PM
Mon: Closed
Please note: Schokko Café does not take reservations.
Now Serving Brunch
Sat & Sun: 10:00 AM – 2:00 PM
Cafe Pop Ups
Join us in Schokko Café the third Thursday of every month for special, themed dinner selections and menu.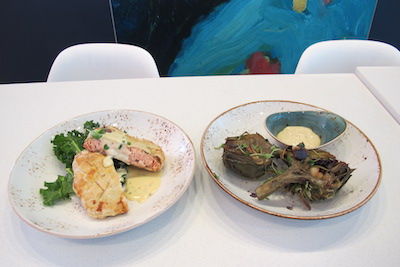 Ode to Ohio Themed Pop Up Dinner
September 19, 5:00 PM – 9:00 PM
Join us as we celebrate the foods of Ohio. All are welcome, no reservations requested.
Ohio Burger – an ode Cleveland chef, Michael Symon"s Lolita Burger (Ohio beef served on a homemade English muffin, with pickled Ohio Onions, fried egg, house bacon, arugula, and heirloom tomato, $12.
Perch Sammich – fried perch, with creamy coleslaw, Ohio tomato on a brioche bun, $12.
Queen City chili, – Cincinnati style chili served overtop noodles and heaped with shredded Amish cheddar, $12.
Paw Paw Parfait – housemade yogurt with local Ohio Honey, $5.
Columbus Frosty chocolate milkshake – chocolate milkshake made with Jeni's Spendid ice cream, Snowville milk, includes housemade French fries for dipping! $5.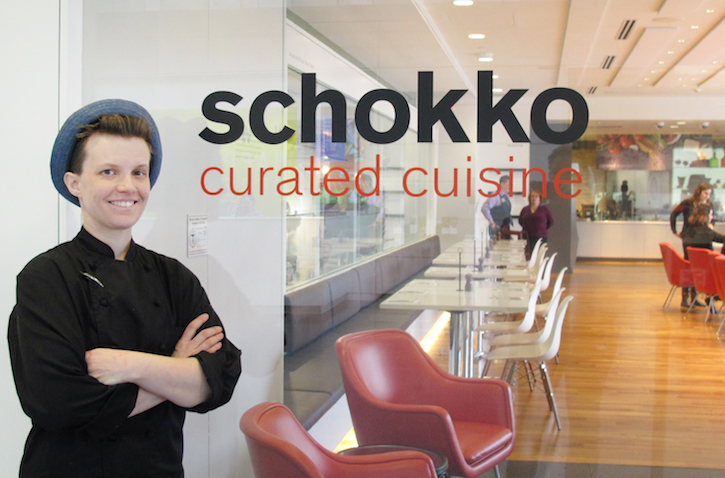 Chef Laura Richmond
New chef Laura Richmond joins CMA as Executive Chef of Schokko Café and in-house catering. She is reimagining the dining experience and menu for the cafe. Richmond brings a farm-to-table approach to cooking with an emphasis on exploring fresh interpretations of modern cuisine, rustic comfort foods, and classic French cooking. Richmond most recently served as sous chef at Brio and was previously the executive chef at Westies Gastropub, and sous chef at Cooper's Hawk.