Schokko Café is a vibrant, contemporary café located on the main floor of Columbus Museum of Art near the main entrance, and looks out onto the Patricia M. Jurgensen Sculpture Garden. Menu items change seasonally with an emphasis on local ingredients, fresh interpretations of modern cuisine, and rustic comfort foods.
On Thursday, October 24, Schokko Café will be offering a limited menu and closing at 3:00 PM.
Hours
Tues-Weds: 10:00 AM – 5:00 PM
Thurs: 10:00 AM – 9:00 PM
Fri-Sun: 10:00 AM – 5:00 PM
Mon: Closed
Please note: Schokko Café does not take reservations.
Now Serving Brunch
Sat & Sun: 10:00 AM – 2:00 PM
Cafe Pop Ups
Join us in Schokko Café the third Thursday of every month for special, themed dinner selections and menu.
October 17, 5:00 PM – 9:00 PM
Join us for the next pop-up dinner. All are welcome, no reservations requested.
Comfort Food Pierogis – cheddar pierogis, with broccoli and ham served in a browned butter sauce with crème fraiche — $8
Maple Tempeh Buddha Bowl – Maple and apple cider marinated tempeh with kale, roasted beets, feta, pepitas, and dried cranberries — $12
Meatballs over Spanish Rice – with porcini mushrooms and roast sweet potatoes — $12
Fried Brussel Sprouts – served in a sweet and sour glaze with candied pecans, parmesan, and house bacon lardons — $12
Fall Steak Salad – warm farro and orzo salad with roasted tomatoes, sweet potatoes, kale, pepitas and feta with flank steak and chimichurri — $14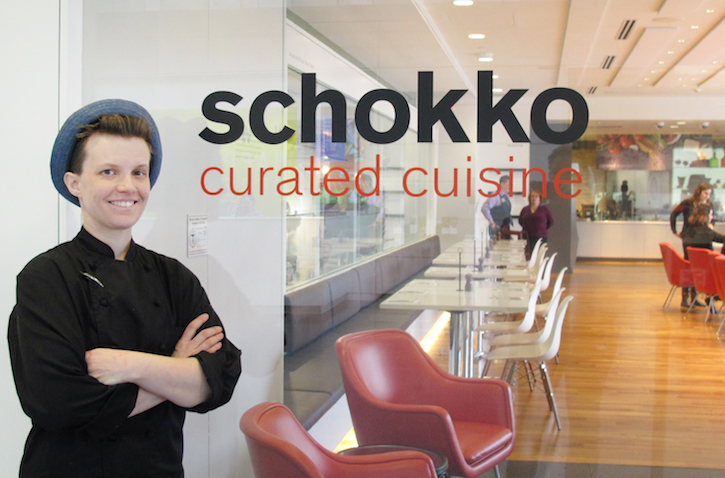 Chef Laura Richmond
New chef Laura Richmond joins CMA as Executive Chef of Schokko Café and in-house catering. She is reimagining the dining experience and menu for the cafe. Richmond brings a farm-to-table approach to cooking with an emphasis on exploring fresh interpretations of modern cuisine, rustic comfort foods, and classic French cooking. Richmond most recently served as sous chef at Brio and was previously the executive chef at Westies Gastropub, and sous chef at Cooper's Hawk.