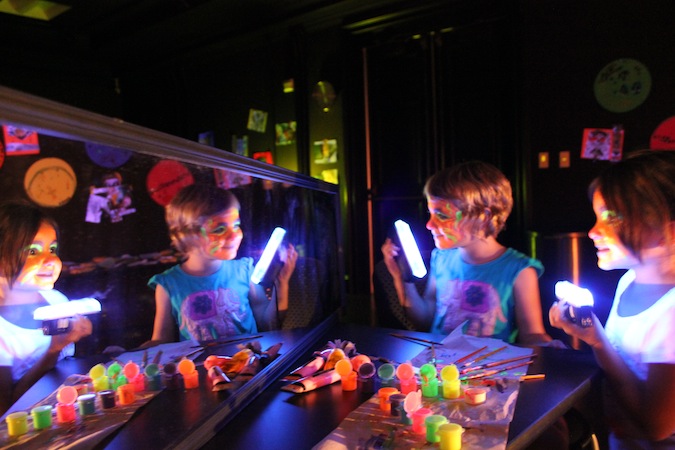 As we head full steam ahead into the school year, I am taking some time to reflect on Summer Art Workshops (SAW), why they are awesome, and how we can infuse the same energy into our school year programs, such as our Studio Thinking workshops or Home School workshops.
As the Manager for Studio Initiatives here at CMA, I may be just a bit biased, but I sincerely believe that these workshops are really special. This is no accident.  We've been working for years to hone our vision around art-making here at CMA, and Summer Art Workshops exemplify a lot of the philosophies we hold dear.  So, here's the quickie list of how we make art in the CMA Center for Creativity.
1.    Ideas come first.  These workshops aren't about painting, building, or sewing. They are about creative thinking, imagination, play, risk-taking, and all that good stuff. However, learning new skills becomes necessary to turn creative ideas into reality. This means increased relevance and sense of purpose for everyone.
2.    Students and instructors as co-learners and artist collaborators. While ideal instructors are practicing artists, adept at a variety of media, expecting them to be an expert in everything is ridiculous. The best instructors are not afraid to take risks and learn with the students.
3.    Workshops allow for surprises and oddities. Our student artists have wonderful, weird ideas.  We try to structure our workshops in a manner to allow those ideas to unfold naturally, which can result in some hilarious results if we allow it (and we do).
4.    The world is our museum. Not only do we use the CMA galleries to provoke imagination and storytelling, but our workshops are inspired by the art of the everyday. From high fashion to haunted houses, anything can be fodder for creative exploration.
5.    The Center for Creativity is an excellent resource. Not only do we get a sunny Studio with a bright green floor and bunch of fun toys (spray booth, exposure unit, etc), we also have the Innovation Lab, our tech studio, with adjustable lighting, a projection screen and tons of useful technology (green screen, laptops). Having these resources means high quality programming.
Now that SAW is over (phew!), we're gearing up for Doodles, Day of Play, Girl Scout Day, and a gazillion other programs involving art-making.  Whether the program is for families, scouts, homeschoolers, or a school field trip, we will try to construct each experience as playful co-creators, encouraging our student artists to experiment and think, just like real artists!
Art Speaks. Join the Conversation.
Susie Underwood, Manager for Studio Initiatives
Comments
comments