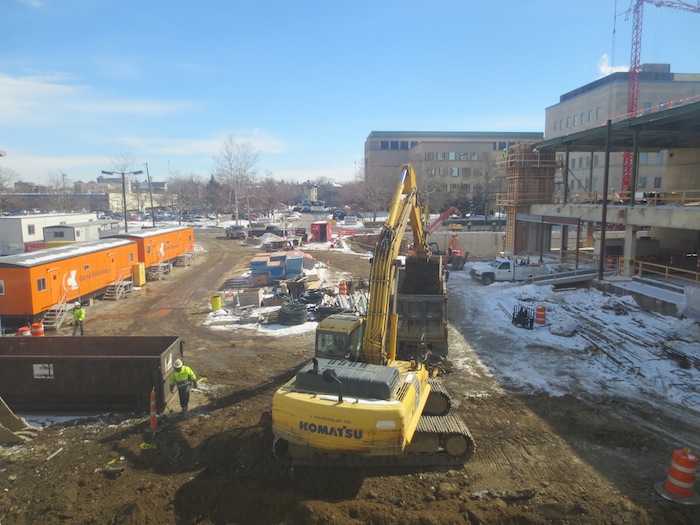 Here's what's been building at Columbus Museum of Art.
April 2014 Construction Update
·        If you've visited the Museum recently you've noticed that the 1974 addition has been stripped down to the steel frame.
·        The elevator shaft at the northwest corner of the 1974 building (elevator 1) is complete as well and work has begun on elevator 4 which will be located near the Museum's loading dock.
·        Crews have finished underground plumbing in the basement of the 1974 building and additional steel supports have been added to the second floor special events space.
·        Basement excavation for the new wing is complete and the concrete foundation wall along Washington Ave has been erected.
·        If you drive by CMA, you will see the 150-foot tall crane located on Washington Street. Don't be alarmed if you see the crane moving in the wind. When not in use, the crane is built to rotate with the wind, a feature that makes it less likely to sustain damage.
·        The foundation was poured for the first floor of the new space and erection of the structural steel frame will begin giving shape to the new wing.
·        The concrete foundation for the first floor of the new wing has been poured and polished. Be sure to check out the video, the polishing process was highly entertaining to watch.
·        The pan for the second floor has been created and the concrete will be poured in the coming weeks.
·        Reconstruction of the 1974 structure continues. The foundations for the terrace that will flow from the second floor special events space have been created
·        And, while not visible, the basement mechanicals, electrical and plumbing have been completed and inspections have begun.
More details at www.columbusmuseum.org/art-matters
Comments
comments