Construction of the Columbus Museum of Art's new wing and the renovation of the Ross Wing, an addition the Museum built in 1974 that housed the Museum's lobby and temporary exhibition space are moving along and we're excited to share our progress.
Over the coming months, we will be posting brief monthly updates outlining our progress and letting you know what to look for in the near future.
Wow! What a difference a month makes!
The structural framing for the roof of the new wing is complete and most of the metal decking is in place.
If you look at the image on the below, you can see where one of the "light boxes" will be installed in the new wing to bring in natural sunlight.
Work continues on the new enclosed dock which will allow for greater security during art transportation.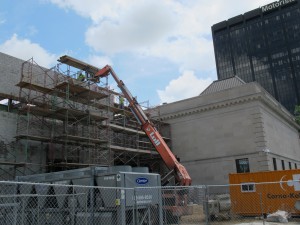 Renovations continue on the Ross Wing. The first floor metal stud framing is underway. The slab fill has been completed and the structural slabs have been poured. In just a few weeks, the roof will be "dried in" (short for dry inside) on this portion of the project, a major milestone as it indicates the space has been made impervious to the rain.
Comments
comments