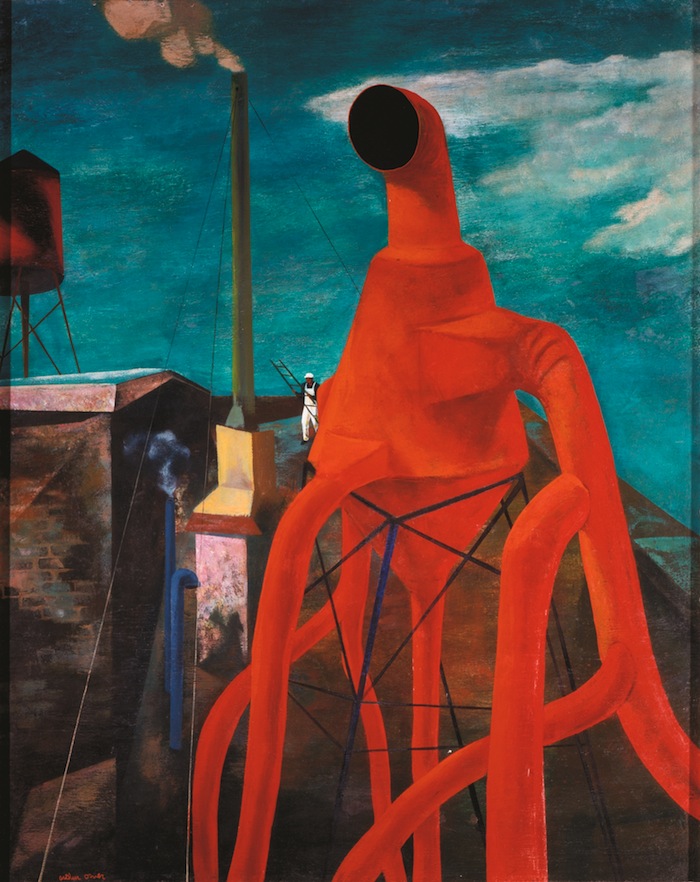 This next series of challenges is inspired by our new exhibition Modern Dialect: American Paintings from the John and Susan Horseman Collection, a striking exhibition showcasing American modernist paintings from some of the most respected American artists of the 1920s through the 1940s, and representing a wealth of styles and subjects.
Americans had their own unique take on Surrealism, as seen by many of the artists featured in Modern Dialect. There is a subtle excess in these works. Read more on American Surrealism in this latest blog post by CMA American Curator Melissa Wolfe, then get inspired and respond with your take on the fourth challenge in the series:
Capture something that reflects Surrealism using Arthur Osver's Red Ventilator painting as inspiration.
Tag your work on Instagram with #CMAPhotoHunt, and #Surrealism
For this assignment you have until Friday July 25, 2014.
Please note: images must be your own. Anyone in the world can participate.
Also be sure to fill out the form below, so we can contact you if your work is selected, and keep you up to date on new challenges.
We'll select our favorites (based on the most creative entries, and ones that best represent the assignment), and your creation could grace the walls at Columbus Museum of Art in our 5th CMA Photo Hunt exhibition this fall.
We're particularly excited to see what you come up with for this challenge! And please help spread the word about the Photo Hunts, and follow mobile photographers you admire. This is very much about connecting, building, and supporting the talented mobile photography community around the world.
CMA Photo Hunts are a digital complement to CMA collections and exhibitions, give participants an opportunity to flex their creativity, be inspired by works or themes in Columbus Museum of Art exhibitions or collections, and respond to creative challenges with their own visual take. Since our Photo Hunts began we have received more than 6,000 submissions from hundreds of photographers from Seattle to Ohio to Paris to Australia. With our first exhibition in 2012, we were first museum in the world to present a curated, crowdsourced installation based on the popular photo sharing app Instagram. Read more about the inception of the Photo Hunt project in stories in The Columbus Dispatch, Art Daily, and Clic France, and Columbus Alive, and see all the photos submitted so far in the CMA Photo Hunt Gallery.
Watch for additional biweekly Photo Hunt assignments here on our blog through August, and on Facebook, Twitter, and Instagram.
Please fill out the below form to make sure we can contact you if your photos are selected, and keep you up to date on new events and challenges.

Oops! We could not locate your form.
(Above: Arthur Osver, Red Ventilator, 1945, Collection of John and Susan Horseman)
Comments
comments