August, 2014 Construction Update
Construction of the Columbus Museum of Art's new wing and the renovation of the Ross Wing, an addition the Museum built in 1974 that housed the Museum's lobby and temporary exhibition space are moving along and we're excited to share our progress.
Over the coming months, we will be posting brief monthly updates outlining our progress and letting you know what to look for in the near future.
We're going green (or is that turquoise)…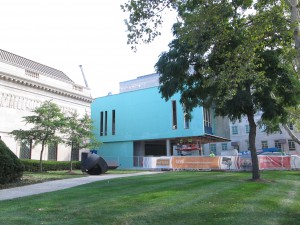 If you've walked by the Museum recently, you may be a little concerned by the current color of the new wing, but don't worry, that vibrant turquoise hue is the material that helps seal moisture out of the building and will eventually be covered by one of the timeless building materials the architect has selected for the building.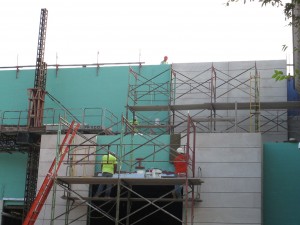 Speaking of which, the limestone and granite that will make up a large part of the Museum façade are being installed. The limestone is from Indiana and beautifully complements the 1931 building.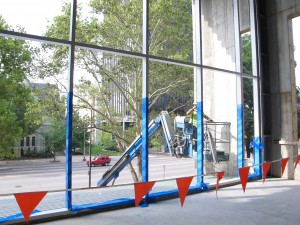 In just a few short months, both ends of the new wing will be enclosed with fritted glass that will help filter the light entering the space. The grid that will hold those panels in place was installed last week.
In the coming weeks the pre-patinated copper that will encase the new wing will be installed and work will begin on the foundation for the north garden.
Comments
comments