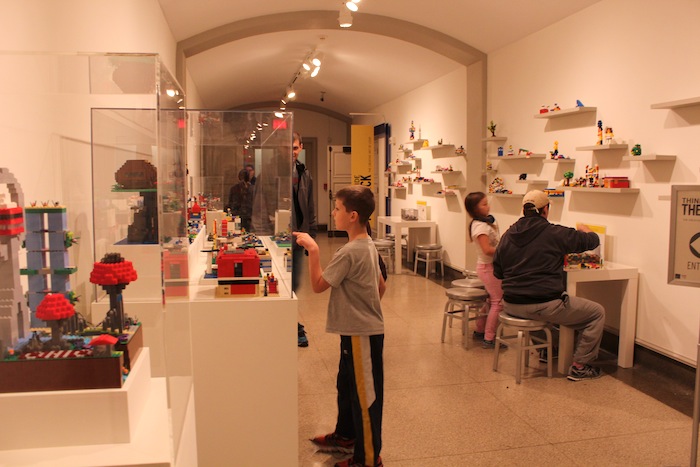 Here at CMA we geek out about LEGO® bricks. They are a great material to explore, play with, and use as a tool to express ideas. On view now in CMA's Center for Creativity are the finalists from a community design competition, the 2014 LEGO® Design Challenge. This year's challenge was inspired by The LEGO® Movie: imagine what building, structure, or mode of transportation a new Columbus would need.
In October a panel of local creative professionals judged all submissions and selected 17 finalists based on the creative application of LEGO® bricks, imaginative design and concept, and difficulty of execution. Anyone was eligible to participate. This year's finalists range from children, to OSU architecture students, to family groups, to high school students. The 2014 LEGO® Design Challenge highlights that creative ideas can live within anyone, and that creative thinking can be fostered through playing with LEGO® bricks.
Finalists include five designs by students from Metro High School in Columbus. The freshman class participated in a LEGO® launch party to promote the design challenge and jumpstart student creativity.
Former Mayor Greg Lashutka got the creative juices flowing at Tremont Elementary by leading a discussion about community, and what he thinks Columbus still needs. The entire 3rd grade at Tremont Elementary sketched ideas, collaborated to build in small groups, and submitted designs. Two designs were selected as finalists.
10-year-old finalist James Sisson had to come up with creative solutions during his building process as one of his arms was in a cast due to an injury. His design includes a subway system with two stacked rails underground.
Finalists Nick Armstrong and Christian Moore, from OSU's Knowlton School of Architecture, were inspired by The LEGO® Movie to think outside of the box. Their creative Double-Decker Cityscape features vertical gardens, giant mushrooms, various modern art pieces, and a suspension-style bridge. They spent about 10 hours building their design.
Come check out all the innovative and fantastic designs by people in the Columbus community. The 17 designs on display were created by Nick Armstrong, Zeke Bolon, Alisa Feng, Adeline Foley, Emmett Foley, Coco Gonzalez, Jett Gonzalez, Kathy Gonzalez, Ricky Gonzalez, Jayson M., Christian Moore, Gavin Niles, Celeste Reheiser, James Sisson, Zach Stewart, Ben Weaver, 3rd graders at Tremont Elementary, and freshman at Metro High School.
You can also:
• build your own LEGO® creations
• Vote for your favorite design from the 2014 LEGO® Design Challenge
• See CMA's third annual
Think Outside the Brick Exhibition
The 2014 LEGO® Design Challenge will be on view at CMA until January 25th, 2015.
Congratulations to all the finalists, and a big thank you to everyone who participated in this year's challenge!
Comments
comments