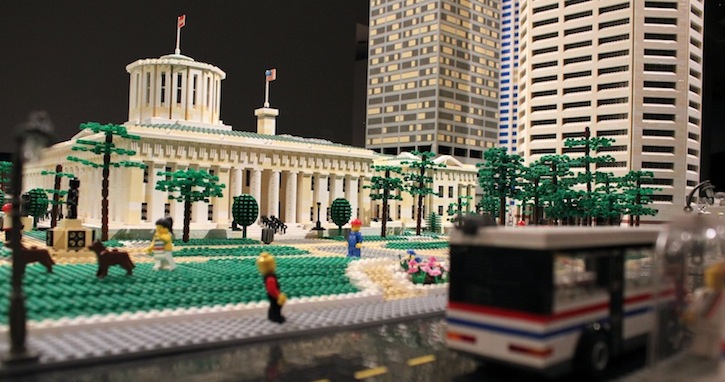 The
2015 LEGO DESIGN CHALLENGE
is a partnership between the Columbus Museum of Art (CMA), COSI, and Ohio History Connection Open to builders of all ages and experience levels, the challenge promotes the creative use of LEGO bricks to explore transportation and architecture. Show us where you want to live and how you want to get there by designing a building and a mode of transportation.
The partnership between CMA, COSI and Ohio History Connection grew from the LEGO exhibitions each has planned during the coming months.
Anyone is eligible to participate in the 2015 LEGO DESIGN CHALLENGE, but all finalists must be able to transport their designs to and from the exhibiting museum. Judging of designs will be divided into 2 categories Youth (16 and under)/Family and Adult/Professional.
CHALLENGE GUIDELINES:
Design submissions will be accepted July 15—September 21, 2015
All entries must be original designs.
Designs may not exceed 10" W x 10" L x 24" H
All entries must be built on a LEGO baseplate measuring 10" x 10"
One submission per individual or group.
All entries must include a complete application and photograph of the design.
All entries must be submitted between July 15 and September 21, 2015
 Submit your designs for the 2015 LEGO DESIGN CHALLENGE here. Submit the application along with one photograph of the design between July 15 and September 21, 2015. (Photo should not exceed 2MB).
Design finalists will be exhibited at one of the partnering organizations at a designated time from November 2015 – May 2016. Finalists will be notified by October 20, 2015.
CMA's Center for Creativity presents Think Outside the Brick, its fourth annual holiday season celebration of the creative potential of LEGO® building blocks, November 2015–February, 2016. This exhibition features the return of the Central Ohio LEGO® Train Club's wildly popular collaborative model of the city of Columbus. Familiar landmarks and imaginative additions come together in a gallery of original creations by local builders.
The Ohio History Center's There's No Place Like Home will be on view January 13, 2016–April 10, 2016. From small houses to high towers, see how finalists in the 2015 LEGO® Design Challenge explored the idea of home. Come see new architectural creations and discover how ideas like shelter, structure and form can inspire builders of all ages.
Comments
comments