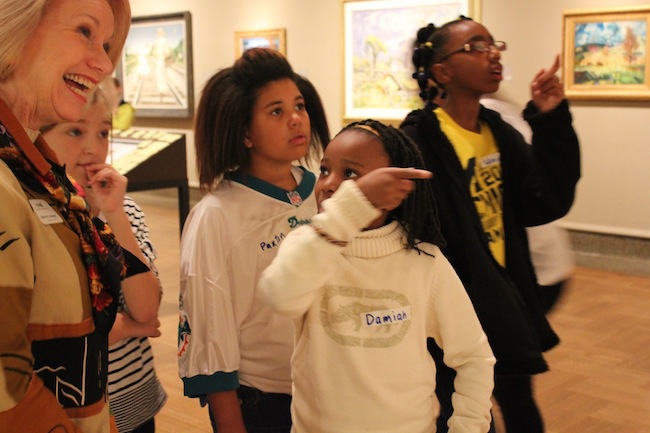 Columbus Museum of Art is recruiting 2016 prospective docents for a training class this September through January.
Do you like to…..
Explore art and big ideas?
Engage the community?
Inspire creativity?
If you answered "YES," consider becoming a CMA docent!
Docents are volunteer gallery facilitators who guide visitors in exploring big ideas, sharing points of view, and wondering about art. Docents ensure great experiences for CMA visitors of all ages, including 15,000+ K-12 students from all over Columbus.
Benefits of becoming a docent include curatorial and guest lectures, interactions with contemporary artists, social events and art-focused trips, access to unique museum resources, discounts at the Museum store and cafe, plus more.
Becoming a docent involves a comprehensive five-month training process where candidates learn touring strategies to engage visitors in interactive conversations, research and study art in the Museum's collection, and explore 21st century educational philosophies. No previous art knowledge is necessary, but curiosity and commitment to learning is required.
Docent candidates must commit to two years of touring and continuing education after their completion in training. Graduates will join one of the most dedicated and passionate groups of volunteers in central Ohio.
Prospective Docent Info Sessions will be held in the CMA Auditorium the following days:
Thursday, July 14, 5:30 PM-6:30 PM
Tuesday, July 19, 11:00 AM-12:00 PM
Current docents and museum staff will be available to share more about the program, answer questions, and explain the docent training process.
For more information and to apply, download the 2016-2017 CMA Docent Information Sheet, then complete a Docent Program Application.
Applications are due on July 27, 2016. Interviews will begin in early August. Those accepted into the program will be notified by August 19, 2016.
Please contact Megan Moriarty, Docent Programs Coordinator, at megan.moriarty@cmaohio.org  with additional questions about the program.