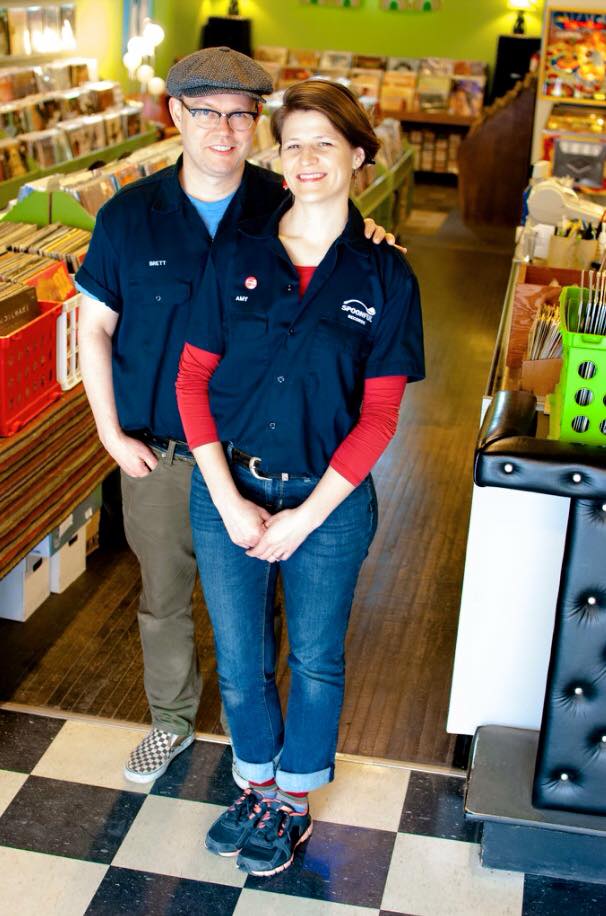 Spin Art, a partnership between Columbus Museum of Art and local record store Spoonful Records, is on view through August 21 in the JPMorgan Chase Center for Creativity. The exhibition exemplifies CMA's commitment to creativity and explores the idea that album covers inspire creative innovation through the union of music and visual arts. Below is an excerpt of an interview with the owners of Spoonful Records, Brett Ruland and Amy Kesting.
Where did your love of vinyl and all things vintage come from?
BRETT: Album covers are the thing that got me interested in art when I was a kid. I could just stare at them for hours while listening to the music play. My brothers and sisters had records I could enjoy, but I started collecting vinyl when I was around 19. I would mostly find things at yard sales and secondhand shops. It was an inexpensive way to collect records and take chances on music sometimes based solely on the album covers.
AMY: I grew up with vinyl, but moved to cassettes, CDs and MP3s as they became popular. I got back into vinyl when Brett opened the record store, and it's been 100% vinyl ever since. It never disappoints. There are so many things that ONLY came out on vinyl. Every day at the store, I can discover something new that I've never seen or heard before.
If you could own any album cover ever made what would you want and why?
BRETT: I would love to own the original artwork for Nick Drake's "Pink Moon" album cover. I believe it was still hanging on his wall at the time of his death. There is something very Magritte-meets-Dali about the album cover.
Your love of vintage and art extends into your wardrobe. Who are you wearing?
BRETT: a vintage Munsingwear cardigan and checkered Vans shoes.
AMY: Ramones t-shirt, bluejeans from Anthropology, Crocs (because my chiropractor says so.)
Spoonful and CMA are both part of the downtown community. What's your favorite part of the neighborhood?
BRETT: I would have to say the Topiary Park behind the Library. You can really get inside Seurat's "A Sunday Afternoon on the Isle of La Grand Jatte." That is where Amy and I had our first date and where I eventually asked her to marry me.
AMY: I love the red ART arch. It's like a beacon of hope.
Who's your favorite visual artist and why? Who's your favorite musician and why?
AMY: In both music and art, I prefer the women: Frida Kahlo, Alice Neel, Gillian Welch, Joni Mitchell, Letta Mbulu, Billie Holiday, Nina Simone.
BRETT: Henri Toulouse-Lautrec is one of my favorite visual artists–great use of perspective, color, text, movement, and lighting!
AMY: That's a really hard question to ask record store owners, but Brett really gets into the power pop musicians: Dwight Twilley, Thin Lizzy, Big Star, Badfinger. He loves Harry Nilsson, Belle and Sebastian, Al Stewart, Joe Jackson, Eric Carmen, Small Faces, The Zombies, The Seeds, Them, and early garage rock. He loves bands with a good story, like when KISS visited a high school in Cadillac, Michigan, or when Nilsson and Lennon sang against each other until they coughed up blood.
BRETT: Amy loves Joni Mitchell like a mother and talks about her like they are best friends. Joni's life has been really inspiring to Amy, especially the self-portraits that grace many a cover of Joni's albums. Every once in a while, Amy sits down in front of her easel and paints and will dabble for a couple of hours; I think that's when she's happiest.
Tell your favorite celebrity sighting story.
BRETT: One time, about a decade ago, I was at North Market and saw Jonathan Richman (of the Modern Lovers.) I was so excited to see him, I walked right up to him and said, "Hi Jonathan! Are you playing at Little Brothers tonight?" And he was like, "yeah." And I said, "Okay, see you there!"
AMY: I lived in Chicago in 1999 and worked at Pearl Art and Craft Supply. Rod Stewart and his posse came in and bought rolls of white paper to hang up on his hotel room windows. He was quite short and perfectly coiffed for an afternoon of running errands.
BRETT: One time at Spoonful, I was being interviewed by a college kid about the store, and meanwhile two guys came in and started chatting with my dad who works here, too. I overheard my dad ask them what band they were in, and Taylor Hawkins says, "Foo Fighters." My dad replied, "Oh yeah, we have that." And he showed them that we had the Foo Fighters vinyl in stock. That was pretty cool.