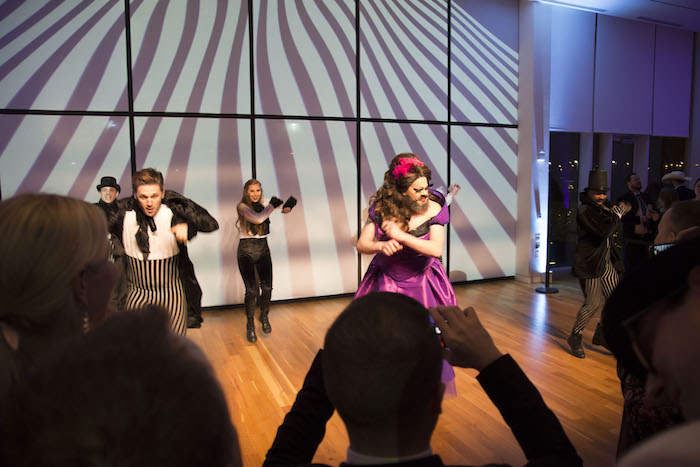 Start 2019 with a bang – put on your favorite black and white attire and party for the arts at Wonderball! On January 26, join Columbus Museum of Art for the 5th annual Wonderball, a celebration of Central Ohio's arts community. This annual event features live local musicians and DJs, performance artists, interactive exhibits, and cocktails and food from Columbus eateries. Not only is Wonderball an out-of-the-box opportunity to engage with the museum, it also supports CMA programs that enrich our local arts communities.
Columbus has long been a cultural hub for Ohio and the Midwest. With designated arts districts such as the Short North, Franklinton, and Olde Towne East, and historic performing arts spaces like the Ohio, Palace, and Lincoln Theatres, countless artists and performers call Columbus home. Their involvement in, and dedication to, the local scene has shaped a vibrant arts community in Columbus and Central Ohio.
In keeping with Columbus' tradition of welcoming artists, artisans, and performers, Columbus Museum of Art has focused its mission on serving the diverse communities of Columbus and Central Ohio. From its initial chartering in 1878, CMA has enriched Ohio's arts community with specially curated exhibits and programs. Over its 141-year history, CMA has not only hosted international artists, but has also showcased local legends such as Aminah Brenda Lynn Robinson, Elijah Pierce, and George Bellows.
Now, CMA has focused its efforts to curate programs, events, and resources that give back to Central Ohio. By offering programs for individuals of all ages, abilities, and experience levels, CMA is working to make art more accessible and enjoyable for everyone.
Wonderball is an event by locals artists, for local art lovers. Your support for Wonderball supports a variety of creative programs such as:
Wonder School

Wonder School is a collaboration between Columbus State Community College, Columbus Museum of Art, and The Childhood League Center. Wonder School is a learning laboratory for preschool children ages 3 to 5. This program seeks to foster purposeful play, encourage critical inquiry, and create a collaborative community approach to education for both children and educators. Parents are welcome to attend and assist.

With this program, CMA hopes to foster a more compassionate, creative community.
Sparking Imaginations

Made possible through partnerships with the Alzheimer's Association of Central Ohio and AWARE (Alzheimer's Women's Association to Reach and Engage), the monthly Sparking Imaginations tour is designed to inspire laughter and imagination for people living with dementia and their caregivers. Sparking Imaginations is curated to provide a fun, expressive outlet and forum for dialogue.

With more than 220,000 people living with Alzheimer's in Ohio, CMA hopes to provide a community resource for those in need of engagement and support.
Think Like an Artist Thursdays

With Think Like An Artist Thursdays, visitors are encouraged to create art, enjoy craft drinks, and experience live entertainment at CMA. Each month featured partnerships with local creators and creatives, so guests will always have a new and unique experience! Novices and experts alike to can hone their artistic skills and cultivate their creativity. Cost of the program is included with Thursday evening admission, $5 for nonmembers and free for members.
Teen Open Studio
Teen Open Studio is a free after school program held on Thursdays and Friday designed for Columbus teens. Teen Open Studio is hosted by CMA in a space which incorporates lab space, technology resources, and art supplies. This program gives teens flexibility to work on homework, experiment with the arts, or just hang out with friends. Made possible through partnerships with Battelle and The Reinberger Foundation, Teen Open Studio provides Columbus teens with a free, accessible space to learn and grow.
Don't miss this opportunity to celebrate and support the arts in Central Ohio. Find more information and get your tickets now for Wonderball.
Public Ticket Early Bird Sale: $100

End of Early Bird Pricing (1/14): $125

At the Door (1/26): $135
– Dinah Adams is a data analyst at Futurety, and member of the Wonderball Committee. Adams holds a Master's degree in communication from The Ohio State University.
[Wonderball photo by Nikole B. Prete; Sparking Imaginations photo by Scott Cunningham; Think Like an Artist Thursdays photo by Megan Ralston]
Comments
comments