The following is a transcript of Pizzuti Family Curator of Contemporary Art and Head of Exhibitions Tyler Cann's toast for Art after Stonewall, 1969-1989 during the Member Preview on March 5, 2020.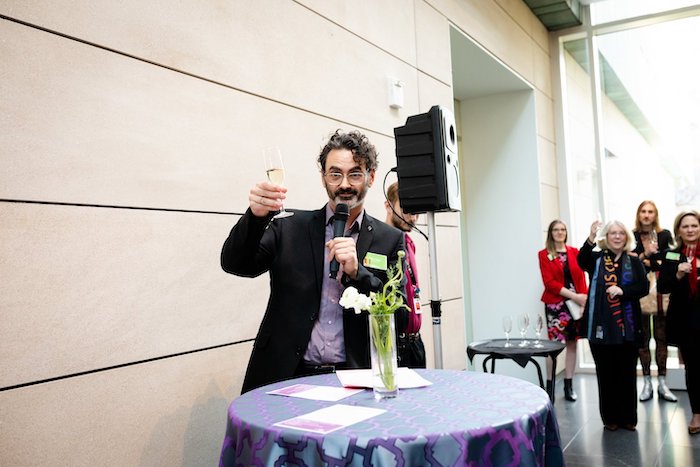 Thank you so much for being here. Your presence means a great deal to us, especially in these increasingly unsettling times. We thank you for choosing community rather than fear of contagion, but please embrace responsibly. Nobody will mind if you offer them an elbow and an air kiss.
I wanted to start by quoting from one of the artists in the exhibition, Thomas Lanigan-Schmidt. Tommy, as he is known, was inside the Stonewall Inn the night it was raided in June 1969. He penned this text, "Mother Stonewall and the Golden Rats" on the occasion of its twentieth anniversary in 1989; here is a short excerpt:
This wasn't a 1960s student riot. Our there were the streets. There were no nice dorms for sleeping. No school cafeteria for certain food. No affluent parents to send us checks. This was a ghetto riot on home turf. We already had our war wounds. This was just another battle. Nobody thought of it as History, Herstory, My-story, Your-story, or our-story. We were being denied a place to dance together. That's all.
The total charisma of a revolution in our CONSCIOUSNESS rising from the gutter to the gutt to the heart and the mind was here. Non-existence (or Part existence) was coming into being, and being into becoming. Our Mother Stonewall was giving birth to a new era and we were the midwives.
That night the "Gutter (street) Rats" Shone like the brightest gold! And like that baby born in a feed-trough or found in a basket floating down the Nile, the mystery of history happened again in the least likely of places.
But here we are, likely or not, in this place, celebrating the opening of Art after Stonewall, 1969-1989, some 50 years after the event. This evening is the culmination of almost eight years' work. For the Museum this has been a monumentalexhibition, grouping over 240 objects by 166 artists and artist-collectives in seven thematic sections. Museums our size don't do this. The response, however, has been amazing: ArtNews included it in the top 10 most important art exhibitions of the last decade, we've had great reviews online and in the New York Times, the work we acquired by Thomas Lanigan-Schmidt was featured on the cover of Artforum, the catalog has won national accolades and is in its second print run. This is all wonderful, but for me the most meaningful review has been to witness the tears that have been shed in the galleries.
So let me thank, first of all, all of the artists whose work is in the exhibition. And thanks to everyone on staff, I'm sure they will be named in the course of the evening, from our Executive Director Nannette Maciejunes, our guest curator Jonathan Weinberg, fellow co-curators, the Museum's Roy Lichtenstein Curatorial Fellow Daniel Marcus, Drew Sawyer, who is now at the Brooklyn Museum, as well as Anna Conlan, who greatly contributed to the catalogue and research, and writing. I have to also mention our fearless registrars Jennifer Seeds and Nicole Rome—who literally weathered hurricanes for this show—our Curatorial Assistant Jordan Spencer, our Exhibition Designer Greg Jones and his team; and of course, Gabriel Mastin; a friend to many of you and our leadership giving officer. Let me also thank some former members of team Stonewall: Melissa Wolfe, at the St. Louis Art Museum, and Anastasia Kinigopoulo, at the Winterthur Program in American Material Culture. And lastly, thanks to the venues that hosted the exhibition before us: the Leslie-Lohman Museum of Gay and Lesbian Art, the Grey Art Gallery, NYU, and the Frost Art Museum in Miami.
So yes, it's been a heavy lift. The physical, creative, intellectual, financial, and emotional effort involved here is huge. The responsibility we feel telling the story of intersection of art, queer culture, and the LGBTQ civil rights movement in the two decades after Stonewall has been immense. But it's our chosen responsibility, and one we feel proud and privileged to bear. I can't thank all of you enough for your generous support of the exhibition. Let me, at least, mention our Honorary Chair of the Exhibition Jim Obergefell. I really wish I could name you all. But many of you, I trust, will find your names on the wall.
Finding oneself on the walls of the museum is a powerful thing. The task of getting this show right, getting as many people as possible to see themselves on the walls was a complex undertaking. This is a place to "see and be seen." It is history, herstory, theirstory, mystory, yourstory, our story, our stories. We, the museum, are the stories we tell, the objects we show. What we can offer is visibility, the chance to recognize oneself, but also—I think crucially—to encounter the image of difference. That's how we knit communities together. That's how we unwind the prejudice, fear, and misunderstanding that we've all inherited. It's how we, as a museum, create better people, and hopefully a better future. Here's to Art After Stonewall, and to that future.