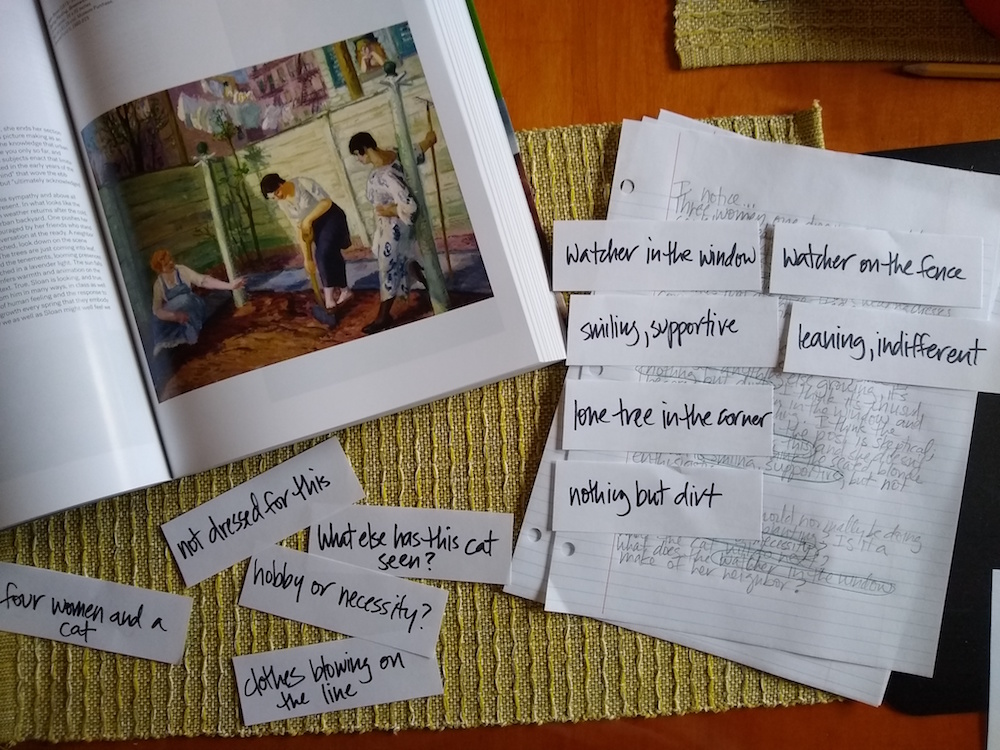 A lot of people tense up when they hear the "p" word, but poetry is just another way to play with words, sounds, images, and ideas. At Columbus Museum of Art we have a special tour called Art and the Language of Poetry. We love to help people who may not think of themselves as poets to look closely at art to think differently, wonder, imagine, and write poems inspired by art. (If you really want to impress your friends, there's a word for poetry inspired by visual art: "ekphrastic poetry").
There is no wrong way to write a poem, but this is a method I like to use to just dive in. You don't need any poetry knowledge or prior experience to use this approach.
In honor of National Poetry Month try it out and share your creation on social media with #myCMAatHome so we can see how you are playing with words!
Step 1: Pick an artwork. At the bottom of this post, we have some visitor favorites from the CMA collection, or you can browse the CMA collection to find another.
You may also choose an artwork in your home – by you or by another artist. I chose John Sloan's Spring Planting, Greenwich Village because it makes me think about how I am re-starting my own garden right now.
Step 2: Observe, Describe, Interpret, Question We always start museum experiences by looking closely and describing what we see. One way to do this is to take a sheet of paper and divide it into 3 sections and write "I Notice…" at the top of one. Look closely at the artwork you've chosen and describe what you see. Don't worry about spelling, grammar, complete sentences, or writing something that sounds like poetry. Just write what comes to mind.
Once you've written a lot of noticings, start a new section with "I Think…" Start piecing them together and fill in the "I Think" section with what you think might be happening, or what the work makes you think about. Then, write "I Wonder…" and record what questions the artwork brings to your mind.
If you are trying this out in a group, you can also do this out loud, but be sure to have someone jotting down what people say.
Step 3: Select Read through what you wrote, and circle the words or phrases that seem most juicy, important, or interesting.
Step 4: Arrange and Rearrange Once you've selected the juicy words, recopy them onto scraps of paper so that you can easily rearrange them. You might also change the words slightly so they flow differently.
Take some time to physically move the words around, playing around with different sequences. Don't worry about rhyming or grammar – that's not what poetry is about! You don't have to use all your juicy words.
And viola – it's a poem!
Watcher in the window, watcher on the fence
Smiling, supporting; leaning, indifferent
Lone tree in the corner
Nothing but dirt.
Many visitor-poets like to title their creations (maybe I'll use the discarded phrase "Not Dressed for This"). You might also like to recite your poem to others, remembering that the way you read your poem aloud adds a new layer of meaning.
And yet more poetry
As I was observing this artwork, I realized that although it is an urban scene, nature plays an important role. This made me think of a haiku, which evoke nature and follow a structure of three lines — two lines of five syllables and one line of seven syllables sandwiched in the middle.
Since you've already looked closely at, thought, and wondered about the poem, try writing five phrases of five or seven syllables on slips of paper, so that you can mix and match them. Remember: writing a haiku is not just about the syllable count, but theme. Haikus should evoke nature.
So, after creating, sorting, and rearranging five- and seven-syllable phrases evoking nature, you've got a haiku!
Big city quiet
Flap, gaze, bask, grow–unaware
Trees rise, unperturbed
So try this way of playing with words, and share your creation with us on social media by tagging us @columbusmuseum and using #myCMAatHome.
Ready to try? Here are some CMA visitor favorites if you're looking for inspiration to get started.
– Jen Lehe is CMA's Manager of Strategic Partnerships, overseeing programs for learners throughout their lives. Jen directed the IMLS-funded Making Creativity Visible initiative and launched the Leaders in Creativity fellowship to build teachers' capacity to advocate beyond their classrooms. Jen holds an Masters in Arts in Education from Harvard Graduate School of Education and a BFA in Photography from NYU. When she's not at CMA, she's gardening with her pit bull, Chompsky.