"I have learned that success is to be measured not so much by the position that one has reached in life as by the obstacles which he has had to overcome while trying to succeed." —Booker T. Washington
Take a moment to learn a little about the accomplishments of the educator Booker T Washington and the artist Martin Puryear.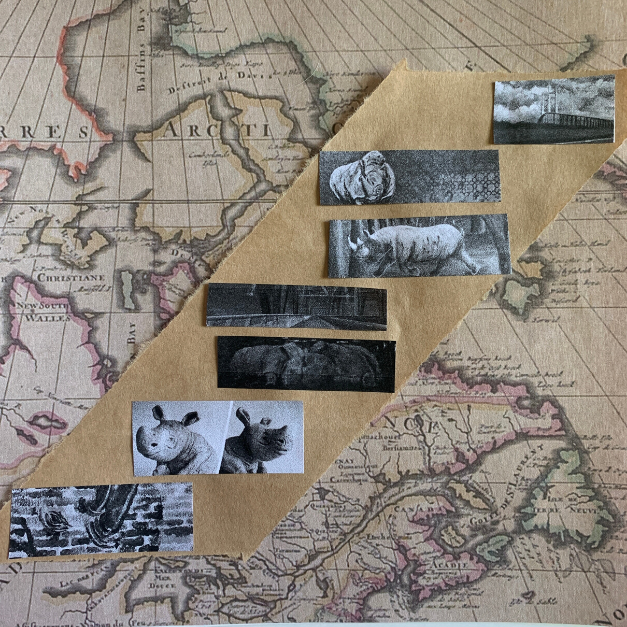 Create a character evolution collage of your own that illustrates the steps you've taken in your life to get where you are today. What are you proud of in your life? What things would you like to do as you get older? Use magazines, patterned paper, or old paperwork to help tell your story. Feel free to include the names, dates, events, and actions, or your ladder can be abstract, with symbols that represent the obstacles you have overcome.
Describe the ladder that Puryear created for Washington.
How wide? How long? What type of lines?
How has the artist made us think that the ladder is longer than it really is?
How is this ladder different from most ladders?
Why would this ladder be difficult to climb?
Think of some words or activities that come to mind when you think of ladders. Ladders can be symbolic. For example, ladders support phrases like "climb to success" and "getting to the top." Speculate about how a ladder could be a metaphor for someone's climb to success.
Find a CMA Studio Challenge that speaks to you and thanks to everyone who has participated. Share your creations on social media by tagging #myCMAstudio.
Sometimes, when I feel like I am beginning to unravel, I think about my own accomplishments, and what kind of steps I took to get where I am today. This helps me get focused on the future. Thumbnail sketches of my paintings over the years provided the steps for my ladder. Created by artist, and Whitehall-Yearling High School art teacher, Mindy Staley.
#myCMAstudio is a digital version of our drop-in program, Open Studio. Which is currently unavailable to the public due to Covid-19, and part of CMA's JPMorgan Chase Center for Creativity Studio to explore ideas, solve creative challenges, and collaborate with friends and family. Pick up a Studio in a Box with all the supplies and materials needed to aid you in our weekly challenges or allow our CMA educators to guide kids Pre-K – 8th grade in an online Weekly Studio Meet-up.
Comments
comments