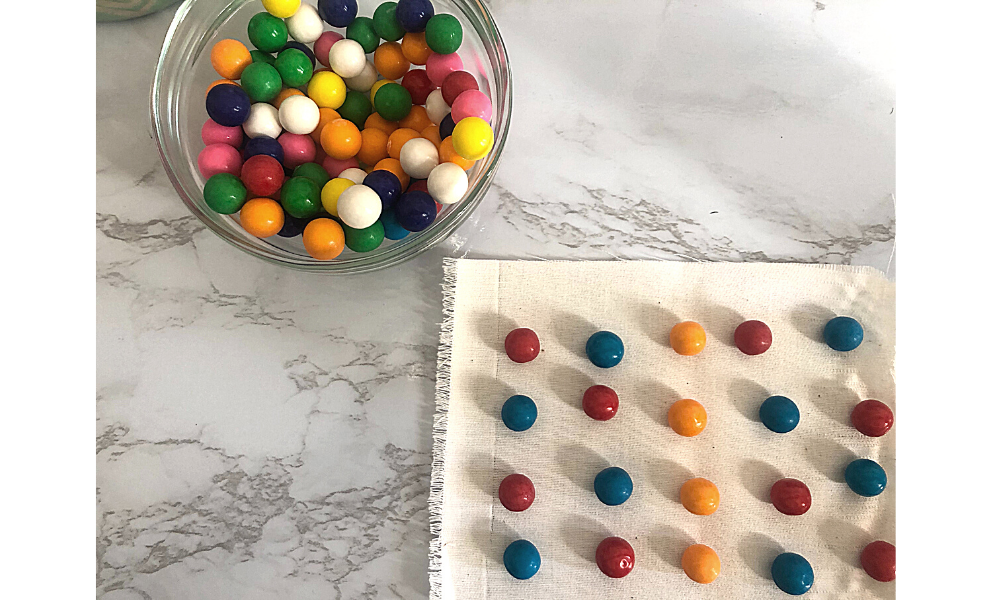 Use candies to create a palette for a polka dot print for this week's #myCMAStudio. Candies like gumballs, Smarties, or Skittles can serve as yummy inspiration!
To create your candy print you'll need: a small bag of candy, fabric squares (8×8), fabric markers or paint, a dull pencil and tape. Play with the candy, arrange on fabric until you find a design that you like. Use the tape if you plan to arrange your print neatly in a row or skip the tape to keep it random and fun.
Create 3-4 different versions of your print. Use the one you like the most to embellish the bottom of a pair of jeans, a tote, or even make a mask. You can eat the candy when you're done, if you want.
Share your creations on social media by tagging #myCMAstudio.
Lesley Ware is a lefty who believes that fashion is a form of self-care. She is the author of several activity books, about sewing, fashion and style, for youth and this project comes from her latest book, How to Be A Fashion Designer.
Lesley is also a fashion instructor in New York City. She does not have a specific style per se but often dresses like an extra-fancy librarian or a fashion superhero.
@creativecookie
#myCMAstudio is a digital version of our drop-in program, Open Studio. Which is currently unavailable to the public due to Covid-19, and part of CMA's JPMorgan Chase Center for Creativity Studio to explore ideas, solve creative challenges, and collaborate with friends and family.
Pick up a Studio in a Box with all the supplies and materials needed to aid you in our weekly challenges or allow our CMA educators to guide kids Pre-K – 8th grade in an Online Open Studio session (one online Studio session of your choice is included with Studio in a Box). You can also check out previous #myCMAStudio challenges here.
Comments
comments