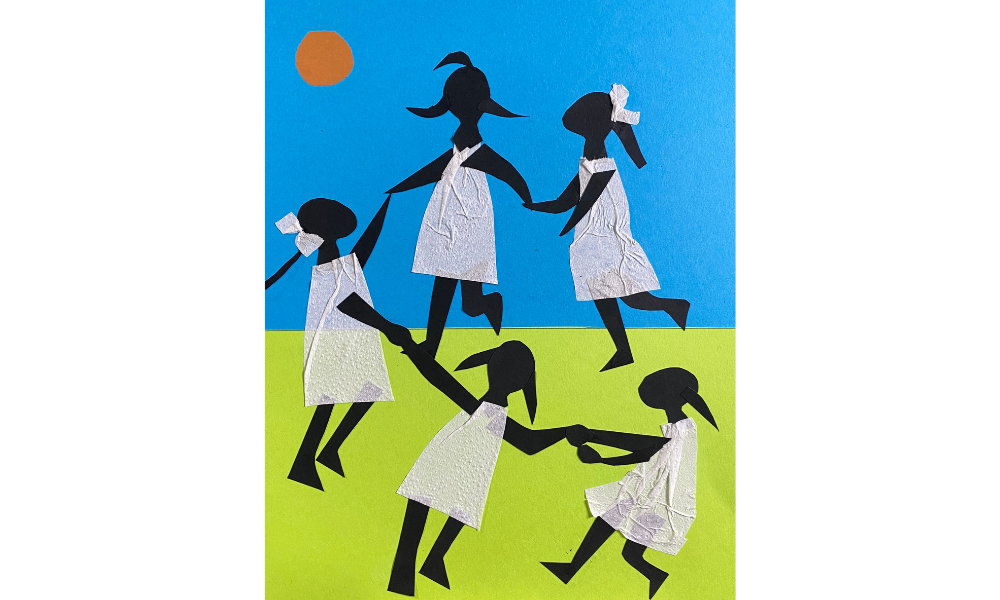 I love picture books even though I haven't been a kid in a long time. What I love most are all the different ways that artists use materials to create pictures that help tell a story. Some artists create illustrations using paint, pastel chalks, ink, markers, paper and even fabrics. When children are too young to read they will often look at the pictures or illustrations in a book to tell the story. The pictures usually include images that hint at what the words are on the page.
The picture I created is a memory from my childhood of summers spent at my grandmothers, playing outdoors and having lots of fun. How can you tell the season in my picture? How are the children dressed? What do the colors tell you? My picture was created with construction paper, bits of paper towel for the clothing and a magazine clipping to make the sun. I decided to use simple shapes for my picture.
What are some of your own memories that you could illustrate? Maybe a favorite book, family trip, holiday or funny pet story. Come up with your own illustration that tells a story of one of your favorite memories.
Suggested Materials:
Construction paper
Magazine
Napkin or paper towel
Glue stick
Scissors
Find a CMA Studio Challenge that speaks to you and share your creations on social media by tagging #myCMAstudio.
#myCMAstudio is a digital version of our drop-in program, Open Studio, which is currently unavailable to the public due to Covid-19, and part of CMA's JPMorgan Chase Center for Creativity Studio to explore ideas, solve creative challenges, and collaborate with friends and family.
Pick up a Studio in a Box with all the supplies and materials needed to aid you in our weekly challenges or allow our CMA educators to guide kids 1- 8th grade in an online Studio Workshop.
—
Artwork and prompt created by Wendy Kendrick in partnership with Art in House by the Ohio Alliance of Art Education.
Wendy is heavily influenced during the early part of her artist career by the work of Romare Bearden, she has applied her years of work with collage and mixed media to her current work with quilted portrait masks.
In 2010 Kendrick was selected by the Arts Council Lake Erie West to travel to the East African country of Tanzania as a U.S. delegate for a women's artist exchange. In addition, she was invited to speak to college students regarding her artistic journey at the U.S. Embassy in Dar es Salaam.
Kendrick received her B.A. in Visual Studies from Dartmouth College and has furthered her studies through additional coursework taken at the Dayton Art Institute, Columbus College of Art and Design and Quilt Surface Design Symposium (QSDS). Her work has been featured at the King Arts Complex, Burnell R. Roberts Triangle Gallery at Sinclair Community College (Dayton, Ohio), Star Arts Gallery, Ohio Craft Museum, the Rhodes Office Tower, Joyce Gordon Gallery (Oakland, California), The Shot Tower Gallery and Richard M. Ross Art Museum (Delaware, Ohio). Her work appears in the recent publications, the Columbus Book Project, Yours for Race and Country: Reflections on the Life of Colonel Charles Young and Visioning Human Rights in the New Millennium. Currently Kendrick serves as Lead Artist with the Art in the House Program(OAAE sponsored) at St.Stephens Community House and Windsor Stem Academy.