We are always getting great ideas from our visitors, like this one shared by our docent Wendy Johnson. A while back, Wendy came upon a lively scene with a mother and her teenaged sons, playing a game of their own invention. In this guest blog, she explains how to play the game, which playfully supports careful observation and invites lots of extensions.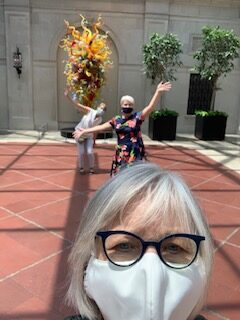 Wendy, along with Sheryl Ellcessor and Kathleen Kidwell, in the reopened CMA. Wendy, Sheryl, and Kathleen have been CMA docents for 10 years.
Create your own Treasure Hunt
What's the treasure? You choose. CMA galleries are filled with treasures.
Here's who and what you need
At least one family member or other person in your social bubble – you'll be trading cell phones
2 cell phones
CMA's amazing art
Here's how to begin
One person/group are the Clue Makers. They choose the treasures and create clues
The other person/group are the Treasure Hunters
Set your phone timers for 15 minutes and decide on a meeting place
Clue Makers:
Choose a work of art that interests you
Take a photo of a detail in the art (no flash please). This is your clue for your first art treasure
Continue to find art and create clues
Remember where you found your art treasures!
Treasure Hunters:
While Clue Makers are creating your Treasure Hunt, you can relax, stroll through the Sculpture Garden, have a snack in the café, shop in the Museum Store, spend time with art – Just no spying on the Clue Makers!
When you reconvene, hand the phone with the photo clues over to the Treasure Hunters, who will search for the details you found. Once a detail is found, talk about what drew you to that detail – what makes it a "treasure" for you?
HAVE FUN!
Wendy Johnson is one of 120 CMA Docents whose mission and joy is to engage museum visitors in meaningful conversation and to encourage visitors to make personal connections with the art of CMA.