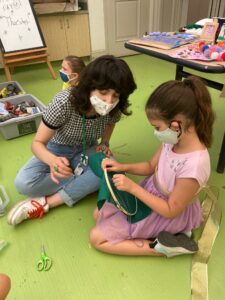 Back in the spring I was thrilled at the opportunity to interview and ultimately receive the offer to be the Association of Art Museum Directors (AAMD) Intern. Through the past three months I was given multiple valuable opportunities, including the chance to participate in a full week of American Alliance of Museums (AAM) conferences.
The week of AAM conferences helped me understand the importance of educating both museum staff and visitors. The first rotation of conferences I attended were focused on museums embracing IDEA (Inclusion, Diversity, Equity, Access). One of the keynote speakers was Bryan Stevenson, a lawyer, professor, social justice activist, and the founder/executive director of the Equal Justice Initiative. Stevenson discussed how museum administration and practices need to change and how they can start changing in order to encompass IDEA principles. Stevenson spoke on the educational factors we need to think about as we live in a post-genocide society and his involvement with the National Memorial for Peace and Justice, which commemorates the Black victims of lynching in the U.S and past racial terrorism. Stevenson concluded with remarks on how museums can encourage discussion and educate their visitors on the troubled past of the United States.
The Summer Art Workshops program (SAW) for grades 1-4 and 5-8 taught me that I should always be prepared, patient, and level headed. There were some interesting moments, for example, on the first day of classes a parent dropped a child off at the wrong institution. I learned it is never a mistake to over plan. It is important to have multiple backup projects and lots of air dry clay – the younger kids fly through projects and they can't get enough of making things out of air dry clay. The kids created some very cute axolotls. (Highly recommend looking up pictures of these sea critters).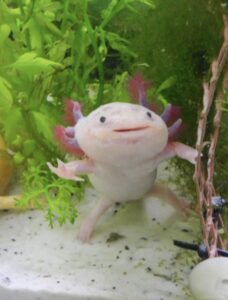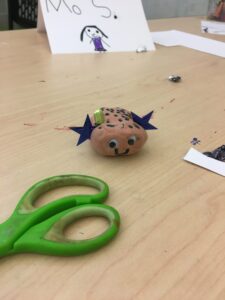 SAW also helped me learn how to incorporate the Museum's art into the classroom through gallery tours. The exhibition Raggin' On: The Art of Aminah Robinson's House and Journals was perfect for multiple grade levels. The exhibition's focus on journals and sketchbooks gave us the opportunity to show the students that creating/keeping a sketchbook and journal can help them develop their art. It also showed them that art is never truly complete and that as an artist you can always continue adding to a piece.
I also got to experience two docent tours. These were helpful, as we were told more about the "Easter eggs" throughout the Museum. Throughout Raggin' On curators gave us more insight on the process of selecting pieces from Aminah's home for the exhibition. They also told stories about Aminah's earlier work during art school and spoke of the influence of her father's art career on her own. I especially enjoyed the docent tour of Present Generations: Creating the Scantland Collection of the Columbus Museum of Art, where I learned more about the working current artists featured and the storytelling of certain paintings.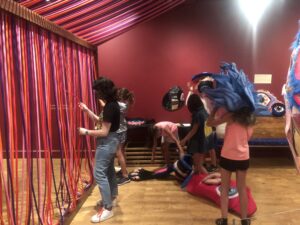 Along with conferences, SAW, and tours, I received a behind the scenes glimpse of the institution and met some of the Museum administrators. I was part of organizing the artists involved with the Craftin' Outlaws pop-up fairs, and community engagement. Art pop-ups like this are important because they show that art is attainable for everyone. Often museums can be daunting for people who are interested in art for themselves. Museum collections can feel intimidating and people might have the idea that one needs to be upper class in order to enjoy art in their home. Fairs like this can show people that anyone can be a patron of the arts and can help form new business relationships for the participating artists.
These overall experiences have given me an even greater respect for the many people involved in making the Columbus Museum of Art operate smoothly, especially during a pandemic. It was interesting working at the Museum during this time and seeing how adjustments were being made. For example, things like the AAM conference were online and SAW class sizes were limited to eight students. Similar to many institutions and non-profits, the Museum dealt with controlling capacity and worked to engage the community throughout the Pandemic. During my last week I helped in the Museum's Schokko Café, bussing, sanitizing, and serving tables. We all understand that Covid has forced staff to be spread thin and from my experience, staff have been able to come together and help each other when needed throughout different departments.
I am beyond grateful that I got the chance to work with the learning department and Manager of Studio Initiatives Megan Green. I am looking forward to returning as a studio contingent this fall.
Panagiota Kourniotis is the first Association of Art Musuem Directors (AAMD) Intern. The position is a paid, 12 week long, full-time summer internship that exposes an undergraduate student currently attending a Franklin County college or institution, into the world of a professional career at the Columbus Museum of Art.