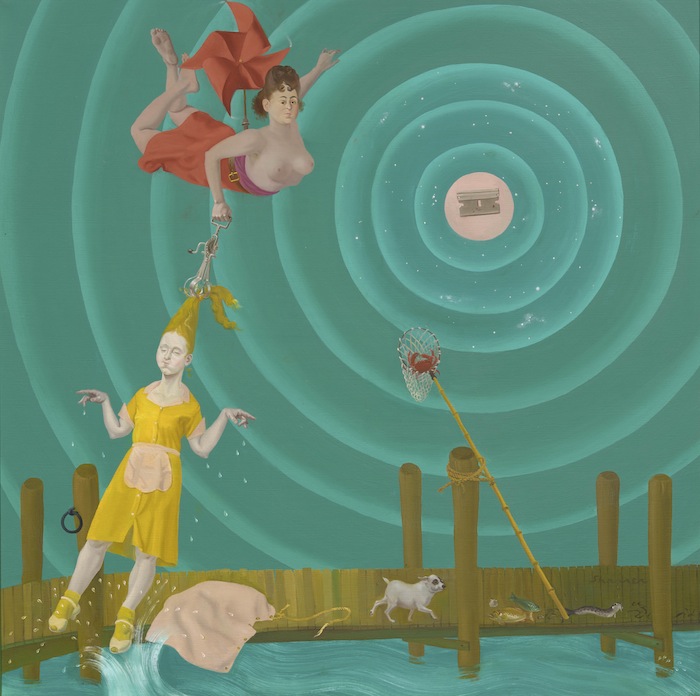 Every Saturday from 1-3 pm we open the studio to you and invite you to come make with us! Our Studio Coordinator Rachel comes up with a theme for each month related to artworks or big ideas in the museum and a creative prompt for each week with interesting art making materials for us to use to explore that prompt or theme. Not feeling inspired by our theme? No worries! We always have teaching artists available to bounce ideas off of and to help select supplies. A big part of art making is playing with new materials to see what they can do and revisiting old materials and using them in unexpected ways.
March is Women's History month and we are celebrating in Open Studio by looking at five women artists who work in unique and experimental ways and inviting you to try out some of their favorite materials and methods. We will showcase a different type of material and artists each Saturday in March.
March 4 come explore the surreal and subversive and play with paint and collage materials. Honoré Sharrer collected images and used them to help build her paintings. What weird scenes and stories will we imagine together?
Deborah Butterfield and Louise Nevelson both use(d) found objects and assembled materials to create their sculptures. We are going to build and construct using recyclables, cardboard, and other unexpected objects on March 11.
Mickalene Thomas is known for her dramatic portraits of powerful women made of rhinestones, paint, and collage materials. Come portray the powerful women in your life on March 18.
When was the last time you took a selfie or a self-portrait? Did you add a filter? Did you add stickers or doodles? Did you share it? Jen Davis takes self-portrait photographs explore beauty, body image, loneliness, and connection. We will experiment with Instax cameras, film and slides, and our own phone cameras to make self-portraits on March 25.
We hope you discover a new material or artist that inspires you!
– Molly Uline-Olmstead, CMA Manager for Studio Initiatives
[Image: Resurrection of the Waitress by Honoré Sharrer, 1984, Collection of Adam Zagorin and the late Perez Zagorin]