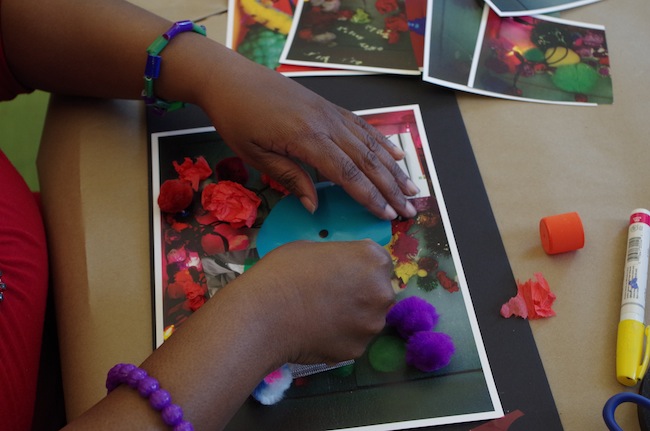 This is the first of a series of posts that will explore how Columbus Museum of Art, through the lenses of creativity, experience, and relationships is pushing itself to be more inclusive, accessible, and welcoming to visitors, partners, artists, and community members of all abilities and backgrounds. Myself and fellow CMA staff, volunteers, and guest authors will explore topics like programming and tours for people with disabilities, representation in our collection, accessibility and people-first design in our building, and the value of community partners that help us to be better and more thoughtful about helping our visitors create those positive memories and shared experiences.
In a recent piece for DesignGroup's website Michael Bongiorno, architect of CMA's Walter Wing writes that an, "…institution is a place where human beings come together to form an emotional connection to a unique, inspiring environment where they can create positive memories through shared experiences." I love this quote because it speaks so well to the potential of a museum to foster connections. Museums tread the line between their role as caretakers and stewards of artworks, artifacts, our material culture; and their role as a bridge between that material culture and visitors. Museums are an intersection where people foster conversations and connections.
CMA has been walking that line in an intentional and strategic way, building relationships and partnerships with organizations that share the value of putting people first. This means valuing the experiences, thinking, and perspectives of the artists in our collections and the people who visit us, work with us, and interact with us out in the community. When we opened the new wing we also underwent a rebranding. We saw that process as an opportunity to update the visual aspects of our brand and confirm the values that brand embodies – Creativity, Experience, and Relationships. These values underscore the importance of people to our institution and people-first thinking, design, and language in all of our work.
For example, when we talk about Experience as a brand value we are referring to the experience of everyone in the CMA ecosystem. This includes visitors, volunteers, staff, partners, visiting and collaborating artists, and the community at large. We aspire to be radically inclusive and warmly welcome everyone into the museum community and all it has to offer. We believe there is transformational power in active engagement with art and each other. We strive to cultivate an atmosphere that facilitates the opportunity to observe, think, and participate in all that we do. Most importantly, we extend that effort and unconditional regard to everyone.
-Molly Uline-Olmstead, Manager for Studio Initiatives
Comments
comments